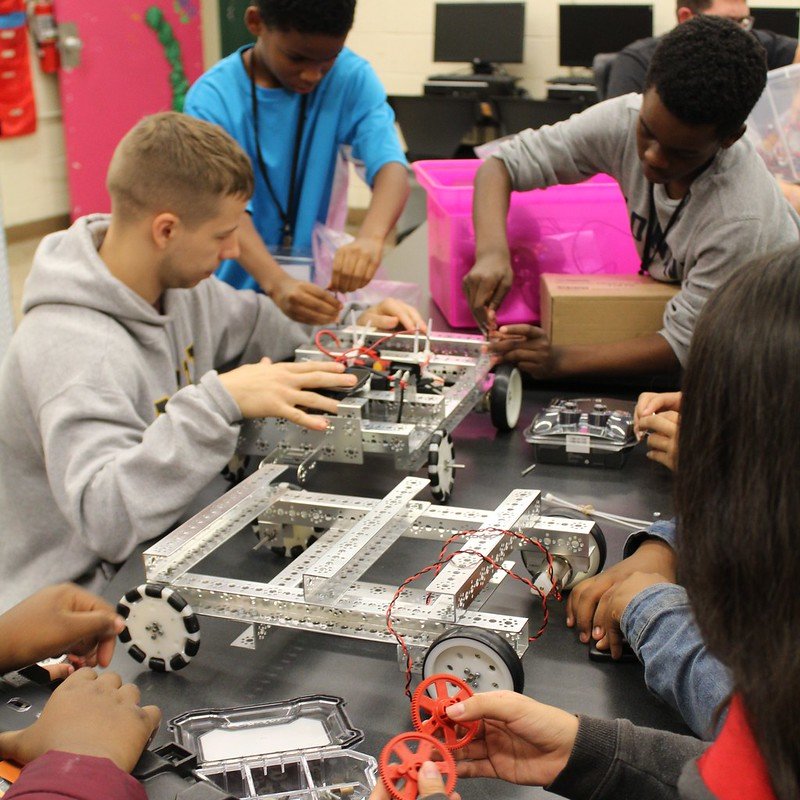 Thank you for your continued support of FIRST Chesapeake through the 2019-2020 season. As we prepare to launch the 2020-21 season, here is a round-up of everything we accomplished during 2019-20.
FIRST Chesapeake directly impacted over 7,000 middle and high school students in the District of Columbia, Maryland, and Virginia. This year, 320+ FIRST robotics teams competed in 20+ workshops and competitions, as well as four virtual Town Halls. These events gave teams the opportunity to celebrate their accomplishments in their own backyards, while promoting the long-lasting benefits associated with participation in FIRST programs.
With the unprecedented challenges beginning in March due to COVID 19, FIRST Chesapeake chose to think outside of the box to support our FIRST community. By moving to a virtual format and working with other STEM-based organizations, FIRST Chesapeake has been keeping our students, volunteers, and supporters engaged and informed. Since March, FIRST Chesapeake has:
FIRST Tech Challenge (FTC) Programs in Virginia
FTC continues to offer high quality STEM-based activities and competitions in Virginia. FIRST Chesapeake was able to once again offer on-site and virtual workshops to 180+ teams (over 1800 students total) in Virginia, and more than 4,000 FIRST Tech Challenge teams worldwide in 2019.
FIRST Chesapeake continues to partner with NextUp RVA to bring FTC into Title I middle schools in Richmond, and over the past five years, this project has given 400+ students from under-resourced communities a chance to apply Science and Engineering concepts while experiencing the excitement of a competition. Just as importantly, participation in this program has given students a sense of fulfillment for a job well done.
Already one of the largest concentrations of FIRST robotics programs in the US, in July 2020 FIRST Chesapeake acquired 120+ additional FTC teams in the District of Columbia and Maryland. Even though FIRST Chesapeake recognizes the unique challenges due to COVID 19, its board feels an obligation to support the DC and Maryland FTC teams and volunteers who were orphaned by their previous program partner in February 2020.
Additional program data includes:
15,000+: Event attendance at the FTC Qualifiers and Championship
12,000+: Unique live feed views of select qualifiers and Championship
2,500: Number of printed Qualifier and Championship programs recognizing your company
400+: middle and high school team members and mentors attending the third annual tandem FTC Workshops Sponsored by ECPI University in Manassas and Richmond
192 registered FTC teams in Virginia
54: number of FTC teams competing at the FTC State Championship Sponsored by Capital One
15: Title I schools in Northern Virginia hosting rookie FIRST teams in 2020 as part of a partnership with Amazon and VA-DC FLL.
9: FTC Qualifiers and State Championship Sponsored by Capital One
FIRST Robotics Competition (FRC) in DC, Maryland, and Virginia
As part of the January Kick Off/Workshop event, InSource Solutions' Dunn Dillard shared his experiences with a lecture hall full of FRC team members and mentors at welcoming ceremonies. While the FRC competition season was cut short, three district events were held in February and March.
After events were cancelled, FIRST Chesapeake's volunteer judges continued to interview teams remotely to recognize cultural award winners, such as Dean's List and Chairman's Award winners. FIRST Chesapeake also awarded the first-ever Jim and Laraine Schubert Unsung Heroes: Mentor Award to two very deserving mentors who have gone above and beyond to support their under-resourced teams.
Additional FRC program data includes:
3,170+: high school age team members
40%: minority team members
1400: team mentors
FIRST Chesapeake Volunteers
The FIRST Chesapeake volunteer program was on track to grow by approximately 15% before the cancellation of the FRC season. Based upon the shortened season, 2019-2020 volunteer data includes:
20,600+ donated volunteer hours
$600,000 approximate value of donated volunteer hours
1,500+: event volunteers in database
200+: filled judges' positions at FRC competitions
50%-65%: local volunteers at each event
29%: team mentors who identify as FIRST Alumni
Outreach and Partnerships
In January 2020, Rolls-Royce sponsored the second Reaching for the Stars Women in STEM Breakfast Sponsored by Rolls-Royce to benefit FIRST Chesapeake. This inspirational event was attended by 100 of the most influential women in technology in the DC Metro area. Over 60 very impressive young women applied and three scholarships, sponsored by Dominion Energy, were presented to young women on FIRST Chesapeake teams.
FIRST Chesapeake also continues to work with its alumni pool to develop mentoring and team funding opportunities. In 2019-2020, FIRST Chesapeake and Booz Allen Hamilton piloted an Alumni Ambassador program that provided professional development training to 19 alumni and passed through almost $20,000 to 17 FIRST teams.
The Future
Looking ahead, FIRST Chesapeake is pleased to announce the following additions to the 2020-2021 season.
More employee engagement opportunities--including virtual engagement--for sponsors
More on-line workshops and competition opportunities (virtual and on-site) for teams
Additional Town Hall meetings for teams and volunteers in the Fall of 2020
The largest ever District Championship Sponsored by Newport News Shipbuilding in April 2021. Eighty teams will compete at the Hampton Coliseum.
Third Annual Women in STEM Program and Scholarship Awards