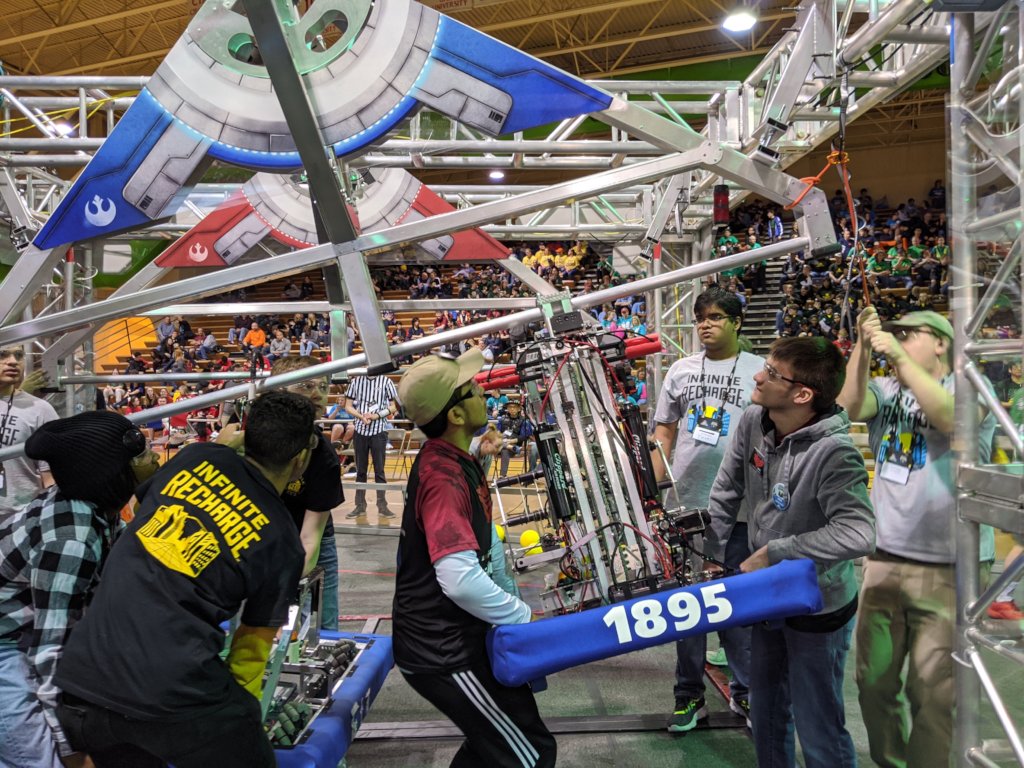 In January, the 2020 FRC season started out with a lot of excitement surrounding the FIRST Rise Challenge Powered by Star Wars: Force for Change. Shortly after the start of the 2020 FRC season, FIRST Chesapeake hosted the annual Women in STEM Breakfast sponsored by Rolls-Royce and featured the 2020 Reaching for the Stars Award honoree, Elizabeth Lindsey of Byte Back. Doris Blanchard, one of the first "human computers" at NASA and the 2019 Reaching for the Stars Award honoree, was at the event and got an opportunity to test-drive (see photo) one of the FTC robots featured at the Robotics Showcase sponsored by Dominion Energy.
Three Women in STEM Scholarships, also sponsored by Dominion Energy, were awarded to female members of FTC and FRC teams in the FIRST Chesapeake District. Over 100 people attended the Women in STEM Breakfast to celebrate the achievements of these remarkable young women. We are very proud to call them FIRST Chesapeake team members.
Meanwhile, FTC season was in full swing, with seven qualifying competitions throughout Virginia. The FTC Virginia Championship sponsored by Capital One was hosted in February at Atlee High School just outside Richmond and 40 teams competed.
FIRST Chesapeake was only able to host three of eight planned FRC competition events before the remainder of the season was canceled due to COVID 19 restrictions, but the events that did occur were full of energy, with over 1,000 people attending each event. After events were canceled throughout Maryland and Virginia, teams in the FIRST Chesapeake District did what FIRST teams do best--they got busy problem solving.
Since the early end of the season, some FIRST Chesapeake teams have been helping with COVID 19 relief efforts by using their expertise and equipment to create 3-D printed face shield hardware and face masks for use with removable filters. Teams also stepped up to help us finish the 2020 FRC season on a high note through a series of interactive programs. FIRST Chesapeake Chats Sponsored by Newport News Shipbuilding is a series of educational and informative live programs featuring topics that range from "cool jobs" in STEM to control system programming tips. Teams earn stipends for developing original content and producing an episode for the series.
Though our competitions give students the opportunity to celebrate the many hours and hard work they invest during build season, and give students the opportunity to model gracious professionalism and coopertition under pressure, FIRST is about much more than the competitions. The skills students gain learning to work as part of a team while solving real-world engineering and business challenges is what builds the skilled workforce of tomorrow. We know that even with a shortened competition season, our FRC teams still benefitted from being part of the FIRST continuum of programs.
We value your continue support, especially as we navigate planning for mulitple contingencies. Stay tuned to find out what innovations and accommodations FIRST Chesapeake will make to ensure the 2020-21 FTC and FRC seasons under the new normal of COVID 19 precautions.