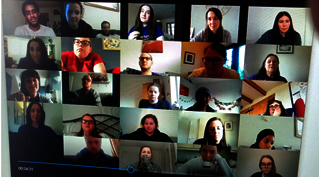 Isolation is a familiar concept for young people fighting cancer. As they face their diagnosis and their treatment, they're cut off from family and friends. They miss out on education and early employment. Through the "lockdown" these young people have been isolated more than ever before. For those on treatment, social areas on wards have been closed, they have been kept in their rooms, visiting restrictions have been enforced and the face-to-face social events that Teens Unite often hosts on the wards allowing the young people to come together have been cancelled. For those young people that have completed treatment and were looking forward to a return to "normality" it was all reversed as they received letters advising them to shield, sending them back into isolation.
As we mark more than a year of "isolating" we look back at the year and what we have achieved to ensure that we create opportunities for these young people to "meet", learn new skills and feel part of a very special community whose strength lies in the thing that unites them, facing a life-threatening illness in their teenage and young adult years.
With the very generous support of donations from the GlobalGiving Community, we have transitioned our services from three face to face activities each month to four online activities every week. Our Positive Steps program has lent itself to online delivery and we deliver with the same objectives and desired outcomes as when we can physically meet.
Our activities address the long-term effects of cancer which impact confidence, self-esteem, and motivation as well as the anxiety, depression, and loneliness that so often last well beyond active treatment, into remission and beyond.
Embracing technology and delivering activities more frequently has meant that Teens Unite has been able to extend support much further than before. Young people from anywhere across the UK are able to access the sessions, even those currently in hospital meaning anyone who needs support can join our activities to learn new skills, regain confidence and, most importantly, be connected with other young people in a similar situation.
After each of our digital sessions, the young people are sent a survey to help assess our delivery against objectives. 100% of the beneficiaries feel more connected as a result of the sessions, 92% feel that they have learned something new or achieved something, 97% feel that their confidence has increased and 100% feel part of a community that genuinely understands them.
The impact of Covid-19 has affirmed our strategy to create an even better, more inclusive, differentiated charity supporting even more young people battling the long-term effects of cancer. Prioritising the development of our digital delivery program to run alongside our traditional face to face deliveries, ensuring that young people no matter where they are in the UK or where they are on their cancer journey can benefit from our Positive Steps program.
We wholeheartedly thank the GlobalGiving Supporters for their continued generosity.