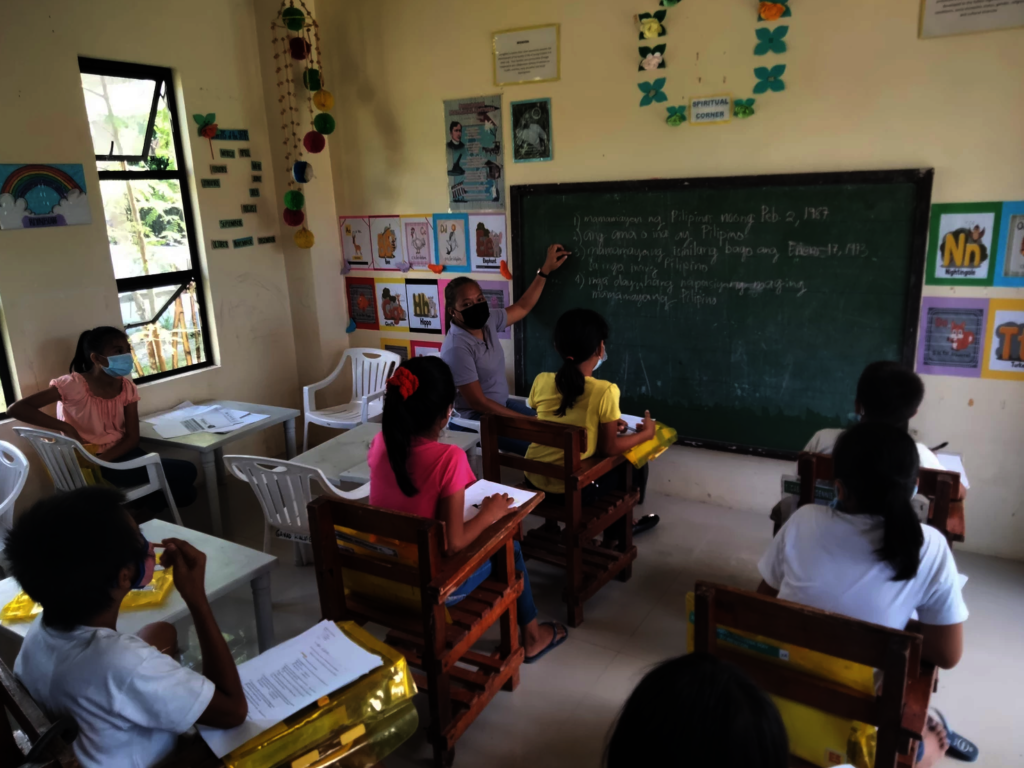 Dear friends,

I am writing to share an update report showing all the developments we have done so far with our #standwithgirls movement.

While nearly every country in the world has partially or fully reopened schools to in-person classes, the Philippines has kept them closed since the start of the coronavirus pandemic. School enrolments fell to 26.9 million in September 2020 and have dropped a further 5 million since, according to official figures. The current educational emergency has an immensense impact on the future of all children, and especially adolescent girls.

To cope with this educational crisis, #standwithgirls has been busy to keep adolescent girls engaged with their studies and help them not drop out of school. Since the last time we spoke, we have been able to distribute over 750 'Safe at home and in-learning packs' to the most vulnerable girls in Cebu. These packs include: educational materials, as well as internet load to join online classes, hygiene products and activity books to help girls deal with anxiety and mental health pressures during the pandemic.
To have a better grasp about the needs and struggles of the girls we work with, we conducted a survey interviewing over 750 adolescents in Cebu. Findings showed that our respondents strongly agreed that they are having a hard time finding a good wifi/data connection for their online classes. 40.8% said that they don't have an available internet connection while 5.8% answered that they use mobile data to connect to their online classes incurring additional expenses that are hard to cover for many families in the Philippines. This shows how critical the support is that we are providing, and how much your help is needed to help us continue our efforts!

We have been able to resume with our 'Community Learning Spaces' in Leyte, providing access to safe learning zones for children who do not have access to learning spaces. In total, 105 children have been using the space since it was launched in partnership with local health authorities. To empower our girls we have organised women empowerment and mentorship sessions across Cebu and Leyte with a total 139 adolescent girls and young women joining these sessions.

Some of the young women have been able to complete our 'Girls Got This Works' COVID-19 employment pathway program with a 60% employment success rate. Another 14 girls are currently enrolled in the program. 2 young women will be starting vocational training courses where they will develop new skills that can translate into a rewarding career.
To create more opportunities for young people we launched our Online Programming Classes last year, where 5 youth mentors graduated from at the beginning of this year. Another 12 participants have enrolled in the Online Programming Classes in Tacloban and 10 more adolescent girls will be starting the online programming courses next month in Cebu, where they will enhance their skills in coding, web design, software development, data analysis and in other technical areas.

We are still going strong with our 'stay at home' videos and 'educational' videos, which are shared on our social media platforms twice a week, to keep children informed on social issues like peer influence ,what drugs are & what are the effects and gender identity. These videos are not only created to educate children about certain topics but also to keep them sane and healthy while in lockdown.

We also continued with our community based session, and extended our mentorship sessions across Cebu. We have been delivering mentorship sessions four times a month in several communities in Cebu focusing on the topics like my changing body, peer pressure and menstruation during the pandemic. The girls expressed that they are learning more about themselves and find the sessions useful in terms of getting different insights in life.

Thank you for all your support, which is what makes our work possible. I hope we can do more good together in helping adolescent girls during this educational crisis!

For more information, follow our Girls Got This on Facebook or Instagram!

Stay safe, healthy and active during these very difficult times.

All the best,

Melissa Karadana