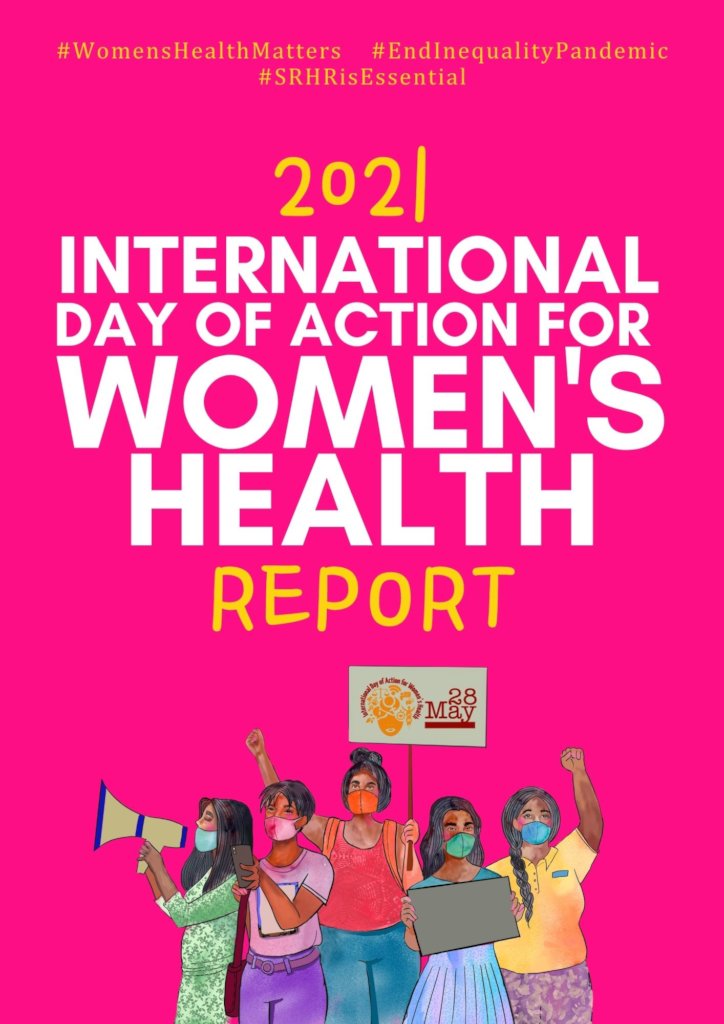 This year's International Day of Action for Women's Health campaign set the stage for discussing women's health against a backdrop of global inequality exacerbated by an ongoing public health crisis. More than a year since COVID-19 had reached global pandemic proportions, many countries continue to experience disruptions in the delivery of essential services, and, in particular, sexual and reproductive health services. In contexts where public healthcare systems are dismal and vaccines remain inaccessible, new surges, strains, and variants of the virus threaten to keep health systems, overwhelmed and recovery out of sight, putting women at risk of long-term negative impacts to their health, autonomy, and rights.
Hence, this year's Call for Action, "Women's Health Matters: Ending the Inequality Pandemic and Ensuring SRHR remains essential!"
As with previous campaign reports, this year's report aims to capture the number, range, and geographical spread of actions taken during the May 28 campaign, but more importantly to document the hard work of women's health and rights activists all over the world for turning out such an amazing and widely-supported campaign!
Despite limitations brought about by our current situation, sexual and reproductive health and rights (SRHR) and women's rights organizations and advocates everywhere have responded creatively and innovatively to be able to deliver on the call for action. This year, campaigners heeded the call to make a stand and take action in various ways - from webinars and zoom discussions to tweet-a-thons and chats to community gatherings and radio shows to online rallies and widespread sharing of SRHR information!
Advocates and allies have also been very active in sharing May 28 campaign materials and messages that were made available on the www.may28.org website. The expanded online toolkit included profile photo frames, cover photos, campaign posters, social media cards, and sample tweets and messages.
This year, more than fifty actions coordinated by local, regional, and international organizations were documented. Proof of the success of these actions are the commitments made by government leaders, media landings, and more than seven million impressions made online, where most of these actions have taken place. We made 7 million impressions online. This was possible thanks to everyone who occupied online spaces with May 28 activities, materials, and messages!
To quote this year's call for action, COVID-19 may have impacted all of us, but women's health and overall well-being, particularly of those in the Global South, have been disproportionately affected. The May 28 campaign showed once again how, despite the extraordinary challenging times, we remain steadfast in our feminist solidarity to tell our stories, make a stand and take action to #EndInqualityPandemic and demand that #WomensHealthMatters and #SRHRisEssential.
This year's campaign was jointly coordinated by Women's Global Network for Reproductive Rights (WGNRR), Asia Pacific Alliance for Sexual and Reproductive Health and Rights (APA), Asian-Pacific Resource & Research Centre for Women (ARROW), Center for Reproductive Rights (CRR), International Planned Parenthood Foundation East and Southeast Asia and Oceania Region (IPPF ESEAOR), International Campaign for Women's Right to Safe Abortion, Japanese Organization for International Cooperation in Family Planning (JOICFP), Philippine Safe Abortion Advocacy Network (PINSAN), Resurj, Safe Abortion Advocacy Initiative Global South Engagement (SAIGE), SHE ACTS Africa and WGNRR Africa.
Download the full report here
Thank you for your support and we look forward to our active mobilization for this year's #InternationalSafeAbortionDay with the theme SAFE ABORTION IS ESSENTIAL HEALTHCARE
#MakeUnsafeAbortionHistory
On September 28, join advocates advocate in mobilizing online to show governments the safety, efficacy & acceptability of de-medicalized abortion, including MVA & with pills via telemedicine. For updates on International Safe Abortion Day, go to www.september28.org.