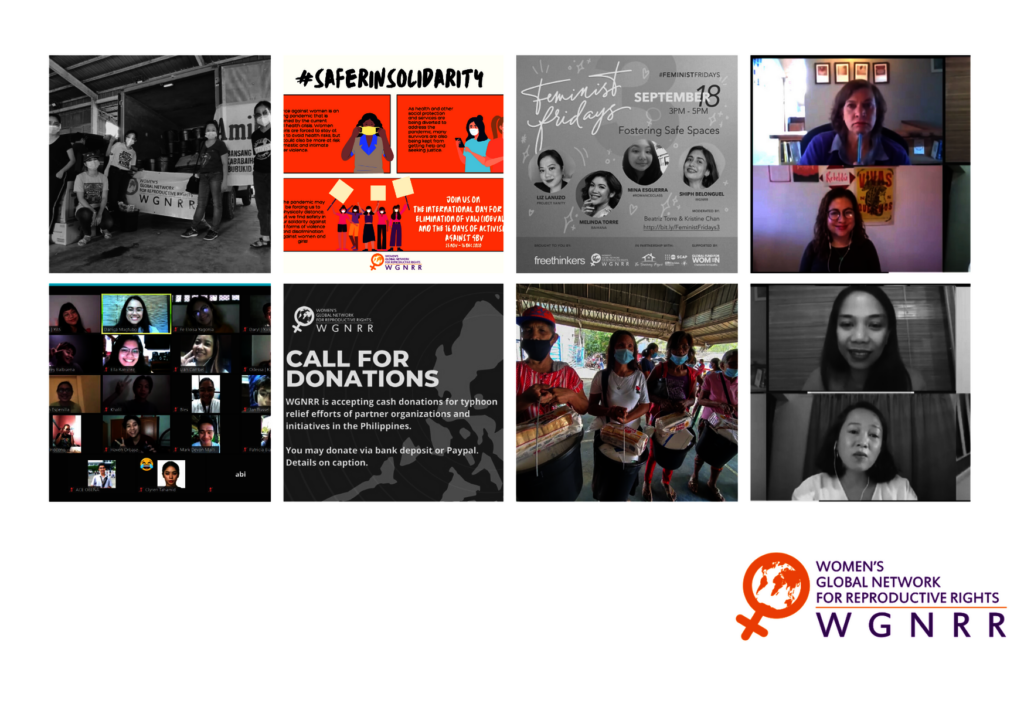 2020 has been a very challenging year for all of us. We found ourselves facing a public health crisis that directly impacts on peoples health, economic stability and lives. The COVID-19 pandemic brings about unprecedented challenges that threaten a decline in the developmental gains of many countries. This includes advances made in the arena of sexual and reproductive health and rights (SRHR), where progress was never easy to begin with.
As an SRHR activist organization, WGNRR continued our work despite the limitations brought about by the current situation. We work with other SRHR activists, feminists, and allies all over the world to creatively and innovatively respond to the crisis. We highlighted and called on governments and the international community that a rights-based, just, and sustainable approach to the COVID-19 pandemic is critical. We captured stories and experiences of women and girls who had been placed in precarious, even fatal situations. We called on ensuring SRHR information and services to remain essential in the COVID-19 response as the resources and priorities are reallocated to respond to the pandemic.
WGNRR Campaigns
Even before COVID-19, women and girls were already dealing with multiple barriers in accessing SRHR information and services. The public health crisis exacerbates the barriers of women and girls living in intersecting vulnerabilities, particularly those in contexts with fragile economic and health systems. During the Days of Action, we mobilized, asserted and demanded through a diverse range of actions, from webinars and zoom talks to twitter rallies and chats to live video pitches and photo challenges to online contests, among others.
Using the hashtags #SRHRisEssential #WomensHealthMatters #NoLockdownonRights we highlighted during the May 28 International Day of Action for Women Health that women's health still matters and will always matter as we continue to be needing SRHR services and information with or without a pandemic.
In September, we sparked conversations with Global South activists to emphasize that access to safe abortion services is crucial to protecting and realizing fundamental human rights - this remains true during the current COVID-19 pandemic. We responded to the global theme on access to telemedicine and self-managed abortion by highligting the lived realities of women from the Global South which are different and diverse, and where access still remains a huge challenge for women especially living in rural areas.
It was also in September when together with the Philippine Safe Abortion Advocacy Network (PINSAN), we launched a proposed bill to decriminalize abortion in the Philippines. The draft legislation, "Act Decriminalizing Induced Abortion to Save the Lives of Women, Girls, and Persons of Diverse Gender Identities, Amending Article 256-259 of the Revised Penal Code" when passed into law will provide access to safe abortion and avert maternal deaths resulting from unsafe abortion complications. The launch of the proposed bill was a result of the series of consultations with various stakeholders that united in the advocacy to prevent the unnecessary deaths of Filipino women due to unsafe abortion and denial of services.
During the 16 Days of Action Campaign that started in November 25 until December 10, with the hashtag #SafeinSolidarity we underscored that we find safety in our solidarity in the midst of the crisis. WGNRR launched numerous activities as a contribution to the global campaign. Our activities were sustained actions focusing on raising awareness on gender-based violence and strengthening accountability for all forms of gender-based violence. From November 25 until December 10, we conducted range of activities from webinars, teach-ins, online contests, online concerts, among others.
Young people's SRHR
We conducted an online SRHR bootcamp gathering 15 young people of diverse gender and backgrounds from all over the Philippines. For 3 weeks, the Young People + SRHR Online Bootcamp facilitated training programme on SRHR and basic skills on creative communications. The online bootcamp were offered through modules, videos, presentations, Zoom discussions, and the likes and with reading and weekly assignments that allowed the participants to demonstrate their knowledge creatively. The Bootcamp created spaces for young people's voices and actions for their SRHR to enable them to advocate for young people's right to making informed decisions in all matters relating to their sexual and reproductive health, free from discrimination, fear, and violence. They also promote young people's leadership in demanding for this right. After 3 weeks, a new cohort of young advocates for SRHR was formed where they led online discussions and social media engagements in support of WGNRR's campaigns.
Linking and Learning
Together with our partners, we conducted learning exchanges on SRHR such as on obstetric violence is systemic and global, against minority communities most impacted by HIV and share advocacy that is being done around the world. We also gathered young people from Indonesia, India, Kenya, Tanzania and the Philippines for a 3-part online discussion series on Young People, Reproductive Justice, and Abortion Rights. A "LEARNING WHY: Safe Abortion and Post-abortion Care, a South to South conversation" with healthcare practitioners and students, and SRHR advocates was held with experts from Kenya and Malaysia discussed the importance of integrating rights-based curriculum in medical schools when teaching abortion. A 6-part #FeministFridays workshops were held to discuss range of topics on SRHR and feminism.
Fundraising campaigns
In January, WGNRR Manila Coordination Office launched a campaign that mobilized support for women and girls affected by Taal Volcano eruption where over 60,000 individuals were affected, most of whom are taking temporary shelters in evacuation centers. Taal Volcano in Batangas, Philippines, about 60 kilometres away from Manila, is one of the country's most active volcanoes. WGNRR Coordination Office partnered with organisations in conducting relief operations to provide additional sanitary and basic hygiene supplies, including much needed items to address menstrual hygiene.
In November, the Philippines was hit by four typhoons, one of which was super typhoon Rolly (international name: Goni) - considered to be "one of the strongest tropical cyclones to hit Earth so far this year". Twelve regions in the Philippines suffered in the aftermath of the super typhoon, with more than 500,000 families affected, while almost 300,000 families displaced mostly in Southern Luzon, and killing at least 16 people while 3 are still missing. But it was Typhoon Ulysses (international name: Vamco), three typhoons after Rolly, that brought the worst impact to the island of Luzon in the Philippines which hit on November 11. The succession of typhoons this month caused the worst floods in northern Luzon as the Cagayan river rose quickly reaching its critical spilling level that ultimately led to the flooding in Isabela, Cagayan including Tuguegarao City. At least 1.1 million people were affected, more than 80,000 remain displaced. As of November 17, there are 73 recorded deaths, 24 injured and 19 missing due to typhoon Ulysses. WGNRR and its partner organizations provided humanitarian response especially ensuring access to sexual and reproductive health services in the typhoon-affected areas as they rebuild their homes.
New staff members
We welcomed Danica Magtubo as Youth SRHR Officer, Maria Luisa as Finance and Admin Assistant, Shirphrah Gold Belonguel our SRHR Advocacy and Communications Officer, Vonna Vista our new Graphic Designer and Sarryna Gesite the Networking Officer
Most of the planned activities were adjusted to adapt with the mobility restrictions. We utilized new tools and maximized online spaces to conduct our activities. We cannot emphasize enough the importance of our partners and allies—from global, regional and local organizations to individual advocates and activists—in ensuring SRHR to remain essential during the health crisis.
Another year has passed with satisfying achievements involving our partners, allies and members. We are grateful for all the support that our members, partners, donors and partners have provided. We thank grassroots women and girls for being the reason, inspiration and motivation for the work that we do.