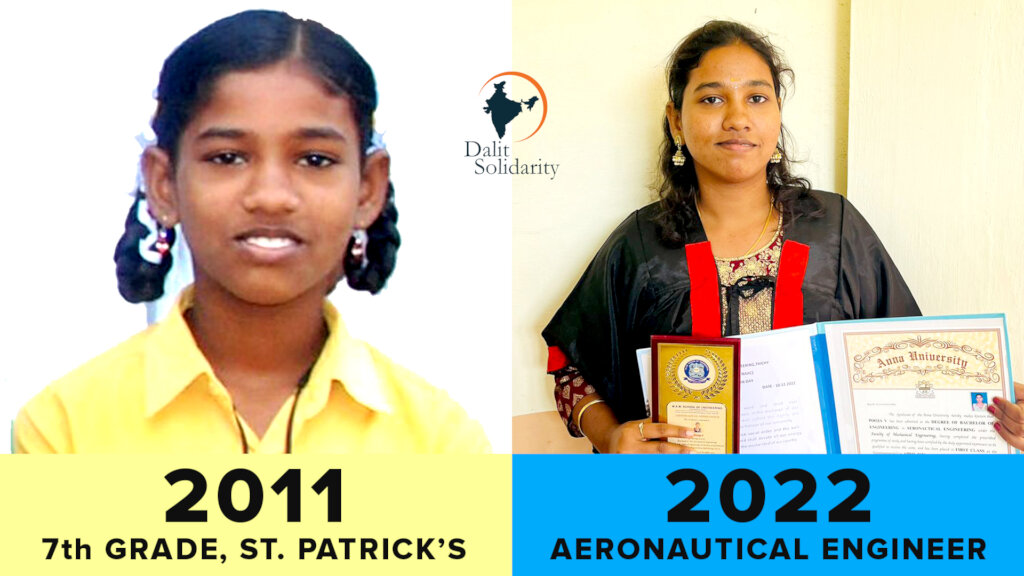 Pooja, our former student at St. Patrick's Academy from 2008-2012 has become an Aeronautical Engineer in 2022. A great milestone both for her and St. Pat. Her mom became a widow when Pooja was a baby and joined our 'Widows Empowerment Group'. Her story is a great inspiration of how education can change our lives to achieve equality and dignity as Dr. Ambedkar dreamt. Thanks for all friends and families of Dalit Solidarity for this moment. We congratulate Pooja, her mom and school staff for making an history. We wish and pray for your great success in the coming years. Here is what Pooja just wrote to us.
"My name is Pooja and I am from odiyathur. I have my mother and a younger brother. My father passed away when I was one and a half years old and my brother was two months in my mother's womb. When I competed my fifth grade, I got to know from some neighbour about St.Patrick's school and their sponsorships to help kids from rural areas and make them study.
Then, I attended three days camp. I liked the infrastructure very much. The teachers were very friendly and I felt more like my home. After three days I got selected for the program.
So, they gave me a one year English language program, which included computer skills, sports, extra curricular activities. They also gave importance for my extra talents like singing, dancing, etc... That was very useful to me. They also brought volunteers from foreign countries which was very useful to practice my English language skills by interacting with them and getting to know their culture etc....
Then, they got me admitted in Sixth grade in a English taught program at St.Mary's matriculation school, Vikravandi. I have never thought that I would have a life like that.
Now I'm successfully graduated as a Bachelor in Aeronautical Engineering from M.A.M School of Engineering, Trichy. I got selected in Reliance Telecommunications at Chennai for the post of Telecaller Executive. Even though it is not related to my studies, the HR selected me for my fluent communication skill. I am very grateful to Rev. Father Benjamin Chinnaparaj for giving me the opportunity to be a part of his program. I would also like to thank Rev. Father Devasagayaraj and each and every faculty members who helped me. Thank you!"