Project Report

| Jun 17, 2022
180 nuevos alumnos / 180 new students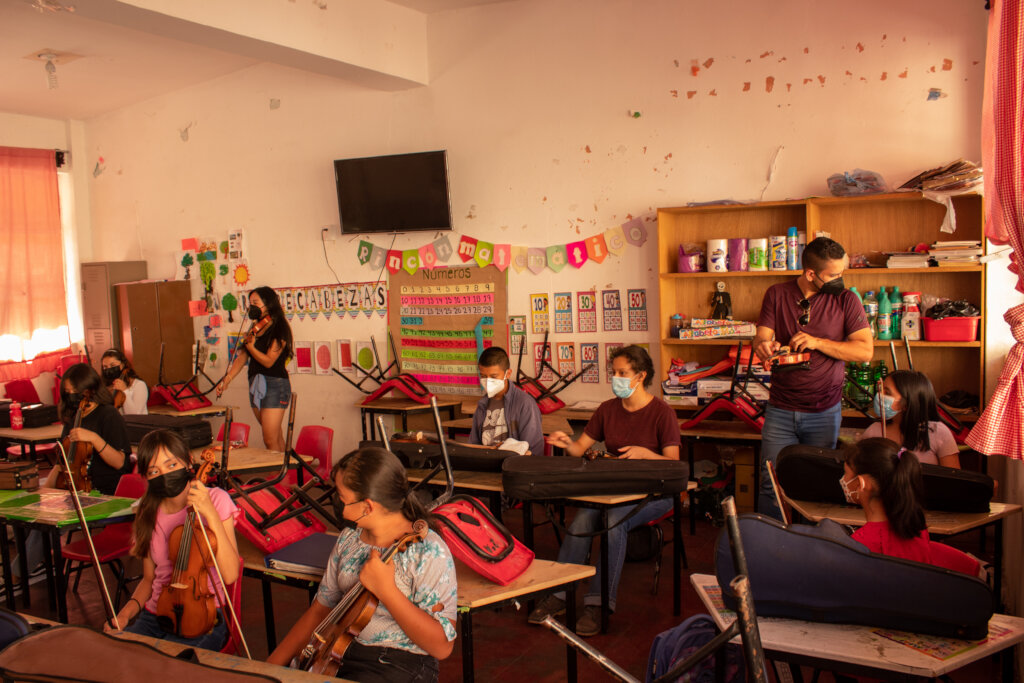 ESPAÑOL
Después de varios años sin abrir una agrupación musical nueva, en este mes abriremos un espacio nuevo con cabida para 200 niños, niñas y adolescentes. Esta agrupación ofrecerá un espacio lleno de música, aprendizaje, diversión y comunidad. Además, los y las participantes podrán desarrollar habilidades que les servirán para toda la vida.
Durante tres semanas estuvimos llendo a escuelas y espacios públicos de la comunidad para mostrar el trabajo de MUVI. Así, llegaron niños, niñas y adolescentes de diferentes edades, condiciones y características.
Entre ellas está M, un niño de 11 años que tiene un derivado de autismo, él tiene actitudes diferentes a otros/as alumnos/as. Gracias a nuestra facilitadora comunitaria, se dio las pautas para trabajar con él con indicaciones cortas y pequeñas; además de trabajar con imágenes ilustrativas para que no pierda la atención. Tiene muy buen ritmo y está muy emocionado de estar en Percusiones.
Así, generamos comunidad, respetando los procesos de todos y todas.
Gracias por seguir apoyando.
ENGLISH
After several years without opening a new musical group, this month we will open a new space with room for 200 children and adolescents. This group will offer a space full of music, learning, fun and community. In addition, participants will be able to develop skills that will serve them for a lifetime.
For three weeks we were filling schools and public spaces in the community to showcase MUVI's work. Thus, children and adolescents of different ages, conditions and characteristics arrived.
Among them is M, an 11-year-old boy who has a derivative of autism, he has different attitudes to other students. Thanks to our community facilitator, the guidelines for working with him with short and small indications were given; in addition to working with illustrative images so that he does not lose attention. He has a very good rhythm and is very excited to be in Percussion.
Thus, we generate community, respecting the processes of all.
Thank you for continuing to support.