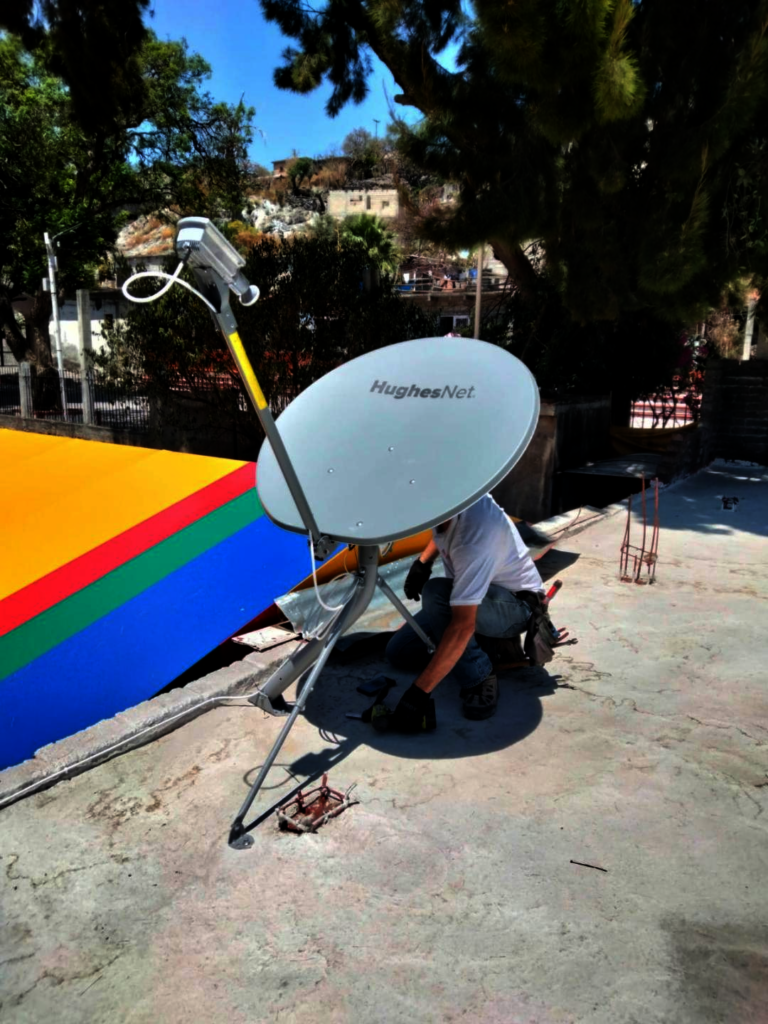 DONE! MUCH NEEDED CHANGES TO ATZIN INFRASTRUCTURE
As readers will appreciate, good programs can only run with certain supports in place, like the right personnel but also, the right physical structures. For those with an eye to construction and installations, here is run-down on Atzin's rehabilitation and general improvements on our facilities carried out over the past three months.
Rehabilitation of the Atzin Centre in Tlamacazapa
The rehab started with a massive de-cluttering of accumulated program-related materials (what a difference!), removal of old paint on concrete floors (a tedious scraping effort undertaken by many) followed by the painting of walls and floors by the promoters and team. Followed by,
Installation of a satellite dish on the centre's roof after much deliberation of how to best make internet happen. Now for grounding of connections, office equipment setup, and security measures. This will be a communication breakthrough.
Replacement of the leaking vinyl roof (the famous "lona") over the terrace (which, depending on the day, serves as a classroom, a meeting space, an outdoor kitchen, and a prenatal waiting area). The original roof lasted 15 years, and its metal frame remains sturdy. The new roof lets in more light, and looks super
Installation of a new 18' fridge in the kitchen. The old one was on its last legs, having been hauled to Cuernavaca twice for repairs.
Still pending: annual cleaning of rainwater catchment cistern and dry toilet vaults; funding search for replacement of the old and well-used but deteriorating kitchen counter with cupboards (yes, still the same one for those recall pouring water down the sink, overflowing the bucket underneath it); and the painting of kitchen floor. Someone stole (siphoned) all of our cistern water in mid-December – a more than annoying blow; everyone went into ultra-conservation mode, relying on rainwater stored in three additional large tanks to get us through the dry season – a "pipa" of water will be purchased right after Easter, trucked in from Taxco.
Atzin House/ Office in Cuernavaca
Construction of a traditional "palapa" with a rectangular palm roof supported by wood posts in the yard. The palapa has already served as a classroom for a total of six days of training; a Board meeting room for two days; and a quiet place for conversation and relaxation. We still need more working space – the House is crowded.
Startup of ecological rocket stove prototypes made of rebar and concrete. David's latest model = 7 minutes to boiling 1 liter of water. This all in preparation for a new pilot project focusing on hosehold kitchen gardens, rocket stoves and rainwater catchment for 20 families.
Construction of a (wonderful) door to close-off an open office space – the one location in the House with peace and quiet for writing and conversations. Installation of sturdy clotheslines on the roof of Atzin House.
As always, a fierce thank you to the volunteers, donors and all those who send good thoughts our way as we carry on with the little-by-little construction of a better future.
Sincerely, Susan
Links: