Project Report

| Jan 8, 2018
Saving Rosa - a story of recovery and paying forward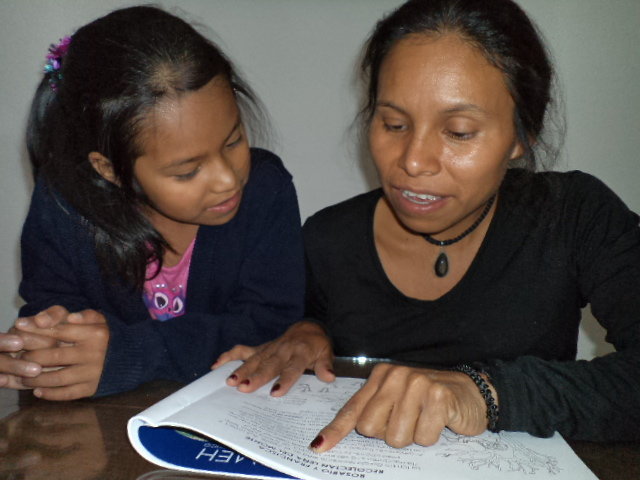 Special Needs Program Report. The following account about a young village mom and her small daughter highlights the critical importance of health, education and mutual support.
A young mother, Martina, reads aloud, using her index finger to highlight each word while her eight-year old daughter, Rosa, listens and prompts her mom on occasion. Let me tell you about the remarkable story behind this photo.
Four years ago, Rosa - thin, pale and weak - was diagnosed with leukemia. Overwhelmed and afraid, Martina tearfully asked the Atzin team in Tlamacazapa for help. We said yes, and Martina and Rosa moved into the Atzin House in Cuernavaca; Rosa's extended treatment started at the regional children's hospital with financial and moral support from Atzin and lots of accompaniment.
Suddenly everything was new and stressful for Martina. All her life, she had lived with her parents and five siblings in a crowded palm hut with a dirt floor, cooking over a smoky three-rock fire, never leaving the village. All were illiterate and weavers of simple palm baskets, just barely surviving from day-to-day. Then this health crisis hit and they feared the worst. Martina's only option was to learn to handle life in the city - taking buses, cooking on a gas stove, answering a phone, and most importantly, managing the confusing hospital systems and caring for Rosa while memorizing the many medications and procedures. We witnessed her determined courage to save Rosa, and Martina gradually made herself indispensable in the Atzin House, proudly earning a daily salary, until Santa Rosa recovered completely and returned to live in the village.
There is another layer to this story. Martina wanted to read. "How much simpler life would be," she said longingly, "if I could just read the medicine labels, the bus signs, the instructions. Imagine If I could read to Rosa!" In response, Lupe and Ana, both living in the Atzin House with a scholarship to attend high school, began teaching Martina to read and write in the evenings as part of their community service. It was slow going, more difficult for Martina than managing the bus and the hospital. Lupe and Ana tutored Rosa as well, and despite her many absences from school, Rosa can now read and write well, having quickly surpassed her mother's ability. She continues to thrive. Mother and daughter read together, each having helped the other, and their futures are forever changed for the better.
Martina and Rosa's story illustrates a long crisscrossing thread of people helping people. In a similar way, we can trace the influence of Atzin's programs. They are interconnected, allowing families to participate in different programs as needs arise. For example, a pregnant woman can be seen by the midwife; her children attended by the dentist; her son enrolled in the tutoring program to help him pass his grade in school; her toddler with special needs registered in the young child stimulation program.
These programs have evolved over time in constant consultation with villagers. They are successful because we carefully listen to people and respond to the best of our ability. Our small Centre in Tlamacazapa overflows with people and materials - the noise can be deafening! There is so much to do, always. Please support us as best you can, and thank you for all your help.
As always, Susan
P.S. Santa Rosa now 11 years old is doing well and recently joined Atzin as our youngest volunteer helping in the Special Needs Program. How cool is that?