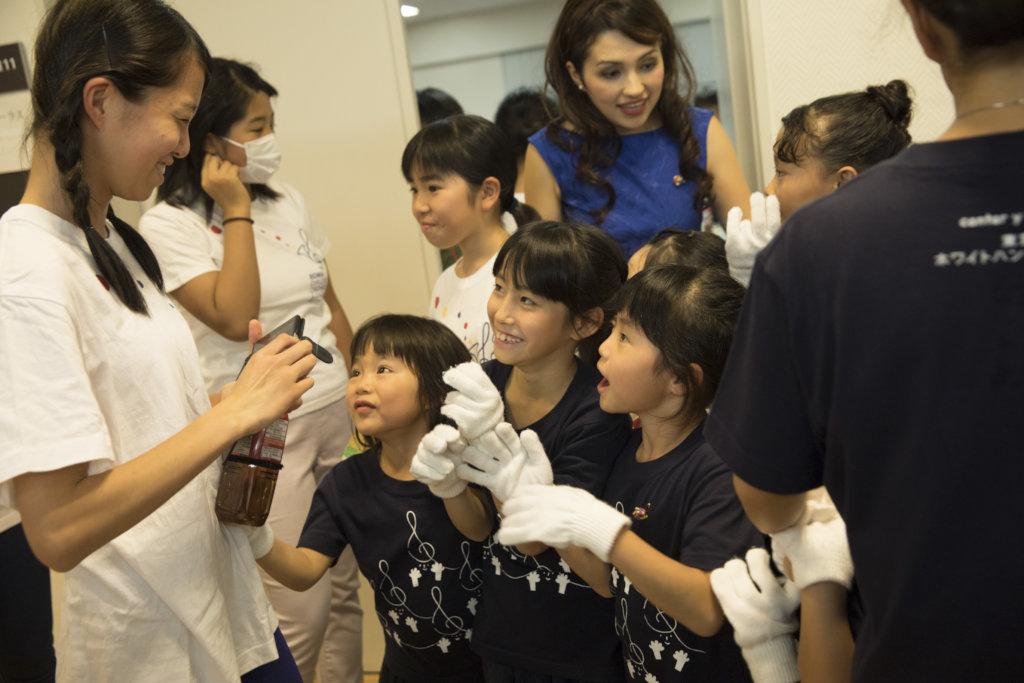 The Soma Children's Chorus joined the Tokyo White Hands Chorus, an innovative choir of children with hearing impairments, on the occasion of El Sistema Gala Concert held last month. As a new addition to El Sistema Japan family, the Tokyo White Hands Chorus was recently formed with an aim to facilitate children with disabilities to express themselves through art.
It was the day before the concert when the two groups of children met for the first time. The Soma Children's Chorus has experience of singing with other choirs and orchestras but has never sung with children who cannot hear yet express the world of music through corporal movements – particularly, by the use of the white gloved hands as symbol. So, the children of the Soma Children's Chorus were excited but at the same time a little anxious when they got together with the Tokyo White Hands Chorus and started practicing "Momiji (Autumn Color of Leaves)", a very popular nursery rhythm depicting the beauty of the Japanese mountains aflame with autumn color.
"It's a totally inspiring experience. I've never imagined expressing this song in such a way", said Aya, a mezzosoprano, observing how the children of the Tokyo White Hands Chorus eloquently communicate the vivid autumn colors without using voice but their hands and other body parts. "Depending on how we engage corporal movements, the colors of leaves can change", describes Hikaru, a hearing-impaired high school student from the Tokyo White Hands Chorus.
The concert represented an opportunity for the two groups of children to interact and learn from each other. They "sang together" 5 songs – the Soma Children's Chorus with its beautifully resonant voice and the Tokyo White Hands Chorus with its magically flowing body movements. Two pieces put together, the children completed the very unique art of music.
"Through this experience, I learned we can communicate with each other just by means of gestures", said Nako, another mezzosoprano, who never had the chance of mingling with hearing-impaired children prior to the concert. It was also meaningful for the members of the Tokyo White Hands Chorus. "Regardless of hearing abilities, we could become friends through music. Now I want to become friends with everybody around the world who may be living with many different types of disabilities", Misaki, a 3rd grader of the Tokyo White Hands Chorus, shared her passion.
Thanks to the generous supporters like you, we can organize events like this El Sistema Gala Concert and bring together children of different backgrounds. We strongly believe in the value of accepting differences and promoting an inclusive society through music. We assure you that your contribution has been and will continue to be used in a meaningful way. We appreciate your support from the bottom of our hearts – thank you!