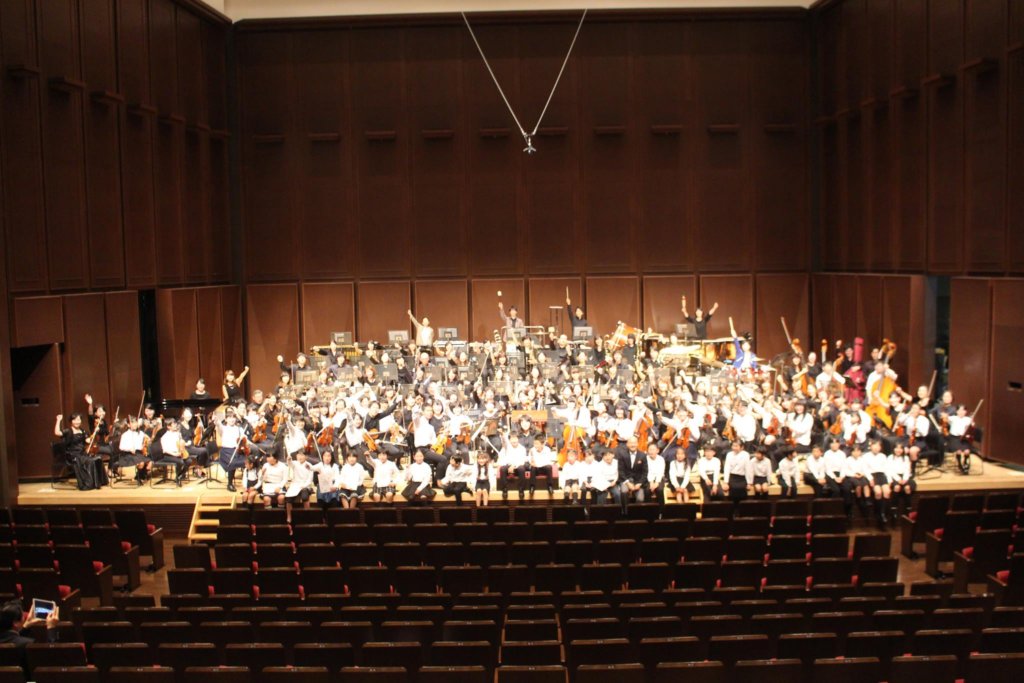 The Soma Children's Orchestra traveled to Tokyo and participated in "El Sistema Japan Orchestra Festival" late last month. It represented an extraordinary opportunity for the children not only to visit Japan's metropolis with peers but also to explore and create harmony with those who are coming from different backgrounds.
50 children left Soma, Fukushima Prefecture, for Tokyo early in the morning. Ahead of them was a long bus ride to Tokyo, but the children never seemed to bother. "It's always fun to travel with friends", smiled Hinano, a 3rd grader girl who joined the Soma Children's Orchestra 4 years ago.
As soon as the children arrived in Tokyo, they joined a rehearsal with the members of other orchestras – specifically, the Otsuchi Children's Orchestra, the Fellow Orchestra and finally the Hands On Orchestra. What is interesting and challenging about "El Sistema Japan Orchestra Festival" is to bring together these orchestras of different backgrounds. To briefly introduce the other orchestras; the Otsuchi Children's Orchestra is another El Sistema-inspired program from the tsunami-affected small town of Otsuchi, Iwate Prefecture. The Fellow Orchestra is a Tokyo-based group of adults, including professional musicians, while the Hands On Orchestra is composed of 7 elderly ladies who just started learning the violins. "This event is all about the participants realizing a sense of unity by overcoming the differences in age, hometown, affiliation, proficiency and life experiences", said Yutaka Kikugawa, Executive Director of the Friends of El Sistema Japan.
Till the last minute, over 130 members from 4 different orchestras practiced together in search of 'united music'. The tickets were nearly sold out, and the audience was impatiently waiting for the curtain to be raised. The musicians dressed in black and white appeared on the stage. They all seemed very nervous. Once they started playing, however, they gradually looked uplifted and happy getting into the rhythm of music together with others on the stage.
The differences exist among the participants, but they also have things in common. That is, they all love music and believe in the power of music. "Playing the violin, I was filled with a sense of togetherness. It was such a great feeling", said Takayuki, a freshman who played the role of Concertmaster at "El Sistema Orchestra Festival".
Thanks to the generous supporters like you, we can organize events like "El Sistema Orchestra Festival" and let the children in Soma experience and build connections with the outside world. Through this event, the children learned that they can go beyond borders and deepened their appreciation for music. We appreciate your continued support – thank you!