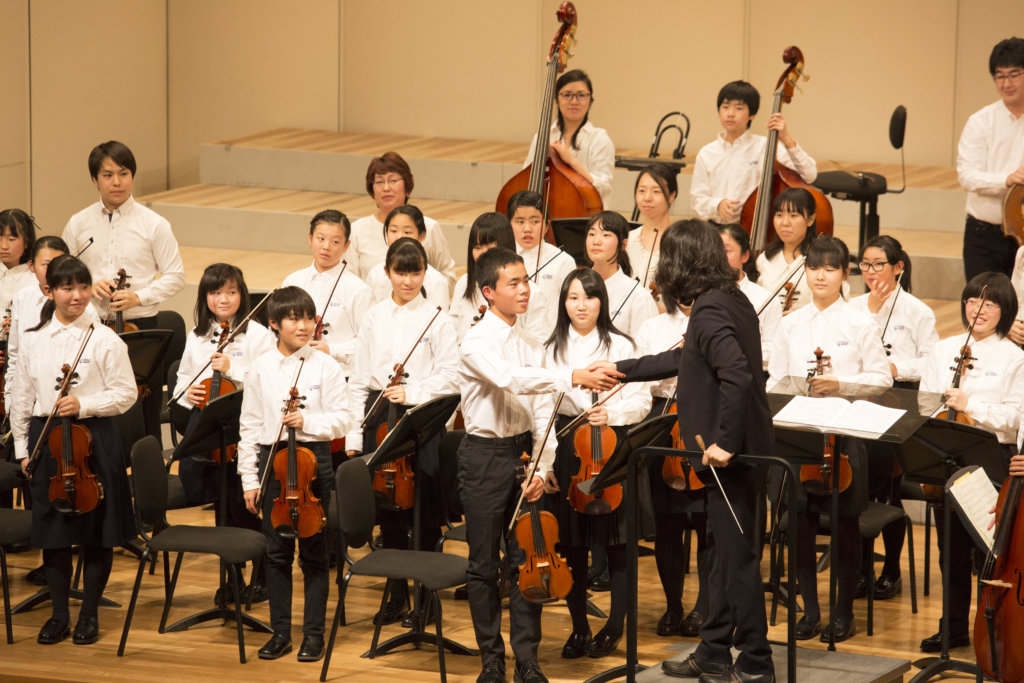 The Nutcracker, Jingle Bells, White Christmas … the small coastal town of Soma in Fukushima was not covered with snow, but its civic hall was filled with a collection of heart-warming Christmas treasures called "music".
After the 2011 Great East Japan Earthquake, the Friends of El Sistema Japan have been providing free music education to children in partnership with the local government of Soma. Specifically, the children learn strings and chorus with peers in an inclusive group setting. It was meant to support and help them overcome distress caused by the devastating earthquake and tsunami. As you may know, Fukushima has suffered not only from the direct loss of people's lives and houses but also from the ongoing misery associated with the 2011 nuclear power accident.
The Soma Children's Orchestra & Chorus was formed with an aim to nurture life skills of the affected children through music. Our El Sistema-inspired orchestra and chorus is a microcosm of the world, which is composed of preschoolers to high school students, children from both single-parent and big families, disabled and so on. These children achieve musical excellence together by learning about each other and growing as a team.
The Children's Music Festival was first held in March 2015. It served as a venue for the Soma Children's Orchestra and Chorus to present music to their families and local residents. Soma once gained musical fame with its folk songs and has a long tradition of playing and appreciating music, so the event has met with high expectations from the local community.
The 3rd Children's Music Festival organized last Christmas was also joined by the local junior high school and high school brass bands. The two-day festival boasted a wide variety of music by children and culminated with Finlandia, a masterpiece by Sibelius. "Music synchronizes with an array of emotions. Happy music can lead you to smile no matter if you are playing or listening to it", says Kurumiko, a junior from Soma High School.
Thanks to the generous supporters like you, we can continue to provide free music education and organize events like the Children's Music Festival for the children in Soma. We can assure you that they have gained and are still steadily gaining life skills through music. Furthermore, our program helps not only the children but also the community itself with positive ripple effects.
Music grows children. Music unites everybody. We appreciate your continued support in our endeavor. Thank you!