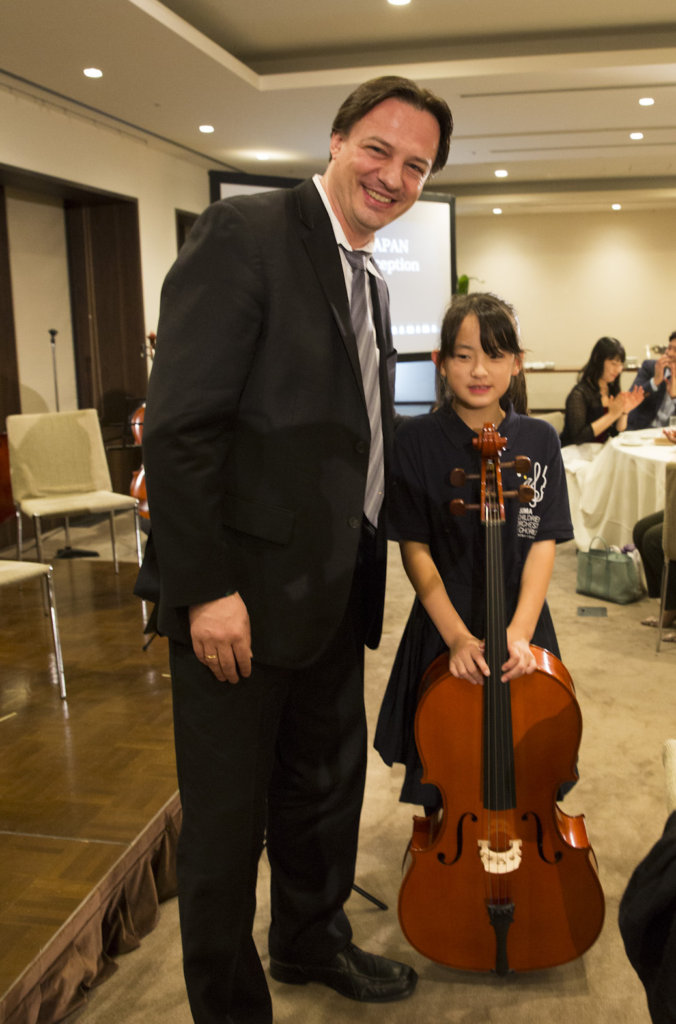 Risa first met "Marek-san", a tall, fair-haired American cellist of Polish origin, in her hometown of Soma, Fukushima, in 2014. Having first-hand experienced the tragedy of the nuclear reactor meltdown in Chernobyl at the age of 16, "Marek-san", was firmly determined to stand up for the children of Fukushima. It was the site of the aftermath of the 2011 Great East Japan earthquake and tsunami struggling for recovery and reconstruction.
Soma is a small coastal town with an estimated population of 35,800. Parts of the town were engulfed, destroyed and swept away by the devastating tsunami, which reportedly rose up to 9.3 meters or higher and claimed the lives of 458 people. Despite the town's proximity to the very site of the nuclear power accident, the level of radiation exposure in Soma was considered to be not serious enough for its residents to evacuate. However, the stigmatized image of Fukushima being contaminated with radiation ripped apart the hearts of local people and further cast a shadow of uncertainty toward the future. The Soma Children's Orchestra & Chorus was formed with an aim to nurture life skills of the affected children through music.
Marek discovered the Soma Children's Orchestra and extended assistance by contributing the funds raised by his cello recitals. "Without music, I would not have been able to overcome the fear of Chernobyl as well as the difficult life in Poland under the Soviet Union's communist regime. I sincerely hope that music will help the children in Soma find answers in life as well", he conveyed.
In November 2014, Marek visited Soma and played music with the Soma Children's Orchestra. During the lesson, Marek noticed that Risa, a then-3rd-grade girl, was struggling with the cello that was unfittingly big for her height. Back then we could only afford one half-size cello, which Risa had had to give up to another child. She had been advised to pick up another instrument instead but could not let go her dream of playing the cello. Having learned of this, Marek purchased another half-size cello for Risa with the proceeds from his recital 4 months later. Needless to say, Risa was very pleased with the gift. Her dream came true.
Risa was so determined that she can now play Beethoven's 5th Symphony. "Your progress is remarkable", Marek praised Risa at the recent reunion. Then, much to everyone's astonishment, he gave her a 3/4 size cello this time – expecting that Risa has grown up over the course of 2 years and would be fit for a little bigger cello now. "I am happy and thankful because Marek-san extended a helping hand again", Risa smiled.
Marek chose the instruments and bows carefully with the hope that Risa and other members of the orchestra would be able to enjoy them for a long time to come. Risa says the cellos from "Marek-san" play with a gentle, deep sound. She knows it is not just about the cellos, but they stand for friendship. It resonates with Marek abiding heart for the children in Soma.
Thanks to supporters like you and Marek we have been able to continue providing the gift of music to children in the disaster-affected areas. In addition to our work in Soma, we have been making free music education available to the children in Otsuchi, another coastal town severely challenged by the 2011 Great East Japan earthquake and tsunami. While Japan has the world's third-largest economy, the gap between the privileged and the underprivileged is widening. The children are no exception. We have continued witnessing this trend as we implement activities on the ground,
Your continuous support is indispensable in keeping our program running and to make sure no child is left behind. Once received, your donation will be used to purchase and maintain instruments as well as to organize regular music lessons for children. We appreciate your continued passion. Please contact us if you have any questions or suggestions.
Thank you.