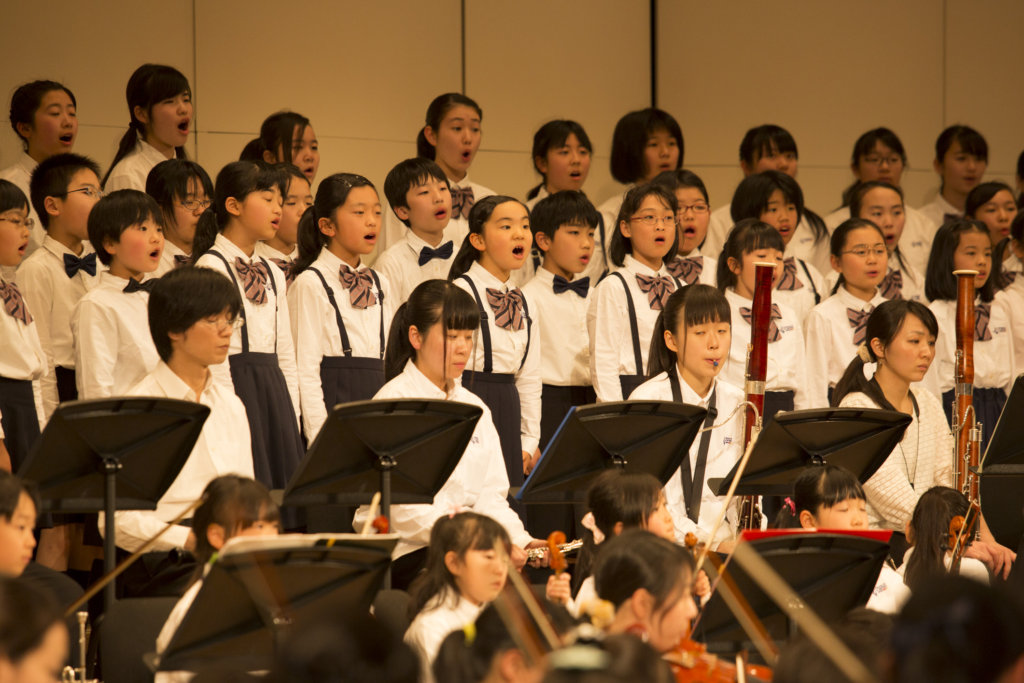 This year's March 11 marks the 5th anniversary of the devastating earthquake and tsunami that hit northeastern Japan and subsequently instigated nuclear accidents along the coast. Many children were then separated from beloved families and friends, lost homes and went through traumatic experiences. Friends of El Sistema Japan was established in 2012, one year after the disaster, to equip children in the affected areas with life skills through music. Specifically, we have been engaging children in El Sistema-inspired inclusive education program – any child, regardless of his or her family background, disabilities and nationality, can participate in a classical orchestra and chorus and receive music education for free, as far as the child wishes.
The Friends of El Sistema Japan's program started off with a modest number of children, partly due to lack of resources. However, now the orchestra has grown to a dynamic group of 90 children while the chorus counts over 60 children. Furthermore, by dispatching music teachers to public schools, we are providing indirect support to approximately 2000 children in the earthquake-affected areas. This has all became possible with incredible commitment and support from those who believe in our program for children.
To commemorate the 5th anniversary of the tragedy, we recently organized the El Sistema Children's Music Festival with the local government of Soma City, Fukushima. Children were so proud to sing and play instruments with their peers. In fact, the orchestra and chorus itself is now like a big family playing the sounds in harmony. "When I first came to Soma City, I was so lonely away from my kindergarten friends", said 4th grader Nanaka. Following the earthquake, she evacuated from the coastal town in northeastern Japan, which was contaminated by the nuclear power plant accidents. "But now I have many friends here. Singing with them in front of a large audience like today brings me great joy", she continued with a big smile.
At the El Sistema Children's Music Festival, the children demonstrated the power of music by uniting not only themselves but also their families, friends, and the audience at large – which includes the current and potential supporters like yourself. While the reconstruction efforts continue in various forms, we believe our program has benefited and will keep benefiting those children on the ground. Music, together with friends, can create peace of mind. We greatly appreciate your generous support in all our endeavors.