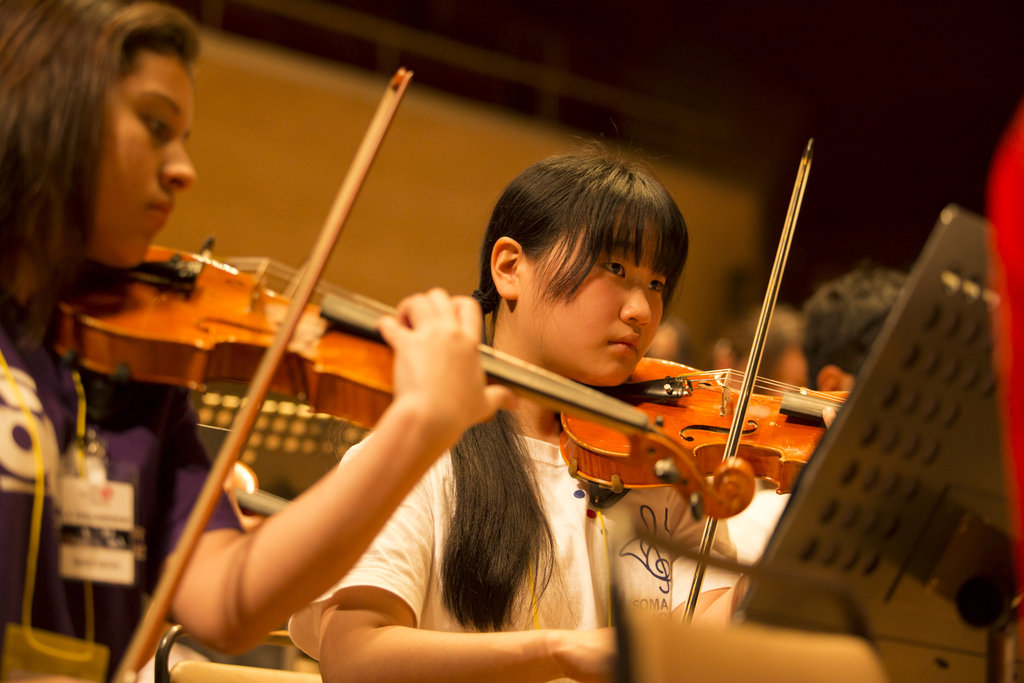 "Now I have a new dream; I will visit Los Angeles as a member of highly regarded Japanese orchestra, namely, Soma Children's Orchestra!"
Misaki (Grade 8) shared after the concert event "Dudamel and the Children" held on March 29, 2015, co-hosted by city of Soma, Friends of El Sistema Japan and Los Angeles Philharmonic. Misaki, one of the selected members to play with Youth Orchestra Los Angeles (YOLA), a well established el sistema inspired program run by the LA Philharmonic, conducted by maestro Dudamel at the most prestigious classical music venue in Japan "SUNTORY Hall", seemed very nervous throughout the rehearsal and the concert. (and she had all right to be!) However, when she returned from the stage, she was full of confidence with sense of accomplishment and joyfully shared her new dream.
3 years ago when we established Friends of El Sistema Japan, children in Soma were still living in challenging environment and struggling with traumatic stress caused by earth quake, Tsunami, and subsequent nuclear accident. Many of them lost their family members and friends. They had to be relocated to shelters, and restricted to play outside due to radiation.
We believed in power of music and potential children have. We vision children will grow zest for living through El Sistema inspired music program. We dreamed that someday, children will be able to talk about their own dreams again. Slowly but surely we see positive changes in children as well as community they live in.
This is all because of YOU! As always, our sincere appreciation for your donation and continuous support. Your donation is mainly utilized to provide and maintain children's instruments, as well as for their daily lessons. If you have any questions or suggestions, please do let us know. We would be happy to hear what you think!