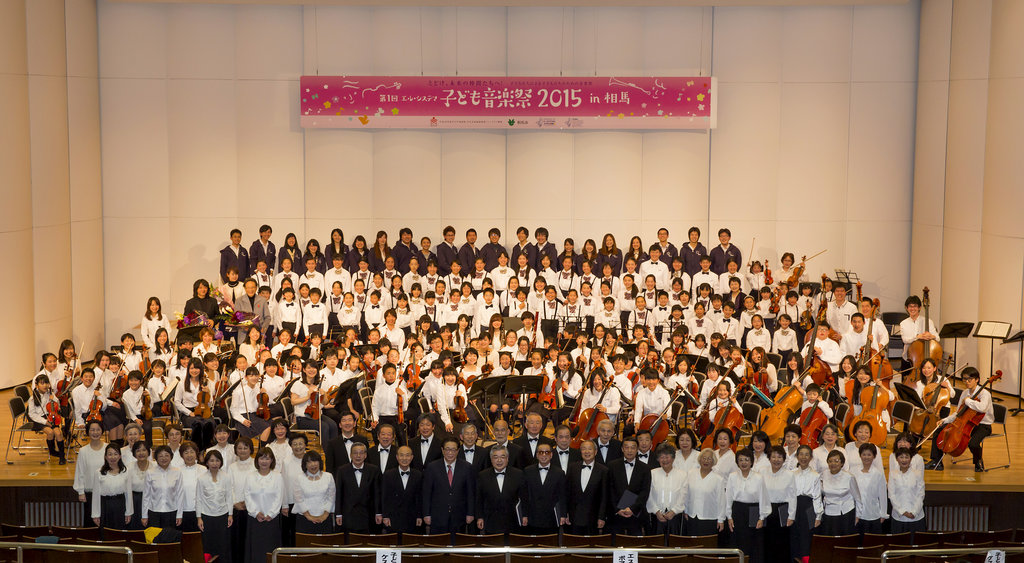 "We learned the importance of taking initiative, learning from each other, and keep polishing ourselves." Naoko (Grade 6)
We are very happy to share that on March 1st 2015, we co-hosted El Sistema Children Music Festival 2015 successfully in Soma-city of Fukushima, together with City of Soma. It has been nearly 3 years since Friends of El Sistema Japan was established and 2 years and 10 months since Cooperation Agreement with City of Soma was concluded. But this was the very first time we co-hosted the event. We feel is quite meaningful at all levels that local organization and community are actively involved in the program
At the opening of music festival, Naoko (Grade 6) spoke to the audience on the stage. "The earthquake from 4 years ago has caused inexpressible fear and traumatic stress to many. And many are still suffering emotionally, and living in challenging environment. But I feel since this El Sistema inspired program has started in Soma, I recognize gradual changes in ourselves. Through the power of music, we were able to rebuild our shattered heart. And, through the power of music, we are now able to look ahead and have hope for the future. Furthermore, El Sistema has taught us its importance of taking initiative, learning from each other and keep polishing ourselves. Today, we will sing with utmost gratitude, remembering each one of you who has been supporting us."
Soma Children's Orchestra and Chorus played and sung well-known pieces this time, including Tchaikovsky's Waltz of the Flowers from "The Nutcrackers" and "Hallelujah" from Handel's Messiah. Challenging pieces yet their performance was absolutely fascinating! The audience of more than 700 people, from inside and outside of the community seemed enjoyed the concert very much.
It may sound it is exaggerated; but we know the power of music is immeasurable, and it is our principle to grow zest for living through music. We are determined again to reach out more children in needs.
As always, we thank you for your donation and continuous support. We welcome your feedback and suggestions at all time. Please let us hear what you think!