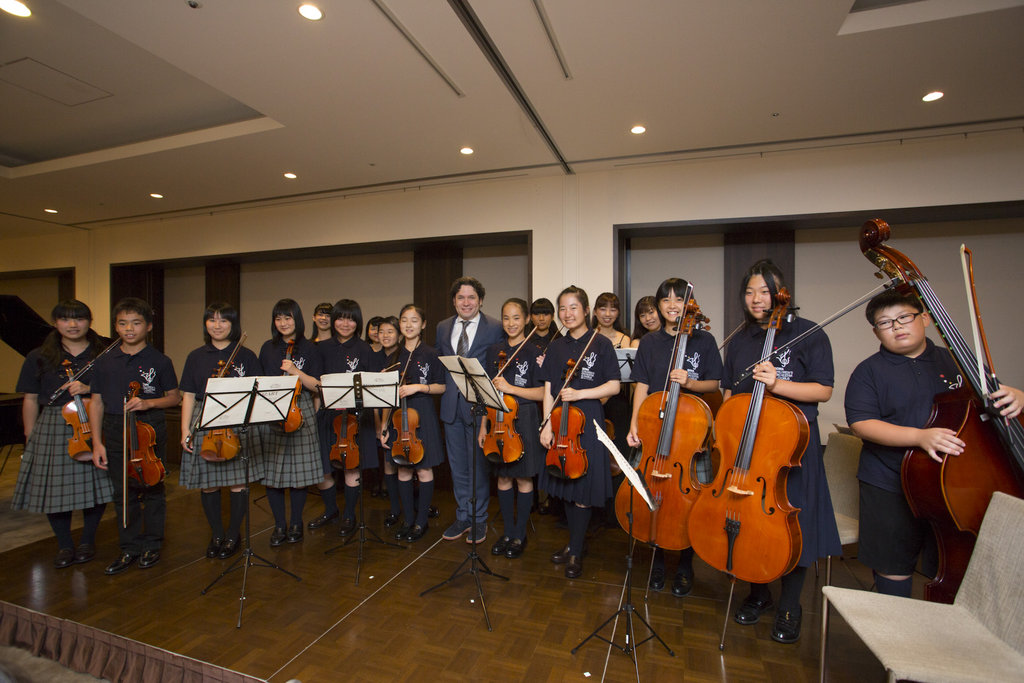 "I send you and all of your colleagues and families back at home my un-ending support - as one, we are united!" The heartfelt message of Maestro Dudamel encouraged children of Fukushima greatly.
Commemorating 2 and half year anniversary of establishing Friends of El Sistema Japan, we had an honor to hold a Charity Gala Reception at ARK HILLS CLUB, Tokyo, on Sep. 23rd, 2014 surrounded by over 130 dedicated and committed supporters, including Maestro Gustavo Dudamel, one of the greatest conductors in a century produced by Venezuela.
The reception hall was filled with joy and excitement; however for those 13 selected members of Soma Children Orchestra, it might have been little different – extremely exciting, yet very nervous considering they were playing Mozart "Divertimento K136" in front of Maestro Dudamel!
Unceasing effort of children was definitely repaid. As their bows glide on the strings for the last note, entire audience stood up to give round of applause which lasted a while. One of the children bursted out crying. Later on, she shared with us that she was so happy to be able to play without any mistakes on the passage which has been quite difficult to concur. Each one of them looked very proud and standing little taller. The achievement was not only on the music but also what they have learned along the way. Tireless effort to brush up skills, courage to learn and challenge new piece, reaching out to one another with the mind of "no one is left behind". But most of all, they learned the true beauty is to be able to play not for oneself but for others and contribute for others happiness.
We thank you, Global Giving donors for your continuous support that enables children to learn such a valuable experience.
After the excellent performance, Kanon (grade 9) spoke to the audience; "Our hometown Soma is the town of rich nature and long-established traditions that we are proud of. However, since the earthquake and Tsunami hit our hometown in March 2011, we faced numerous challenges and hardships such as losing family members or place to live. During such difficult time, El Sistema Japan came to our town, Soma Children Orchestra and Chorus were established and once again, we were able to play music. This meant so much to us, and we felt hope. We felt finally we could take a step forward. Now we even feel that our music is comforting and contributing to rebuild our community little. Oh behalf of 150 members of Soma Children Orchestra and Chorus 13 of us are here in Tokyo today. We played earnestly Mozart remembering our families, teachers and friends who supported throughout the challenging time. On this beautiful autumn day, I would be happy if you enjoyed, felt something from our music, and visit us in Soma to meet us again. (in Japanese)"
She also added in English. " Maestro Dudamel, we hope you enjoyed our Mozart. Thank you so much for being with us today. We look forward to welcoming you in Soma someday."
Maestro Dudamel responded; "To all of the children who played for me in Tokyo from Soma, I want to send to you my thanks, my gratitude and my love. It was a moving experience to hear you perform Mozart and I send you and all of your colleagues and families back at home my un-ending support - as one, we are united!"
Again, thanks to your committed contribution, many children are making positive changes in their lives and community they live in. We are determined o expand our program and reach out more children in needs. Your continuous support and kind attention would be immeasurably appreciated!