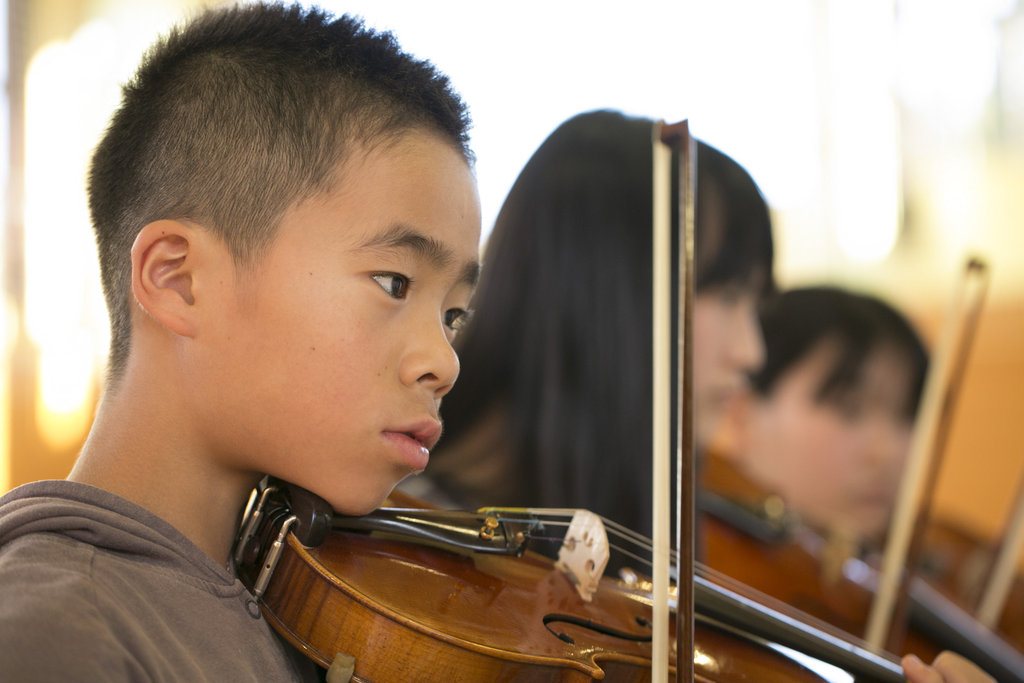 Through peer learning experience, Takayuki (Grade 6, Ono elementary school) says he realized it takes enormous effort to teach others, but he has a sense of accomplishment in the end.
"During 2-day Summer Intensive Lesson, I had an opportunity to teach and assist two of 2nd graders on basic music piece. It was difficult to have them understood at once, and I had to tell them straighten their back many times. Time flew so quickly and I came to realization that I had to be well prepared and communicate precisely to teach others. I was so happy and proud when they were able to play the piece finally!" Takayuki also says he is now more thankful for their teachers after knowing it takes enormous effort to teach.
He seems that he had blissful moment at SUMMER CONCERT IN SOMA of August 11, 2014, too. "It was thrilled to play with world known pianist Ms. Mami Hagiwara and Sendai Philharmonic Orchestra! Maximizing the potential of instrument and its sound, feeling music in harmony so closely is unforgettable experience. I am very thankful to be a member of El Sistema Japan, and I want to practice harder to challenge more music piece." Takayuki tells us with bright smile.
While we encourage children to work on music skills, we also focus on peer learning experience which is one of the El Sistema's core values; students mentor each other, share their knowledge and skills. It is our belief that it leads children to develop critical life skills and contribute social development in Soma where more than 4,000 children and their families still suffer from traumatic stress caused by earthquake and tsunami, as well as the subsequent nuclear accident.
Thanks to GlobalGiving donors, more than 180 children are joyfully participating El Sistema inspired music education program now, and ever more we feel it is necessary toexpand the program to reach out more children in needs to support their lives. For every child's bright future, in music, we trust. Your continuous support and kind attention is greatly appreciated.