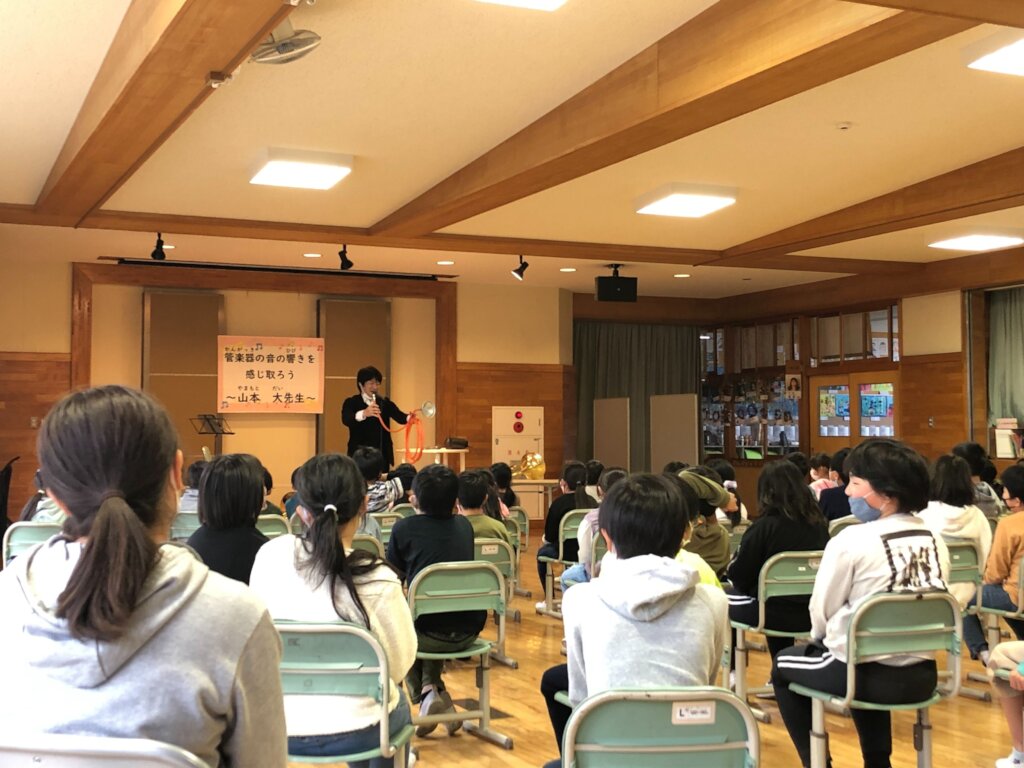 Mr. Dai Yamamoto has been a long-time supporter of wind instrument classes and school support activities in Soma. He teaches not only horn playing (his specialty), but also recorders, melodicas, drum and fife corps, and music appreciation classes in every elementary school classroom in Soma.
On December 10, 2021, Mr. Yamamoto's music appreciation class was held at Nakamura Daini Elementary School. It was on the occasion of the music therapists' visit from the sponsor of this school support program, the Ministry of Education, Culture, Sports, Science and Technology.
The class, held for 75 third-grade students, started with a performance of Mozart's Horn Concerto No. 2 with karaoke accompaniment, followed by an explanation of the history of the instrument using animal horns which is the origin of the modern horn, and then an introduction of an improvised horn made from gas hose.
Due to the COVID-19 pandemic, hands-on learning by the children could not be conducted, but instead, Mr. Yamamoto listened carefully to the children's voices, which made the 45-minute lesson very productive.
The music therapists commented that the children seemed to be happy to be able to take such a class, as it is difficult these days to give music lessons for teachers. Fun videos can be found on YouTube, but nothing can surpass the experience of a live performance.
The school support activities in Soma City, one of the pillars of El Sistema's activities along with the orchestra and chorus, is a valuable program run by the coordinator, Ms. Hoshi, and the teachers at the school.
Thank you for the wonderful class, Mr. Yamamoto.