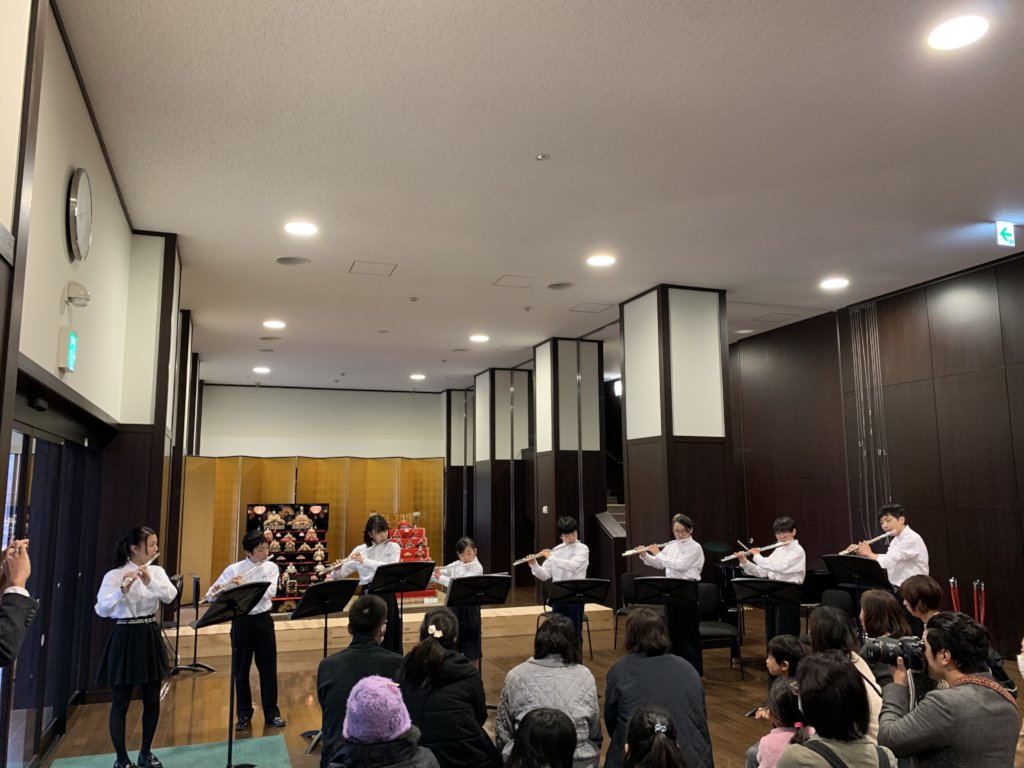 March 3rd is the Girls' Day in Japan, also known asHina-Matsuri, or the Doll Festival. Ahead of this special day, a celebration called Hina-Meguri was held on February 16th at the Soma Civic Hall. In a warm atmosphere created by the large friendly audience with Hina Dolls, the El Sistema Ensemble successfully performed in two stages at 11:00 and 13:30 in the lobby.
This was the debut concert for the beginners' class members who started learning the violin or the cello in last June. With the help of more advanced players, they confidently played the tunes "Twinkle Twinkle Little Star," "Ten Little Indians" and "Sakura Sakura" in both stages.
Later in the morning stage, eight flutists from the El Sistema Ensemble performed pop masterpieces, including "A Whole New World," "When You Wish upon a Star" and "Sukiyaki." The last performance in the afternoon was a french horn ensemble. The two elementary school children were proud of themselves for playing two etudes with their instructor Mr. Yamamoto.
Many of the grandparents surged to shoot pictures of their grandchildren on stage. One of them was even moved to tears by the performance of Sakura Sakura.
The concert on the cold rainy day let us spot a small achievement in the mission of El Sistema Japan -- music is not only for children but also for the whole community. Thank you so much for your continuous support to our endeavor.
Indeed the latest coronavirus pandemic has forced us to stop our routine weekly practice session as well as the once-a-year children's music festival, scheduled to take place at the Soma Civil Hall this weekend, to which everyone was eagerly looking foward. We really would like to count on you in order to overcome the challenges and fulfill our mission.