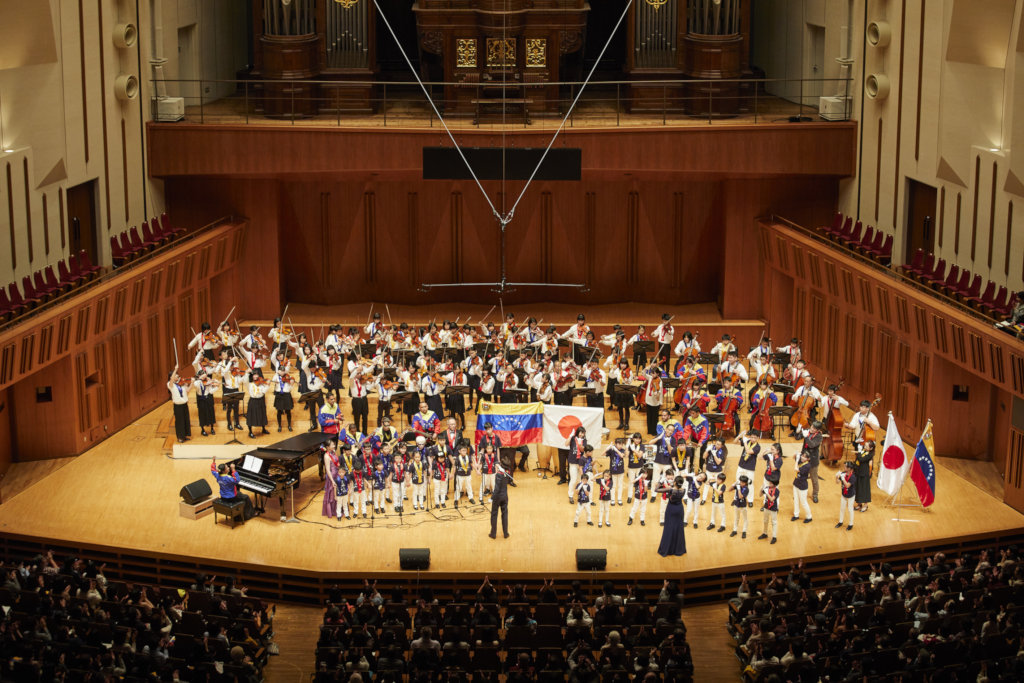 The big moment— El Sistema Festival 2018 Review
On a fine December Saturday, "El Sistema Festival 2018 — El Sistema Gala Concert" was held at the Tokyo Metropolitan Theater. The concert consisted of two parts. The first part was the performance of children orchestras from Soma, Otsuchi and Komagane where we are delivering a day-to-day assistance. The second part was the performance of Tokyo White Hand Chorus and Venezuelan vocal ensemble "Lara Somos" in the very presence of Her Imperial Majesty Empress Michiko.
Children challenged with a young maestro

The first part started with Mozart's famous "Eine Kleine Nachtmusik" (Serenade No. 13 in G major KV 525). The orchestra of the children from three cities was conducted by a spirited young maestro Enluis Montes Olivar from Venezuela, the birthplace of El Sistema. Enluis encouraged children to enjoy playing as well as to aim toward further height. 79 children from elementary to high-school-age were led by the lively and fluent conductor to make brilliant sound together.
The unique "sound" made from diverse expressions
After the short intermission, the second part started. As stated previously, it was a great honor to hold this part in the presence of Her Imperial Majesty Empress Michiko. The part was the performance of two vocal groups from Japan and Venezuela — Tokyo White Hand Chorus and Lara Somos.

Tokyo White Hand Chorus consists of two teams. One is the voice team with visually impaired children and the other is the hand-sign team with hearing impaired children. They performed "Furusato no Sora" (literally means "The sky of the old home") and "Edelweiss" with two conductors — Mr. Tsuchino and Ms. Colon who had taught them for the concert. Some children looked nervous at the beginning of their performance, but they finally were able to sing relaxingly.

Lara Somos is a Venezuelan vocal group including some players of ethnic instruments. They performed four songs such as "The girl from Ipanema" in mellow sound. After that, the hand-sign team of Tokyo White Hand Chorus reappeared and played three songs such as "Sukiyaki" and "Venezuela" together. Children in the White Hand Chorus had a lot of rehearsals to perform on the same stage with Lara Somos whom they had been admiring. They looked really delighted to play together and their feeling seemed to be shared through the whole audiences.
"Play together, grow together" — what El Sistema is aiming at

At the end of the concert, all musicians performed "Yuyake Koyake" and "Alma Llanera" together. Yuyake Koyake (literally means "afterglow") is a nursery rhyme everyone knows in Japan and Alma Llanera is a song regarded as the second national anthem by Venezuelan people. Everyone inside the hall seemed to feel nostalgic when they heard the songs. We believe the whole audience could feel that music could be inclusive and connect people of diverse background and culture. That is what El Sistema is aiming at.

After the concert, children who made great performances said excitedly;
"I'm finally satisfied with my performance although I couldn't do it during rehearsal"
"Awesome!"
"With friends, I can do what I can't do it alone"
"Great fun to play together!"


We also highly appreciate continuous support given by our Global Giving partners — thank you!