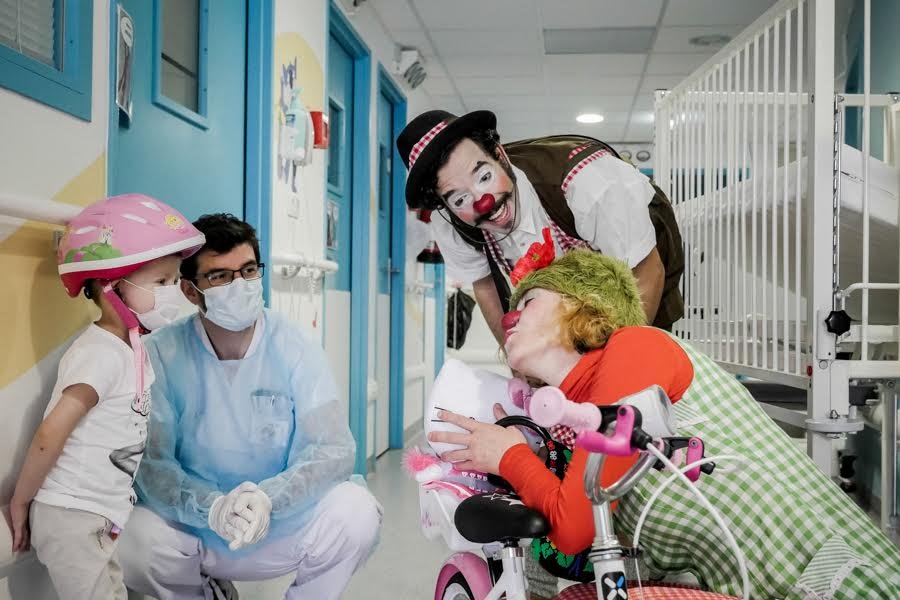 Soleil Rouge…Three years ago, without really knowing them, these two words evoked the image of these clowns who are visiting the rooms of sick children. These little children with not a single hair on their head and who had to face the sickness.
When you become a parent, you are very far from imagining that one day it is your child who will be on this hospital bed, that it is at your door that these clowns will come to strike ... And that day, the encounter is violent. Anger at the diagnosis of the sickness and the cruel path of our lives explodes on our faces as we see them approaching our little child.
When the diagnosis was declared for our son, Tommy, we had great difficulty to appreciate the clowns ... he was afraid and we got angry. Little by little, we understood that, far from representing the sickness, they personified the life and the joy of living. They allowed us to tell ourselves that despite the distress, the treatments, the beep-beep of the infusions, we had the right to smile ... just smiling.
Tommy quickly surpassed his fear and our anger fell down... seeing his face lit up when he heard the instruments announcing the arrival of the clowns or even seeing him straighten up at full speed in his bed to try to see a red nose or a wacky outfit ... it became very clear ... they were our allies, our little puffs of happiness and smiles in the middle of chemotherapies.
For more than 3 years of treatments, their pitches of madness helped us to find strength on worse days and allowed us to forget, for a moment, the negative effects of treatments. Soleil Rouge and the clowns are also intense moments of happiness, like the one where Tommy blew his 4 candles surrounded by staff and clowns, or moments of true communion when going in the operating room, simple " Courtesy " visits in the service ...
They were partners during tumultuous races pursuits in the service, opponents in epic water battles to the syringe in the middle of the corridors, colleagues of more than private concerts... in short, Tommy associates.
Today we would like to say thank you, thank you for supporting us and giving strength throughout this difficult fight! Thank you for the smiles and for that special bond they created with our boy. Long live to Soleil Rouge, this wonderful association! Long live clowns!
Tommy's parents