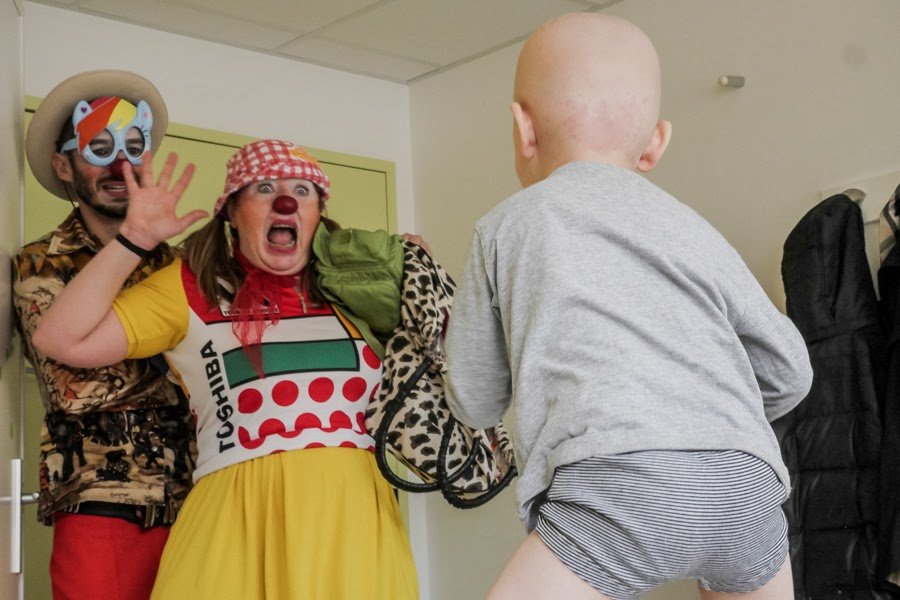 Review meetings were held in the pediatric oncology and emergency departments of Grenoble Child Hospital. It was an opportunity to take stock of the clowns interventions, to strengthen the partnership between the care teams and the clowns team. The caregivers highlighted the professionalism of the clowns, as much by the artistic quality as by the capacity of the actors to come install mini-spectacles in difficult conditions where the constraints are maximum (space, sound level, specific hygiene rules, ...).
Patients and families also welcome the clowns in a very warm way.
"The presence of the clowns has been a valuable support in pediatric oncologic department this summer, when the team had to deal with several complex situations while accompanying a child at the end of life" – Said the department executive health.
"Thank you clowns, I really did not think I could laugh today!" - a mother of a 7-year-old child
"When the clowns came, my child laughed and it was the first time since the diagnosis was announced, it was so great to see him laughing like before!" - a dad of a child hospitalized in oncology
"So much poetry, fantasy! Elliot was fascinated and we escaped the hospital for a moment thanks to you, thank you clowns!" - a mother of an 11-month-old baby.
Once a month the clowns intervene in "nocturnal", at the time when the medical treatments are done and when the anguish of the night becomes stronger.
"I thought the children might be excited after the clowns came, but experience shows that they actually have less trouble falling asleep," says one of the caregivers.