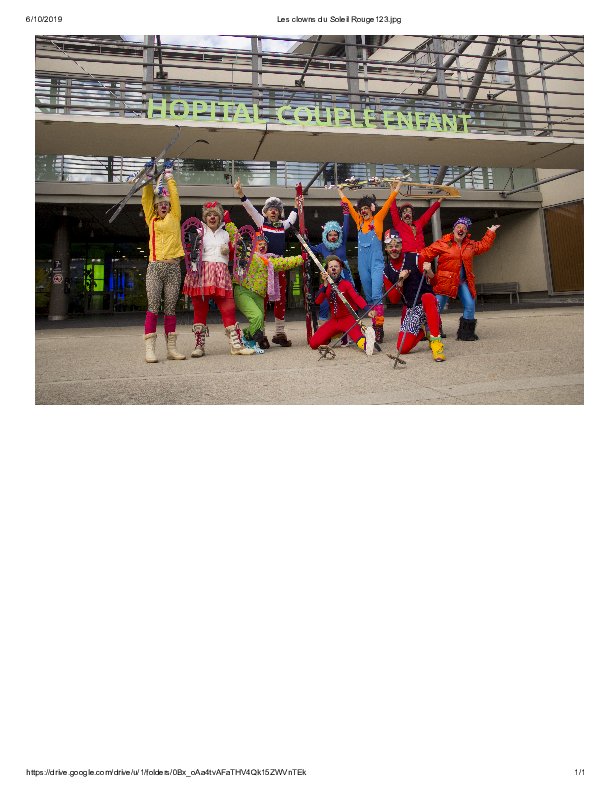 "Soleil Rouge: Three years ago, without really knowing them, those two words represented for us those clowns who visit sick children in hospital. Those little children who have no hair on the head and who face disease.
When becoming parent, we are very far from realizing that, one day, it is our child that may be lying on this bed in hospital, that it is on our door that these red noses will knock.
When the diagnosis came for David, we had a hard time appreciating the clowns ... David was scared of them and we were angry. Slowly, we understood that, instead of representing disease, they embodied, on the opposite, life and joy of living. They allowed us to say that, despite the distress, the treatments, the infusions, we had the right to smile ... quite simply.
David quickly overpassed his fear and our anger disappeared ... Seeing his face lightening up when he was hearing the clowns coming, or seeing him standing up at full speed in his bed to try to see a red nose or wacky outfit ... it became very clear...
They were our allies, our source of happiness and smiles during chemotherapies. They were our partners during tumultuous pursuit races in the unit, opponents in epic water battles with syringe in the corridors, colleagues of concerts... in short, first choice partners for David.
Thank you for supporting us and giving us strength throughout this difficult fight! Thank you for the smiles and for this particular link that they created with our boy. Long live to this wonderful association! Long live to the clowns!"
David's parents