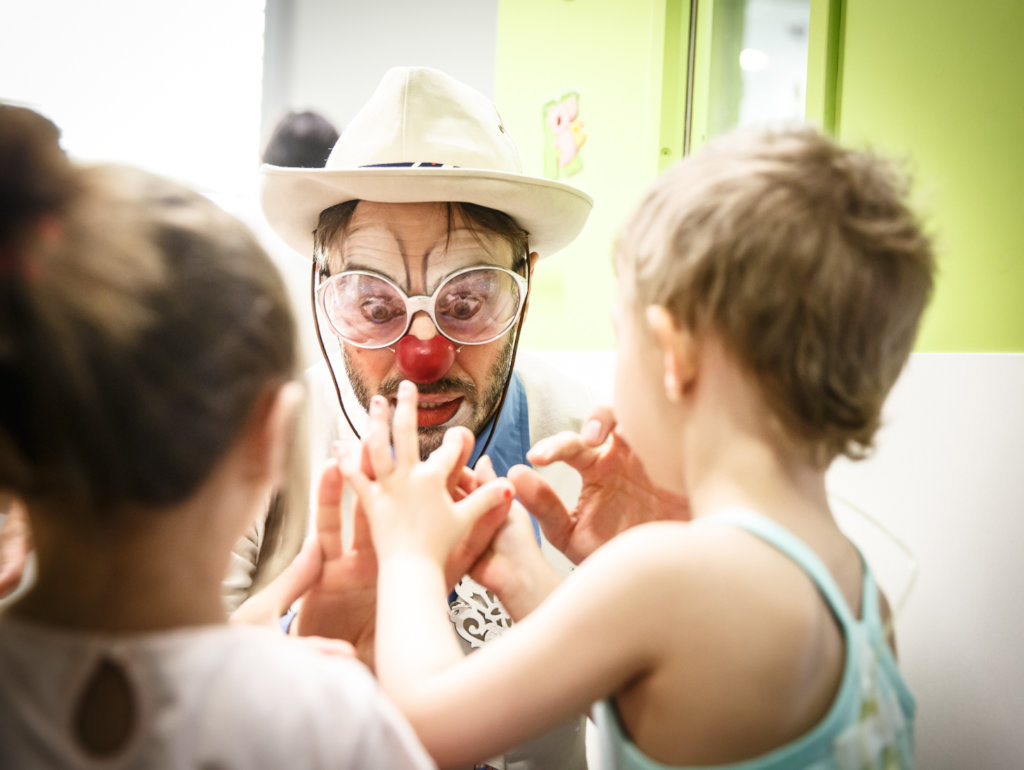 Portrait of Olivier, alias Groom, clown in the pediatric hospital
Who is hiding behind Groom?
An emotional person that tries to express what is happening inside himself. Most of the time, it overflows and I cannot hide behind Groom for long.
If you were an animal, which one would you be?
A sloth, so I would not have to justify myself.
What are the common points between Olivier and your clown?
One does not go without the other. We use the same fuel.
What kind of job did you want to do when you were a kid?
Storyteller of ordinary stories, remorseful trickster, too good dishes taster, bad guys lovely killer, speaker in empty spaces, or extractor of a better world.
If you were not a clown, what would you be?
I would surely miss sensations and trips.
What led you to choose this clown job?
When I was 20, I did not know what I wanted to do, so I got to learn how to live with my uncertainties. Being confused, lunar, out of step, offset, this all are qualities for clowns.
As a clown, I therefore felt comfortable with the others.
Do you think we can laugh at everything?
I prefer the term: laugh with everything. A clown knows he can laugh with everything since, when he plays, he plays "with".
If a clown is connected with his sensitivity, and that he lives this moment with his partners and public, then I think he can laugh of many circumstances, even the most tragic.
One souvenir of a good time as a clown in hospital?
After a long hospitalization in oncology, a young girl is about to leave the medical unit. Her treatment is over. She is with her mom and they are both happy. They thank the medical staff and offer us gifts that the young lady did by herself. They embrace a mom whose son is still at the hospital and then invite all clowns to enter a happy fray. A sweet perfume of life and gentleness spreads in the corridors. For me, it is an evidence of the strength of the relationship born while she was in hospital; a real slap in the face for what they just gone through.
Thank you for your donations! We wish you a merry Christmas and Happy New Year!