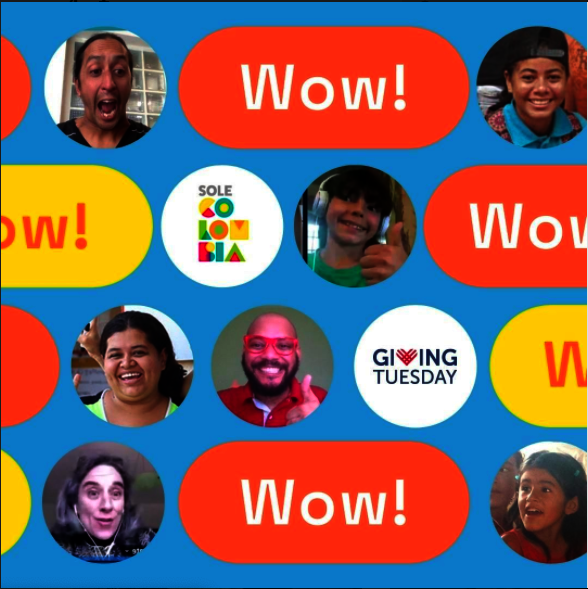 2021 was a year marked by reflection. Our 2021 Great Conversation on the future of education yielded great ideas and opened our eyes to fundamental issues on which to continue talking, researching, dialoguing and creating… pure SOLE essence!
At the end of the year, and with the excuse of raising funds that allow us to continue sharing the SOLE methodology with people from every corner of Colombia, we join the #GivingTuesday initiative and your response to our call was COMPLETELY OVERWHELMING!
The theme of our campaign was to delve into one of the big ideas of our Big Conversation: Changing evaluation is changing the system.
How can we rethink what it means to evaluate the things that our children and young people need to deal with the problems and situations of a world that is constantly changing, with challenges that our generation cannot even imagine?…. You know that the professions in which our young people will work in the future have not even been invented, so how can we encourage them to create their own future? How to support them to invent those areas and knowledge that they will need?
We can no longer believe that we have absolute truths and that we know the answers. We cannot continue to believe that we know how to evaluate what works and what does not. We have to rethink our own position before knowledge.
Our Stubborn Founder launched the reflection on evaluation in this article, EVERYTHING IS BASED ON EVALUATION, IF YOU CHANGE THAT, YOU CHANGE EVERYTHING. We also invite personalities related to the world of education in Colombia to do so in a very enriching webinar: How do we know that we are learning? Building the new evaluation. Brigitte Baptiste, biologist and rector of the EAN University, Santiago Rivas, Colombian plastic artist and television presenter dedicated to art and culture, and María Bayter, doctoral student in education and one of our SOLE Community Stars.
Almost at the same time, Sugata Mitra and Suneeta Kulkarni, our mentors and creators of the SOLE Methodology, interviewed us in this incredible "Trading Places: Sugata Mitra & Suneeta Kulkarni interview SOLE Colombia" where we talked about how SOLE Colombia works by dismantling paradigms, stimulating self- organization as a basis for reinventing the classroom and the way we learn, dialogue and create thriving communities, together, using technology. It was incredible to be interviewed by two of our favorite people, reinforcing our admiration and affection for them.
We managed to get Colombian public television to support the broadcast of both events!! It is getting closer to reaching the farthest corners of the country and touching the consciences of those who have in their hands to start making big changes: families, teachers and students of all levels and communities in Colombia.
What else happened? Well, we completely rethought our strategy in the digital world, setting up a loudspeaker and interacting with all those people who dive looking for treasure-initiatives on the internet, so that they find in SOLE Colombia an ally with whom to develop new projects.
And, of course, with all the support we receive from you, we are already warming up for our field trips that WILL take place throughout this 2022 and that will be our starting signal for a year full of SOLE: chosen communities, we are ready to travel this month to our first destination!
None of this could have been possible without your support! Thank you from the bottom of my heart for continuing this work and for letting us know that, from your places scattered around the planet, you support our journey and the enthusiasm with which we invent new ways of doing SOLE every day.
Thank you for being part of the change and the construction of a better world!
-----------------------------
2021 fue un año marcado por la reflexión. Nuestra Gran Conversación 2021 sobre el futuro de la educación arrojó grandes ideas y nos abrió los ojos a temáticas fundamentales sobre las que continuar conversando, investigando, dialogando y creando… ¡pura esencia SOLE!
A finales de año, y con la excusa de recaudar fondos que nos permitan seguir compartiendo la metodología SOLE con las personas del hasta último rincón de Colombia, nos unimos a la iniciativa #GivingTuesday y vuestra respuesta a nuestro llamado fue ¡COMPLETAMENTE ARROLLADORA!
El tema de nuestra campaña fue profundizar en una de las grandes ideas de nuestra Gran Conversación: Cambiar la evaluación es cambiar el sistema.
¿Cómo replantearnos qué significa evaluar las cosas que nuestros niños y jóvenes necesitan para hacer frente a los problemas y situaciones de un mundo en permanente cambio, con desafíos que nuestra generación ni alcanza a imaginar?…. sabéis que las profesiones en las que nuestros jóvenes se desempeñarán en el futuro ni siquiera están inventadas, ¿cómo estimularles entonces a crear su propio futuro? ¿cómo apoyarles a inventar esas áreas y saberes que necesitarán?
No podemos seguir creyendo que poseemos verdades absolutas y que conocemos las respuestas. No podemos seguir creyendo que sabemos evaluar lo que sirve y lo que no. Hay que replantearnos nuestra propia posición ante el saber.
Nuestro Obstinado Fundador lanzó la reflexión sobre la evaluación en este artículo, TODO ESTÁ BASADO EN EVALUACIÓN, SI CAMBIAS ESO, CAMBIAS TODO. Invitamos a hacerlo también a personalidades relacionadas con el mundo de la educación en Colombia en un webinar muy enriquecedor: ¿Cómo sabemos que estamos aprendiendo? Construyendo la nueva evaluación. Brigitte Baptiste, bióloga y rectora de la Universidad EAN, Santiago Rivas, artista plástico y presentador de televisión colombiano dedicado al arte y la cultura, y María Bayter, docente doctorando en educación y una de nuestras Estrellas de la Comunidad SOLE.
Casi al mismo tiempo, Sugata Mitra y Suneeta Kulkarni, nuestros mentores y creadores de la Metodología SOLE, nos entrevistaron en este increíble "Trading Places: Sugata Mitra & Suneeta Kulkarni interview SOLE Colombia" donde conversamos sobre cómo SOLE Colombia trabaja desmontando paradigmas, estimulando la auto-organización como base para reinventar el aula y la manera de aprender, dialogar y crear comunidades florecientes, juntos, usando la tecnología. Fue increíble pasar a ser entrevistados por dos de nuestras personas preferidas, reforzando nuestra admiración y cariño hacia ellos.
¡¡Conseguimos que la televisión pública Colombiana apoyara la emisión de ambos eventos!! Está cada vez más cerca llegar a los rincones más alejados del país y conseguir tocar las conciencias de quienes tienen en sus manos empezar a hacer grandes cambios: familias, docentes y estudiantes de todos los niveles y comunidades de Colombia.
¿Qué más pasó? Pues que replanteamos completamente nuestra estrategia en el mundo digital, poniendo un altavoz e interactuando con todas aquellas personas que bucean buscando iniciativas-tesoro en internet, para que encuentren en SOLE Colombia un aliado con quien desarrollar nuevos proyectos.
Y, como no, con todo el apoyo que recibimos por vuestra parte, estamos ya calentando motores para nuestras salidas a campo que tendrán lugar a lo largo de este 2022 y que serán nuestro pistoletazo de salida para un año lleno de SOLE: elegidas las comunidades, ¡ya estamos listos para viajar este mes a nuestro primer destino!
¡Nada de esto podría haber sido posible sin vuestro apoyo! Gracias de corazón por continuar esta labor y por hacernos saber que, desde vuestros lugares repartidos por el planeta, dais soporte a nuestra andadura y al entusiasmo con el que cada día inventamos nuevas formas de hacer SOLE.
¡Gracias por hacer parte del cambio y la construcción de un mundo mejor!