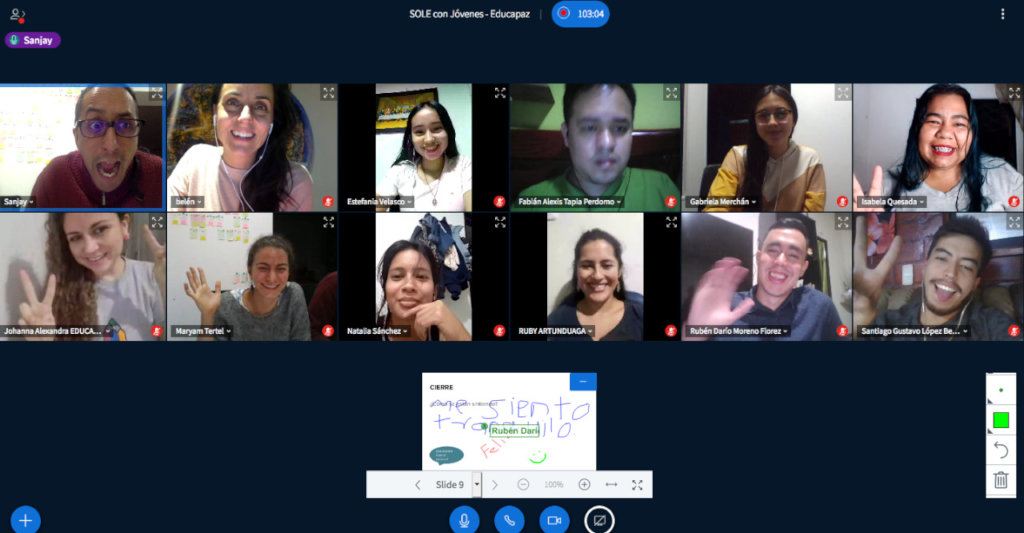 Working for peace doesn't just mean taking action to end a war. It means setting the intention, unlearning the way in which we have built ourselves as a society and taking steps to overcome differences.
How do we do that? We need to propose new ways of talking, building and learning together… You know, it is what in SOLE Colombia we like to do and we do better.
It seems logical that, if we want our girls and boys to live in a different world, built from peace, we must transform the way they learn and the common places that, from childhood, influence our practices and values as a society.
Let us think that, if the issue of education is basic to build peace, then the school, as one of the pillars of education, should be rethought.
The pandemic also revealed that school needs big changes. Only people and social structures that were truly committed to their educational work managed to develop, and maintain over time, strategies to respond, in record time, to the needs of girls, boys and young people. They too made a titanic effort to continue learning. Many others have not had that luck and have suffered the consequences: they have abandoned their formal learning path and have been abandoned by the system, to their own luck, in areas where, if they seemed remote before, now they seem other planets ...
The health issue does not seem to have ended and, clearly, we have to adapt to a new way of living.
This is how we started our Great Conversation 2021: "If the pandemic changed everything, what should school be like during and after the pandemic?"
We wanted to hear from the main actors: students, parents, teachers, educational boards and organizations. We think that, in the first instance, these groups are the ones that have preference to express what the school should be like, now that we need to focus on caring for our communities and rethinking what aspects we have to influence to achieve these structural changes. It is useless to continue clinging to old ways, when the pandemic has shown us that we need to do it differently, and, in addition, it has also shown us that we can achieve it in record time, if we move with intention.
From those conversations we drew some beautiful conclusions, some of which we could intuit. Others definitely surprised us.
Do you want to know more? I share with you the beautiful infographic that we have prepared with the results of our conversation: FUTURE. EDUCATION. CHANGE. WHAT ARE WE TALKING ABOUT?
Keep in touch!
Thanks for being part of the change
------------
Trabajar por la paz no sólo significa tomar acción para que una guerra acabe. Significa poner la intención, desaprender la manera en la que nos hemos construido como sociedad y dar pasos para superar diferencias.
¿Cómo hacemos eso? Necesitamos proponer nuevas formas de conversar, construir y aprender juntos… Ya sabéis, es lo que en SOLE Colombia nos gusta hacer y hacemos mejor.
Parece lógico que, si queremos que nuestras niñas y niños vivan en un mundo diferente, construido desde la paz, hay que transformar la manera en la que aprenden y los lugares comunes que, desde la infancia, influyen sobre nuestras prácticas y valores como sociedad.
Pensemos que, si el asunto de la educación es básico para construir paz, entonces la escuela, como uno de los pilares de la educación, debería repensarse.
La pandemia, además, puso de manifiesto que la escuela necesita un gran cambio. Sólo las personas y estructuras sociales que se comprometieron realmente con su labor educativa consiguieron desarrollar, y mantener en el tiempo, estrategias para dar respuesta, en tiempo récord, a las necesidades de las niñas, niños y jóvenes. Ellos también realizaron un esfuerzo titánico para continuar aprendiendo. Otros muchos, no han contado con esa suerte y han sufrido las consecuencias: han abandonado su camino de aprendizaje formal y han sido abandonados por el sistema, a su suerte, en ámbitos donde, si ya antes parecían remotos, ahora parecen otros planetas...
La cuestión sanitaria no tiene pinta de haber terminado y, claramente, tenemos que adaptarnos a una nueva manera de vivir.
Así iniciamos nuestra Gran Conversación 2021, cuya pregunta gira en torno a "Si la pandemia lo cambió todo, ¿cómo debería ser la escuela durante y después de la pandemia?".
Queríamos oír a los actores principales: estudiantes, madres y padres, profesores, directivas educativas y organizaciones. Pensamos que, en primera instancia, estos colectivos son los que tienen preferencia para manifestar cómo tiene que ser la escuela, ahora que necesitamos enfocarnos en el cuidado de nuestras comunidades y en repensar en qué aspectos hay que incidir para conseguir esos cambios estructurales. De nada sirve seguir aferrándonos a viejas maneras, cuando la pandemia nos ha demostrado que necesitamos hacerlo de forma diferente, y, además, también nos ha demostrado que podemos conseguirlo en tiempo récord, si nos movemos con intención.
De esas conversaciones sacamos unas hermosas conclusiones, algunas las podíamos intuir. Otras, definitivamente, nos sorprendieron.
¿Queréis saber más? Os comparto la preciosa infografía que hemos preparado con los resultados de nuestra conversación: FUTURO. EDUCACIÓN. CAMBIO. ¿DE QUÉ CONVERSAMOS?
¡Seguimos en contacto!
Gracias por hacer parte del cambio
Links: