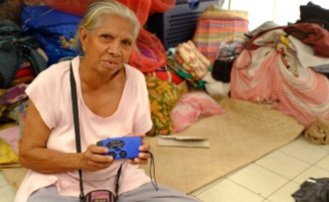 Our local partner in the Philippines, the International Office of Migration (IOM) recently interviewed Epong, a 70-year-old woman currently living in an evacuation center. She received a Polaris solar radio/light, and had this to say: "I am really thankful for IOM's Dear Bapa Nur radio drama. It didn't just entertain me, but also taught me how to make sure that our drinking water is clean and safe, and where I should go whenever a family member gets sick … I am really fond of listening to afternoon radio dramas since then. I find it very interesting, especially that these dramas are somehow related to our situation now."
IOM's Communications with Communities initiative continues to provide its communication campaign Tindog Kita through radio and print media. On the radio programs, key messages are broadcast on issues ranging from seasonal diseases to rehabilitation of disaster-affected communities, and of course the radio dramas that offer practical advice in an entertaining way.
We are thrilled that our Polaris radios are allowing families in the Philippines not only to listen to useful information, but also to receive the psycho-social support that being connected to the outside world brings. In many places electricity has yet to be restored.
As life slowly begins returning to normal for the communities living in Tacloban, we will be closing this project to focus on other areas of desperate need in the world. We thank you – our generous and supportive donors – for the difference you've made in the lives of people like Epong.