Dear donor to our solar cooker project in Madagascar,
50% interest in one day? Sounds too good to be true? Not really: The GlobalGiving "Bonus Day" is a wonderful opportunity to 'super size' your donation to Zahana by 50% at not additional cost.
Thank you! It is your donation that makes our work possible. GlobalGiving has offered Zahana an opportunity to meet generous donors like you we would never meet or reach otherwise. We hope an event such as Bonus Day might entice you to give again, or encourage your friends and family to support our work in Madagascar.
How it works:
On Bonus Day (Wednesday, June 16) your donation to Zahana will be matched by 50% by GlobalGiving. This opportunity is a one-day only event, from midnight to midnight EDT on Wednesday June 16 (Eastern Daylight Time, not your time zone.) All three Zahana projects with GlobalGiving are eligible. (Yes, we will send this reminder again on June 15 and June 16.)
Yes, there is a US$1000 bonus again for the group that raises the largest amount of money and the one who finds the largest number of donors, so please help us make that goal.
The latest exciting news: Zahana was invited to participate in National Geographic's (yes, the iconic yellow magazine) Global Action Atlas. The Global Action Atlas is a way for National Geographic's readers to learn and get more involved with projects. With the reach of National Geographic, this is tremendous opportunity for Zahana.
Please visit the Global Action Atlas though our website. National Geographic tracks the click-throughs from our website and recognizes your effort by giving Zahana projects prominent placement.
This was made possible thanks to Global Giving. In April we had a chance to visit Global Giving in Washington DC and give a presentation about our work to the staff. Currently all Global Giving projects are listed on National Geographic's Global Action Atlas.
Last but not least we have switched our newsletter to VerticalResponse and you can find a link to it below.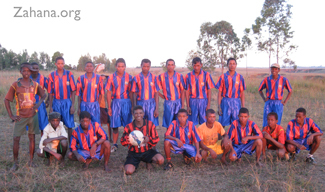 Links: