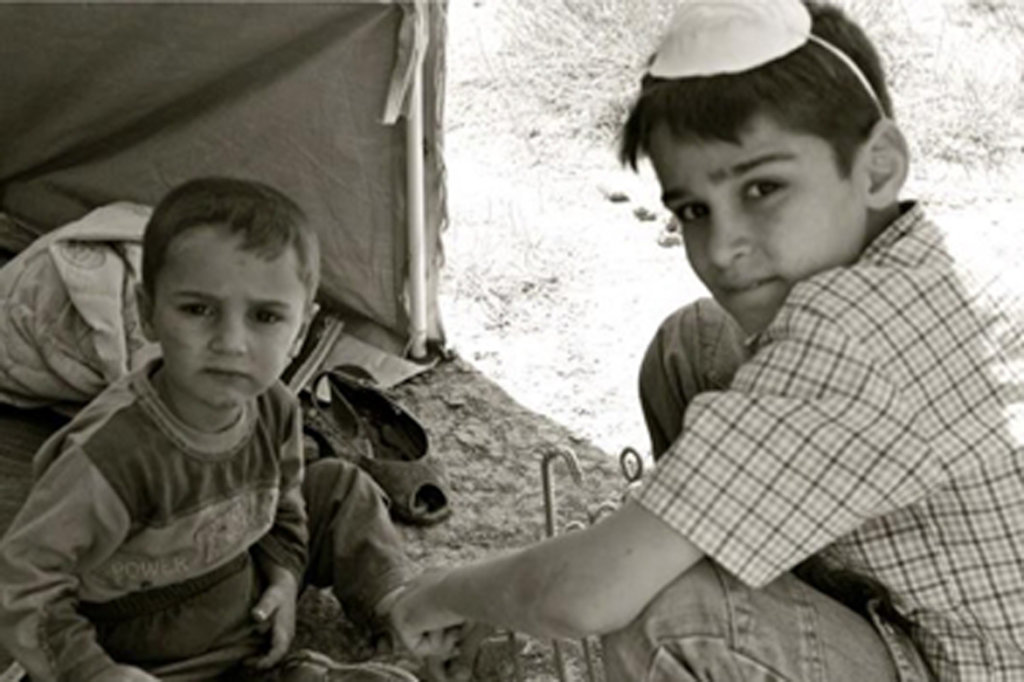 As Syrian refugee children and their families in Jordan continue to struggle in recovering from the devastating war, violence, and profound loss caused by the Syrian civil war, they are now faced with yet additional life-threatening conditions that place them at even higher risk for survival in the form of a deadly and unpredictable pandemic, and drastic weather change.
The three catastrophic dangers combining to magnify and undermine the day to day struggle for survival are:
10 1/2 years of unending community wide psycho-social trauma due to the civil war and forced displacement that has impacted hundreds of thousands of refugees in Jordan;
the lethal pandemic now approaching 2 years - most immediately the deadly new wave of the COVID delta variant that is rapidly sweeping across much of the Middle East, where most refugees are forced to live in crowded conditions with little or no ability to physically distance, not vaccinated due to a scarcity of vaccines in the country, and invariably at a low priority for medical care if contracting the virus.
and an accelerating and unrelenting weather crisis that is causing increasing, persistent, and unbearably high levels of heat and draught - with record breaking temperatures of upward to 125 degrees - that places those living in unprotected tents and crowded residential settings at highest risk of illness and death.
Over this time, and faced with these immense, accumulating, and shifting challenges, we have worked to continually adjust our service responses to these catastrophic conditions. The unique limitations caused by the pandemic in particular requires even more time and energy on the part of our dedicated, all volunteer service team to continue our life-saving help.
In response we have been focusing our efforts on expanding on our ability to provide services to refugees virtually that address the increasing suffering caused by the unprecedented convergence of these combined threats to life through:
Reaching out to isolated refugee centers to maintain supportive contact and health care services.
Providing equipment and supplies to enable these centers to link with virtual tele-health services from our disaster health care service providers.
Expanding our disaster aid to include providing COVID medical health services, and guidance on how to mitigate the medical effects of extreme weather.
Reorganizing and adapting our local capacity building psycho-social treatment skills training program for local health care providers - including through our partnership with the 5 medical schools in Jordan raining their 5th and 6th year medical students – to help build a pool of local skilled service providers who can increasingly maintain and further expand these services to assist larger numbers of children and their families.
The costs of maintaining and further expanding these services is increasing as well, due to the technology equipment, and supplies required, as we are also striving to generate more donations that allow us to continue carrying on our work in meeting these emergency needs of refugee children and their families.
And so a central and critical component of this work continuing and more lives being saved is the financial support of those who lend the power of their donations to this humanitarian effort.
In the midst of these multiple, compounding threats to life and wellbeing there is deepening alarm that an even greater humanitarian catastrophe is on the verge of erupting, if help doesn't arrive in time.

Children born at the beginning of this humanitarian crisis in 2011 are now over 10 years old. They have never known any life other than that of a refugee living a precarious and profoundly bleak daily life, isolated from the mainstream of society, and with little light at the end of the tunnel for a better life in the coming years - unless we continue and increase our help.
There is however practical hope, and based on our track record of many years of clear results in meeting critical healing and recovery needs under extraordinary conditions, a proven path to effectively assisting those caught up in this tragedy.
Our services have been successfully making a concrete difference in the lives of thousands of these children and their families people for years, and we continue to provide the ability for coping, healing, recovery. and the promise of a better future. We have the expert service skills, important local partners to collaborate with, and a large and growing pool of dedicated volunteer service providers - through our team both within Jordan and internationally – that enable us to deliver the means for achieving this better future.
Our appeal is for the critical financial support of those who can donate the power of their money to the direct costs of our getting these services to those who need it most, and in time.
HOW YOU CAN HELP US MEET THIS NEW CHALLENGE AND MAINTAIN OUR LIFE-SAVING ASSISTANCE:
Continue supporting our work with your generous contributions. Every donation amount results in our reaching more children and families to achieve more healing and recovery.
Share our story with family, friends, and colleagues to encourage their support by raising awareness of both the need and the concrete good being done.
Link our appeal site to your social media sites and ask others to do the same.
Learn if your employment offers matching donations for humanitarian causes to multiply our contributions.
Feel free to contact Steve Olweean, SHC Program Director and IHPA President, with any questions or to share your feedback at: SOlweean@aol.com
Links: Program Details at our nonprofit partner site: Common Bond Inst.
Links: