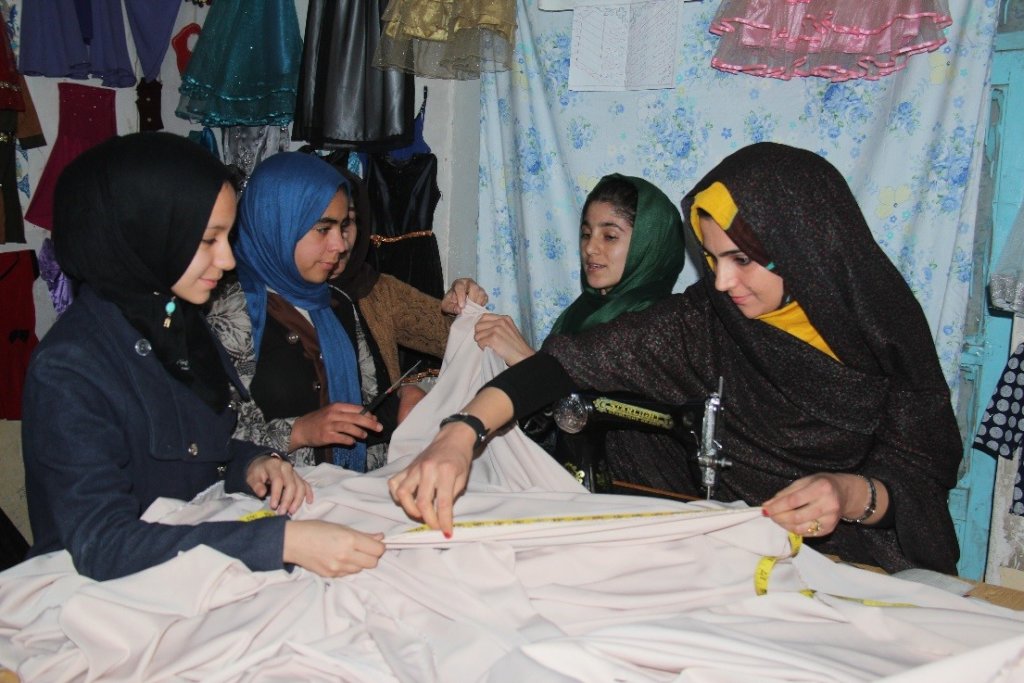 Sewing classes continue to be the first or second most popular class for women at Learning Centers. These class offer students the ability to learn an exceptionally valuable skill that can be life changing. Not only do the women learn how to sew but the skills they become proficient in can only be compared to those of a professional tailor.As an example, in September, students at the Jabraeel Learning Center, Herat sewed 160 pairs of clothing. Students are able to save money and earn an income for their family with this skill.
Two new centers have been established at the request of local communities, one in a province that AIL has never worked in before, Nemroz. Sewing as well as other classes are being offered at these new locations. The centers recently acquired new sewing machines and irons to assist students in their studies.
Thank you for your support for women's education in Afghanistan.
Shahrbanoo, a graduate student of the sewing class from the Jebraeel Learning Center had this to say," I took a sewing class for one year. It was a perfect class for me. We learned professional sewing skills. After finishing the course, I started sewing clothes for my family and friends. I didn't sew a lot at that time. But then, because people noticed my sewing skills, they asked me to sew their clothes, too. I started my own business to earn money and become financially independent. I was happy and found more customers this way. I have promoted my business and now I regularly sew a wide variety of clothes and uniforms.
My father is a worker earning 300 Afghanis per day and our family is too poor to pay for all our living expenses. But since I started my own business, our life has changed completely! I can earn about 400 to 1,000 Afghanis per day now. I can help my father pay for our household expenses and I can help my brothers and sisters go to school by paying their tuition. Now I want to grow my business and open a sewing store. I am thankful to the AIL Learning Center and its founder for providing this opportunity for me which has changed my life."
Thank you for your support.
The year end newsletter for CHI is attached.
AIL is working towards: SDG Goal 4 – Ensure inclusive and equitable quality education and promote lifelong learning opportunities for all.
Attachments: