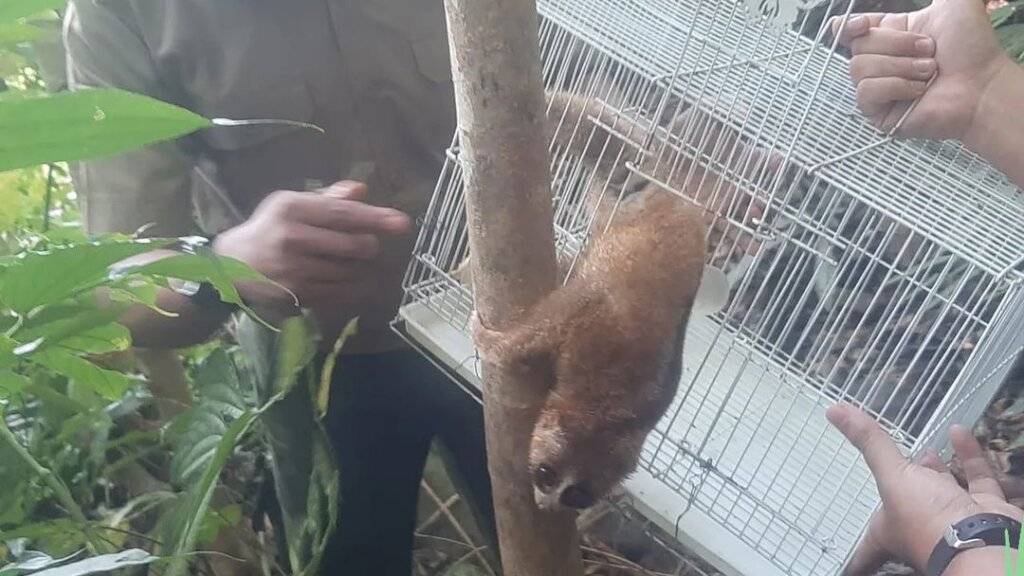 Four protected animals of the type of slow loris (Nycticebus coucang) consisting of 3 individual of the slow lorises are evidence of wildlife trafficking crimes and 1 individu is the surrender of residents of Lubuk Basung, Agam,15/08/2022)
The release of the protected animals was carried out in the forest area of the Maninjau Nature Reserve, Agam Regency, Monday (18/08/2022) and was attended by the Head of the General Crime Section of the Agam District Attorney as the Public Prosecutor, the Agam Police Satreskrim Investigator and the BKSDA.
Before releasing the animal, it has been subjected to a health examination by a veterinarian, and is declared healthy.
The three lorises, which are evidence of the crime of trafficking in protected animals, were released in accordance with the verdict of the Lubuk Basung District Court on August 4, 2022.
Where in their decision, the panel of judges sentenced RS (50 years old) who was arrested by a joint team of BKSDA and Satreskrim Polres Agam at Simpang Padang Koto Gadang on Saturday (09/04/2022) in the form of imprisonment for 1 (one) year and a fine in the amount of fifty million rupiah subsidiary three months imprisonment.
As for the evidence, 3 (three) slow lorises were confiscated for the state and handed over to the West Sumatra Natural Resources Conservation Center to be returned to their habitat.
The other 1 loris was handed over by Ismalini (50 years old) a resident of Lubuk Basung to the BKSDA through the Maninjau Resort on Friday (12/08/2022).
The slow loris was found in his house, Thursday (11/8/2022) at around 19.00 WIB. After that, the slow loris was immediately secured and subsequently reported to the BKSDA through the Maninjau Resort.
Warm regards
ISCP admin