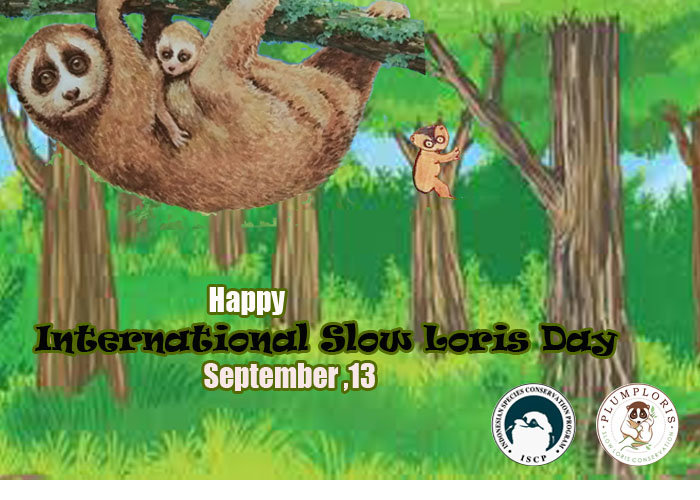 Give Your Donation To Support ISCP work for Slow Loris conservation and another wildlife conservation!!
The slow loris is one of the endangered wildlife that has been included in the IUCN red list, so the active participation of the community has a very important role. The public should be given insight to raise awareness that slow lorises are not pets. In addition, the public must understand that the hobby of keeping slow lorises is one of the main triggers for the extinction of slow lorises. Remember: Every slow loris buyer and keeper has contributed to the slow loris' extinction! As long as there are people who buy, traders will continue to look for suppliers, who will continue to catch new slow lorises from the wild.
For this reason, the Indonesian Species Conservation program (ISCP) and Plumploris e.V from Germany since September 2018 have initiated the World Slow Loris Day which falls every September 13 : https://www.facebook.com/watch/live/?v=331652244247301&ref=watch_permalink
It is hoped that the commemoration of World Slow Loris Day will become a big movement that is commemorated voluntarily by the people of Indonesia and abroad, so that we are always reminded of the human obligation to preserve nature, including wildlife, for our own lives.
All of these activities can later be carried out voluntarily and independently by various communities ranging from students, college students, painting hobby communities, to artists according to their respective innovations and creativity, either through social media campaigns or making live events at the location where the community or organization is located.This is a tremendous breakthrough and at least has made the wider community more literate about the threats faced by slow loris in the world in general and in Indonesia in particular.
Simple ways that good friends and friends of slow lorises can do, for example:
- Conducting campaigns in crowded centers (in city centers, schools, campuses, etc.) by bringing posters of World Slow Loris Day.
- Provide education about slow loris conservation to schools, campuses, or communities.
- Join the fun by posting World Slow Loris Day and posting awareness about saving all species of slow lorises in the world to your social media, and don't forget to invite your friends!
Thank you
ISCP Admin