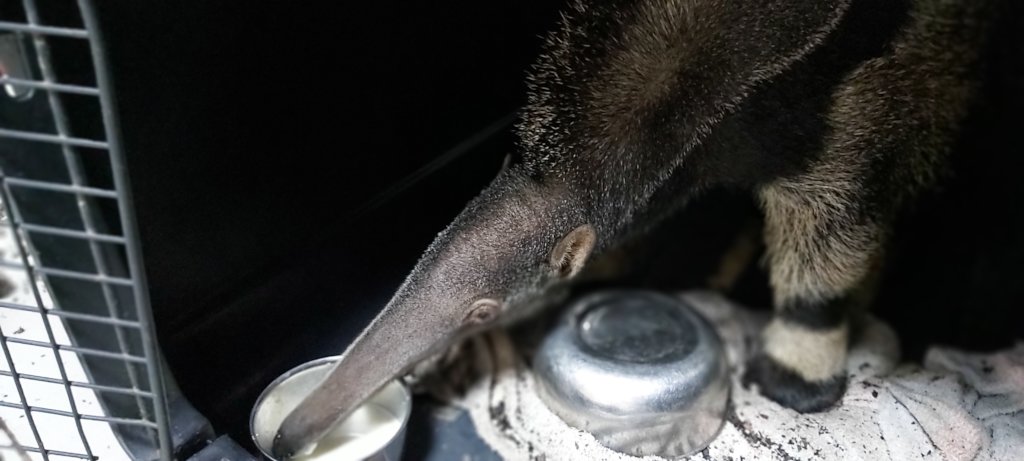 In the sloth wellness center in Saramacca, GHFS staff, veterinarians and caretakers rescue sloths, anteaters, and armadillos and receive interested visitors. We currently have a special guest: it's a girl and weighs 8 kg: meet Jupo, the giant anteater baby!
An anteater under official guardianship
Officials of Nature Conservation and the Public Prosecutor's Office immediately took action when an employee of GHFS reported to them in early March that a baby giant anteater was offered for sale on Facebook. The three men who illegally wanted to sell the animal were arrested, and the animal was confiscated. The prosecuting officer then turned the animal over to the care of GHFS. Our giant baby is an official 'ward of the state': she is under the guardianship of the State of Suriname. And as foster parents, the staff of GHFS also has to report regularly on her development!
International aid
Caring for the baby is not easy. Because we have little experience with the care of giant anteaters, we asked two experts of the Xenarthra specialist group for help: a veterinarian from Mexico and a zoo veterinarian in the United States. Grateful use was made of a beautiful Argentinian book, which documents the experience of an Argentine wildlife organization with the capture and reintroduction of giant anteaters in their proyecto ibera. The book has helped GHFS understand how best to care for and raise the animal to be released. GHFS Director Monique Pool says, "When the animal had just arrived, she was very stressed and would not accept food. Therefore she needs a temporary (human) mother. Her caretaker Yvonne spends time with her every day and strokes her on the belly. This belly contact helps build the animal's trust: Young animals have contact with their mother through the belly as she carries her infant around on her back. Even when they have become big juveniles, young giant anteaters prefer to hang around on their mother's back until the mother has had enough and even has to run away to teach her young to become independent. But you mustn't touch her on her back because she experiences that as a threat." Fortunately, Jupo is doing well now. She grows well and allows herself to be touched by her surrogate mother, Yvonne. "But that contact with people is also a dilemma because we hope that in a few months, we can release Jupo back into the wild, and then, of course, she should not have become too accustomed to people."
Puberty
In the wild, young animals stay with their mothers for up to a year. Jupo is, therefore, still too young to be released. Monique: "We think she is about 3-4 months old, but we can't be sure because we can't compare her with anteaters of the same age in captivity. Those are usually much too fat! However, based on her behavior, we can estimate Jupo's age: for example, did you know that giant anteaters exhibit adolescent behavior? Just like human adolescents, they prefer to sleep all day!"
Kitten milk from the Netherlands
Jupo has already gained 1.5 kg since she came to GHFS and now weighs 8 kg. She drinks up to 2.5 liters of milk every week, supplemented with termite nests. It is pretty challenging to find enough suitable milk: the entire Surinamese supply has been used up, which is why sister foundation GHFS Netherlands has sent a few kilos of special low lactose kitten milk. Besides that, she is already eating termites. Every day the caregivers in Saramacca go into the forest to 'harvest' termite nests: they saw off a small piece of the termite nest so that the nest is not destroyed, but the termite population can recover itself. The caretakers learned this sustainable eating habit from the anteaters themselves, who do the same in the wild, traveling up to 6 km every day to visit all their 'fixed' termite nests. When Jupo grows up, her caretakers will also take her on walks to learn to harvest termite nests herself. In addition, she will slowly get used to nature in a special enclosure in the forest behind the Sloth Wellness Centre.
We thank you for your continued support, without your help we would not be able to rescue animals like Jupo. Thank you!