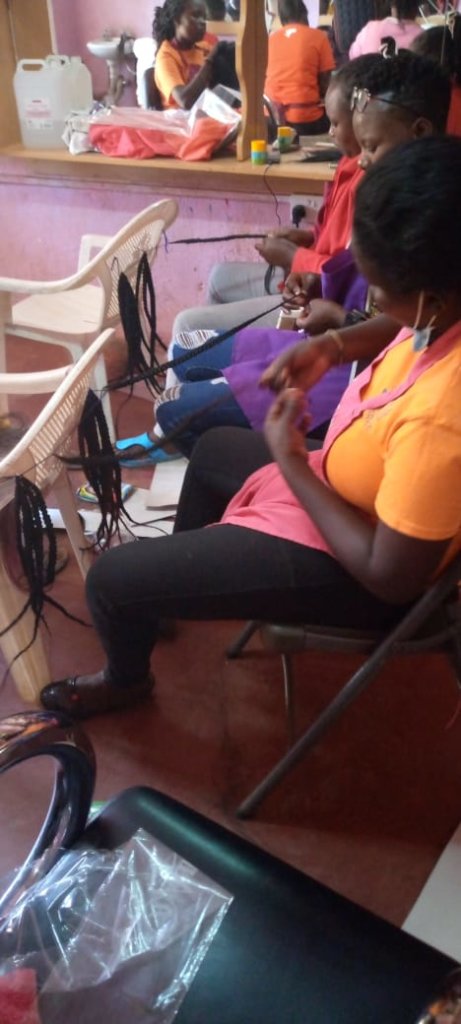 In our last report, we were so excited to let you know that 35 women were progressing well with their Hair and Beauty skills training course, despite delays from the pandemic.
Today, on their behalf, I am asking for your help.
In March 2021, 35 single young mothers took the first steps on a journey to a new life. Like Julia, most of these women had turned to commercial sex work in order to provide for their children. With no education, family support, or any other options available to them, they did what they could to survive.
But you gave them hope. Because of your generosity, we were able to provide them with a 1-year skills training course. This course included an accredited Diploma in Hair & Beauty, the training to grow confidence and entrepreneurship skills, as well as valuable education in reproductive health.
Because of you, these 35 women have flourished. They are able to put their newfound skills to use, earning them a good, secure income to provide for themselves and their children. They can make sure their children can now get the school education they never received.
Because of you, these 35 women have the confidence and determination to build their own businesses and succeed. They want to share their knowledge with other women and girls in their communities, providing job opportunities for them.
Because of you, none of them have returned to commercial sex work, and they are supporting other women to grow sustainable lives, away from violence and discrimination. They are educating communities about gender equality and teaching young girls that they have every right to chase their dreams.
Today they need your help, now more than ever. We have been unable to secure the full £22,919 it costs to run year 2 of our 3-year project. They are due to finish their training in February 2022, meaning they only have one more term left until they finish their 1-year course.
But we need just £3,000 in order to cover the final costs of their course. This will see them through their final lessons and exams, while also helping them to buy the equipment necessary to start their own businesses from home to secure their future for the long-term.
Please, act now to secure the futures of the women in our skills training course.
Donate today and help make Julia's dreams come true.