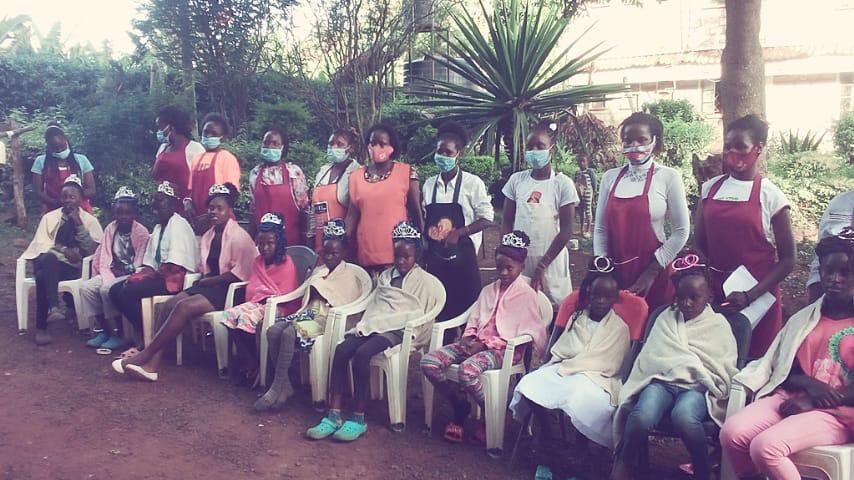 It seems so long ago now, since we first started our three-year skills training project! Year One of the Hairdressing and Beauty Training has now been completed in spite of a 6-month break caused by restrictions of the Coronavirus.
On 9th September 2019, 25 women took their first steps towards a better life. These brave women were mothers who were suffering with unimaginable hardship. Some brought children into this world when they were themselves children, some were suffering with domestic distress, and others had no other choice but to become commercial sex workers to survive.
The one thing they all had in common? A determination to be strong, financially independent, and able to give their children better opportunities in life.
The aim of this three-year project is to equip 105 young and vulnerable women with the beauty and hairdressing skills they need to secure a good income to build sustainable livelihoods and provide for themselves and their children. The course includes a leadership and mentoring programme, where they were taught vital life skills, and sex education to increase women's empowerment over their own bodies, and reduce unwanted pregnancies and the transmission of HIV/AIDs and other sexually transmitted diseases. Each of the women are also offered individual counselling by a qualified counsellor, to help overcome past traumas. I am glad to say that the first year of our three-year project has been successful, though not without its challenges.
Of the 25 women recruited, three women dropped out of the course, due to unexpected factors. One woman became pregnant and felt unable to continue. Two other women dropped out due to domestic abuse. Our partner, International Peace Initiatives, were fortunately in a position to provide these two women with additional support, giving them and their children a safe place to live at the Kithoka Amani Home, away from their husbands. They will complete their course alongside the Year Two cohort in 2021.
Due to the Coronavirus pandemic, the course was forced to stop in April 2020. At this point, the women on our Hair & Beauty course only had three months left to complete. The majority of this was the opportunity to gain work experience in placements at existing salons, where the women could learn from other women who were already running their own businesses successfully. Thankfully, the Kenyan lockdown lifted in October 2020, and the women were able to resume their training.
Despite these challenges, we have successfully delivered 11 months (September 2019 – March 2020, October 2020 – January 2021) of Hair & Beauty training, as well as the accompanying Leadership and Mentoring programme to 22 vulnerable young women, who will be graduating in the summer of 2021 with a recognised diploma. These women 22 women have been:
equipped with communication and entrepreneurial skills to help manage their own business.
equipped with leadership and mentoring skills.
empowered to share their new abilities with other vulnerable women in their communities.
The sex education component has also been a success, with only one new pregnancy, and no new STI cases reported. The women reported that they felt more confident and empowered, and have been sharing their new knowledge with other women in their local communities.
None of the women have returned to commercial sex work, and have begun earning a good income using their hair & beauty skills.
"Hairdressing is my passion, but is also helps me generate an income. I love the independence it gives me and the friends I am making. I can now provide for myself and have the confidence to be innovative. I want to open up a salon when I graduate and provide job opportunities for other women." – Enda G. 2020 Graduate
"The designing of people's hairstyles makes me happy…it helps me earn good money, care for my child, and I will train those interested in hairdressing from my community." – Rosemary M. 2020 Graduate
"I started this course first in 2017, but dropped out due to many reasons. My home was no longer safe, so I left. I thank God that International Peace Initiatives didn't leave me. They searched and searched until they found me, and helped bring me back. Now, I'm so happy. I've finished my course and will graduate soon. Me and my child can have a better life." – Janice K. 2020 Graduate
Preparations are also underway for the Year Two cohort to start their hair and beauty diploma. This month, 35 vulnerable women are taking the first steps to building happier, independent lives. They are very excited to start their lessons.
I hope you will join us in wishing them the best of luck! Thank you for supporting these women.
My warmest wishes to you and your loved ones – I sincerely hope you are safe and well during this time.
Robyn Cooper
Project Development and Marketing Officer
P.S. Between 8th – 12th March this year, this project is taking part in GlobalGiving's International Women's Week! All online donations to our Hair & Beauty skills training project via GlobalGiving will be match-funded by 50% (up to $50). Every penny will be used to support the running of the project and help the women who want to change their lives - and the lives of their children – for the better.