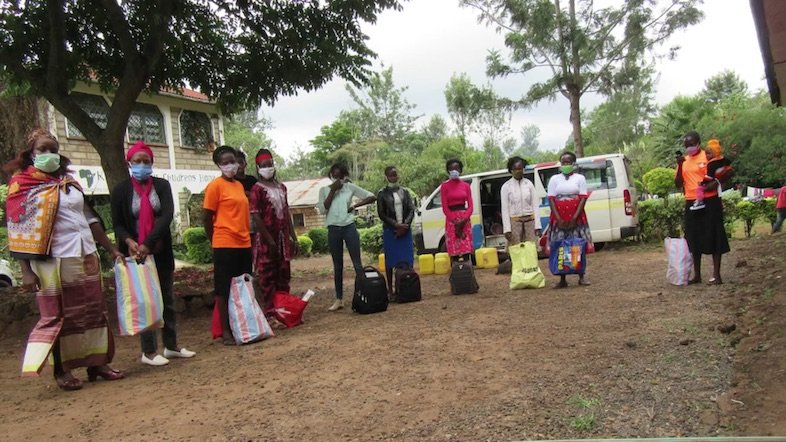 I think we can all agree that the past few months have challenged us in ways we couldn't have foreseen. Here in the UK, people have worried for their health, their jobs, and their loved ones.
It's been a similar story overseas in Africa as well.
In March 2020, our partners – International Peace Initiatives – unfortunately had to close their doors to comply with the lockdown in Kenya. That meant that the 25 women who were close to finishing their accredited Diploma in Hair & Beauty, were asked to go home.
Lilian, Enda, and Rose are 3 of the women who are waiting to return to their studies at International Peace Initiatives. They say, "There are no jobs, schools are closed, and we cannot even go to church. All we do is stay at home. We would have already finished our training by now…we don't even know whether we'll definitely be able to finish! The economy is bad, everything is so expensive now. There is simply no money, because there are no jobs. We stay at home in fear, but we really want to come back and compete our course. We were learning so much and now we feel stuck."
With no other jobs available and no means of an income, their situation was bleak. Food prices were increasing on a daily basis and other provisions were becoming hard to come by. That still is the case, but thanks to donors who supported our Emergency Appeal, we were able to raise enough funds to support the 25 women and their children. We provided them with masks, soap, food parcels and money to cover their rent so they don't become homeless.
Thankfully, we are now in a position to say that the restrictions are being lifted in Kenya.
The 25 women engaged in our Skills Training have been supported throughout the pandemic, and we are happy to let them know that they will be finishing off their Diploma in January 2021. With only 3 months of training left, Lilian, Enda, Rose and the other women on the course will be trained Hairdressers by April 2021, ready to grow their own businesses.
However, they have no income until January 2021. This is where you can help, to support them and their children until they are able to qualify as professionals.
We're excited to let you know that our second cohort of students for next year's course are currently being selected! In January 2021, 35 women will be taking their first steps towards a new life of equality and independence. No longer will they have to turn to commercial sex work to provide for their families. Instead, they will spend their time learning Hair and Beauty techniques – a respected and profitable skillset in rural Kenyan communities.
Despite the hardships that this year has brought us, we're very optimistic about what the future holds for the women in our skills training programmes.