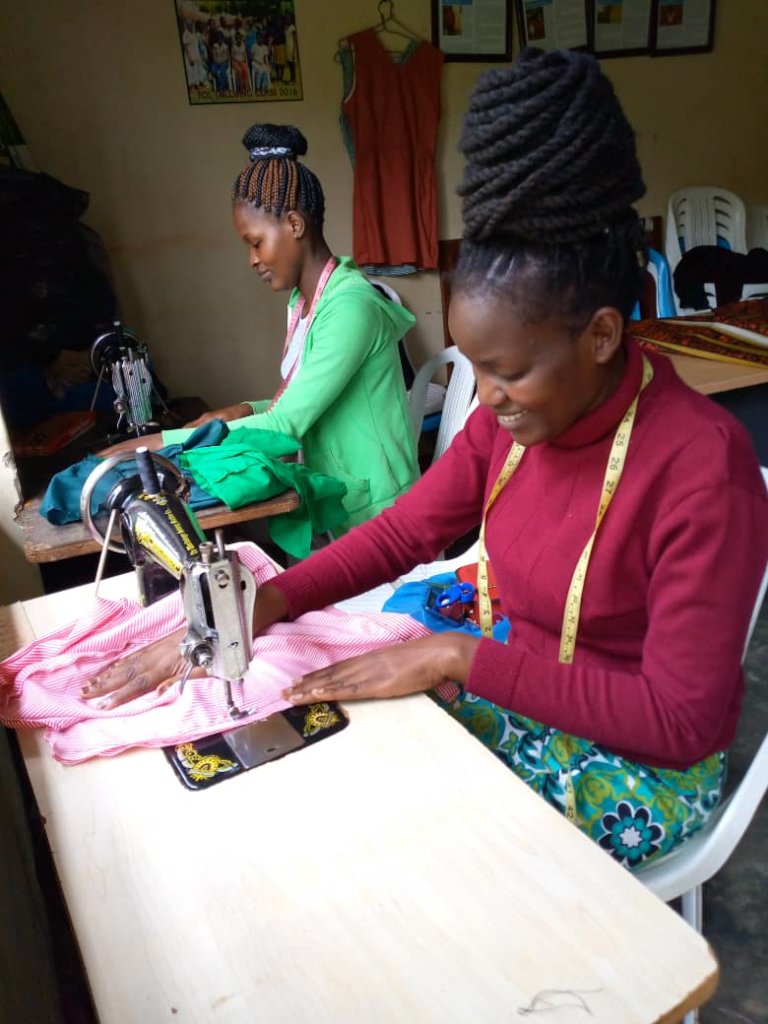 From the donation we have received so far as Skilling 240 women from Mulago Katanga slum project, we have been able to take on the 5 women for the 2021 class. As an organization, we work with community leaders to identify the most vulnerable single mothers that needs to be skilled so as they can be in position to sustain themselves. Because of the limited funding we couldn't take on the full number of women which is 15 women per class. it was a tough decision to pick out a few from the list.
The class began on the 15 of March and will break off on June /30/2021. then we will be resuming in August, the date will be communicated, For the second class.
In this beginner's class we mainly focus on the basics of tailoring lessons like Body measurements, machine peddling, Machine maintenance, straight lines, and so much on the women attires and by the end of the second half of this particular class, a few of the men's attire will be introduced.
Among the women that we selected Sanyu is one of them. Sanyu is a single mother of 6 children, and stays in slum, she separated with the father of her children because he was a womanizer and also, he wasn't taking care of them as a family not even feeding their children. She then decided to separate with him in fear that she may even catch HIV aids. After the separation each of them stayed with 3 children, Sanyu took on the young ones and the father stayed with the older ones. After sometimes Sanyu started feeling sick until one day when she was asked to test for HIV test, unfortunately she was found HIV positive, it was so heart breaking for her that she spent days without working, it's her neighbor who is an old lady that was helping with some food to feed her children. Ever since she got to know she has HIV her life didn't remain the same.
Being a hawker of second-hand clothes of capital of $13 she tried to make the ends meet but it's been tough for her. To be able to cover rent and feeding the family as well. Sanyu was introduced to us by the area councilor, who knew her life style and how it was hard for her to feed yet she was on ARVs, she is excited to be able to equipped with the tailoring skill. She says she wants to own her own workshop, pay for her children's fees, and probably build a house in the village for her children that incase she dies, her children will have a place they call home. She is one of the best students in our tailoring class,
We sharing with you some of our class photos showing the different class activities.
Thank you very much for your donation towards this cause.