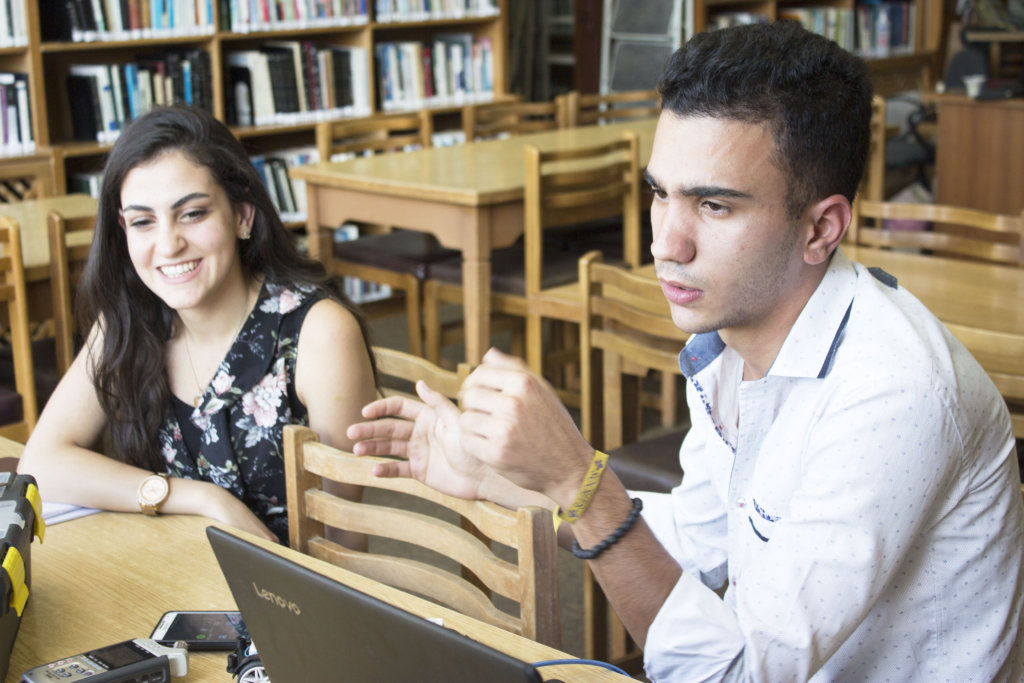 "When everything seems to be going against you, remember that the airplane takes off against the wind, not with it."Henry Ford, Founder of Ford Motor Company.
As the year advances, so has our Innovation and Entrepeneurship program! We're proud to announce that we've now trained 2,082 youth and incubated 178 youth-led small enterprises and social initiatives.
Today, we share two yout-led enterprises who continue to defy the odds in order to improve the world we live in!
Code Car: Driving Kids Forward!
"Here in the Shouf, there aren't many job opportunities," said Pascale, 21. "But what we learned is that we have the power to make something of ourselves, even though we're young. We, as youth, can fix this."
Earlier this year at a workshop led by the Rural Entrepreneurs group, Pascale and other youth were trained on the prospect of being business owners.
It was through that workshop that Pascale met Daniel, 22. Daniel is now her business partner on CodeCar. He is also a communications engineering student and had already started thinking about a product to teach children to code.
Together the two are building Codecar, an application that teaches children several coding languages through a remote control car, run by lines of code.
Through a grant from Nawaya, Daniel and Pascale were able to purchase car parts and after they finish building it, it will be available in select toy stores for initial testing. But perhaps more valuable than the funds, the young engineers are learning key business skills via Nawaya's mentorship.
Through weekly meetings, the young business partners learned about budgeting, packaging, setting priorities, and learning about their competition.
"When you start a project you don't know where you're going, so you start exploring. This exploration is what's so nice. You always hit the wall, but you continue," said Daniel.
IKP: Solving Lebanon's Most Prevalent Nuisance!
Hanan is a 19-year-old English literature sophomore at the Lebanese University, an artist, and founder of Insect Killer Plan, or IKP, aimed at solving one of Lebanon's most prevalent problems: insects.
For Hanan, common solutions just weren't good enough. Many of the products found in supermarkets contain ingredients like DEET, which some medical sources have noted to have negative health implications over time.
Instead, her product is a customizable wooden frame that attaches to any home or office window. The frame is bordered with a capacitor. The electricity between the two plates is enough to kill an insect hoping to get through, but does not harm to human.
With the grant she received from Nawaya, Hanan was able to buy a laptop, wood for her frames, tools to cut wood, capacitors, a printer, small solar panels and electric wiring to power her product.
Hanan's biggest accomplishment, however, isn't finding a non toxic way to solve a daily, and potentially harmful, problem in her community and country. It's her own personal development, according to her family.
"Nawaya gave my child the support that as parents, we couldn't have give her. It opened up their minds and gave them confidence that I hadn't seen before," said Hanan's mother.
The Nawaya Innovation and Entrepeneurship program was made possible through UNICEF Lebanon and the Kingdom of the Netherlands.