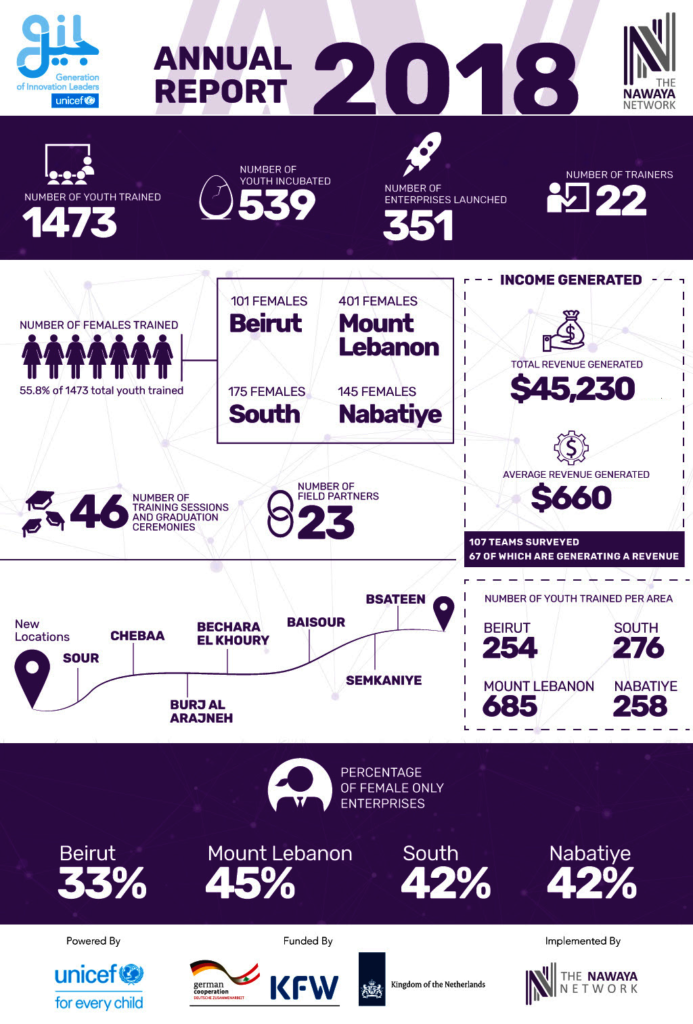 Hello Friends,
As we start implementing our entrepeneurship program for 2019, we thought we'd take the time to highlight last year's milestones and achievements, in numbers.
This quarter, we're letting our impact numbers and beneficiaries sum up the work we've done in 2018 through a one page visual report.
We've also selected three short video stories from youth who have successfully launched their small enterprises:
After war broke out in Syria, Hikmat moved to safety in Lebanon. To provide for himself and his family, Hikmat had to take odd labor jobs, working punishing hours, until he discovered calligraphy, and learned how to monetize it through Nawaya's entrepeneurship program.
Farah, a young Lebanese student, has experienced first hand the ravages the garbage crisis has had on the country. Through her education, she came up with a machine that recycles used cooking oil into biodiesel.
Young Rasha was born and raised in a refugee camp South of Lebanon. As a Palestinian refugee herself, her career choices in the country are limited. Through Nawaya's entrepeneurship program, Rasha has managed to turn her talent for writing poetry into her very first published book.
Thank you for your continous support and commitment to youth empowerment!
Links: