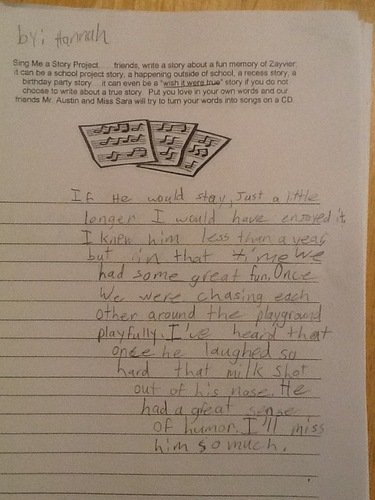 We are excited to announce our support for Sing Me a Story Foundation!
The Sing Me a Story Foundation combines the imaginations of children in hospitals, children's homes, vulnerable youth organizations and hospices with the talents of songwriters to create stories and songs that bring joy to all those involved. Below are some stories from the founder, Austin Atteberry of what they have helped to achieve so far!
"In January of this year, I received a note on Facebook from a mother of a 6 year old named Julie. Julie's little brother Ty had passed away the previous Fall and through our work with Alive Hospice, a song was written for Julie based on a story she had written about her brother Ty. That Christmas, Julie had asked her Mom if she could put the laptop by the Christmas Tree so that when Santa came down the chimney, Santa could learn about her brother.
Julie's song - http://singmeastory.org/stories/my-brother-ty?song=152
In November of last year, we received a call that a little boy named Zayvier had tragically passed in a car accident. We gave Zayvier's entire class the opportunity to write stories about their favorite stories about their classmate. Those stories were then turned into 6 songs that were all distributed to Zayvier's class and their family.
Listen to a song in Zayvier's memory - http://singmeastory.org/stories/stories-for-zayvier-1
In July, we received a note from a Child Life Specialist in Green Bay, WI along with a brilliant story. "Ross is currently 6 years old. He has brain tumors on both of his optic nerves that are causing him to lose his vision. He is working to learn Braille, but that means he didn't write or draw, but narrated to me what he wanted the book to say and I did my best to draw the pictures he described. As his vision has gotten worse, his hearing has picked up and music is one of the things Ross loves! We (Ross, his mom, sister and I) are all looking forward to hearing "his" song." I look forward to getting a song (and probably many songs) for Ross!"
Here Ross's story in song - http://singmeastory.org/stories/ross-story

Thank you for taking an interest in reading our first report, I hope to be able to bring you more stories like this that people like you have helped to achieve through donations.
All the best
Sophie Birkett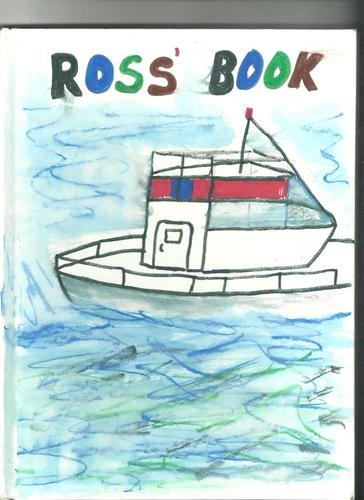 Links: