Project Report

| Sep 8, 2023
September 2023 Update Report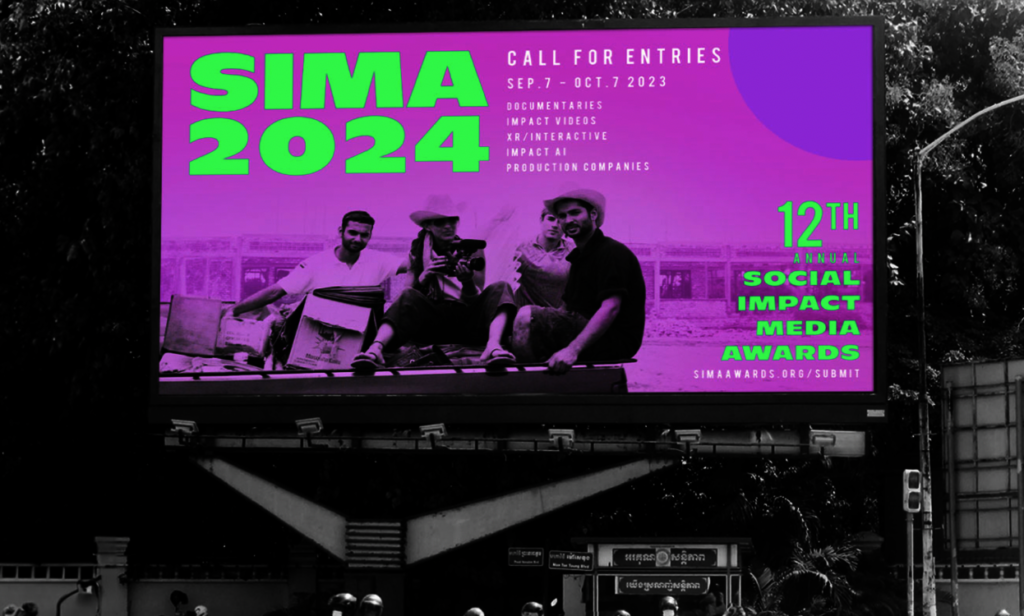 Thank you once again for your continued support of SIMA! We are excited to share our most recent updates from each of our programs with you.

SIMA Awards:
It's official! The 12th Annual Social Impact Media Awards (#SIMA2024) is now open for submissions! We are seeking original, wise, brave, eye-opening and creative productions that capture and illuminate the pulse, people and movements behind today's global issues, including production companies whose body of work demonstrates excellence in creating responsible impact through diverse formats of visual storytelling.
Finalists and winners are eligible for entry into SIMA's global impact distribution programs, SIMA Traveling Series and SIMA Academy, which bring stories to audiences, communities and classrooms around the globe, democratizing access to social issue filmmaking.

SIMA Academy:
More than 180 educators from across the globe joined the third edition of The SDG Challenge: Advancing Media Information Literacy and Global Citizenship Education Through The Power Of Film in partnership with UNESCO-APCEIU.
Leading educational institutions such as The Center for Sustainable Development, Earth Institute at Columbia University and The Ban-Ki Moon Center for Global Citizens have integrated SIMA Academy films into their innovative curriculums to nurture young changemakers' leadership skills.
We have joined forces with Thaki and Girl Up Initiative Uganda to support their mission of empowering refugee and disadvantaged children and youth, by bringing our robust catalog of educational and social impact films to their training programs.
Finally, we have just announced a pioneering collaboration with Unplastify, a three-month international education program designed for educators to empower students to develop their own unplastifying ideas and be true changemakers.

SIMA 2023 Traveling Series:
After kicking off in Cambodia and Costa Rica, our year-round community screening program continued in Kenya and Argentina. Four SIMA films were showcased at The International Human Rights Film Festival in Buenos Aires, hosted by IMD - a non-profit association designed to strengthen the treatment and study of themes about Human Rights.
The local community of Nairobi enjoyed seven award winning feature and short films with topics ranging from women rights, judicial system, access to health, migrant stories, and education to economic development and democracy. The series of community screenings were hosted by the community based organization, Association of Single Mothers of Kenya, that integrates disadvantaged youth into society through education courses and life training.

SIMA's Fiscal Sponsorship Program:
Supporting projects at the intersection of creativity and social impact, we have added nine new projects to our growing Fiscal Sponsorship community from narrative films and documentaries to art exhibits.
Hidden Gem is a documentary film highlighting the overlooked works of underrepresented performers from varying and complex backgrounds. Non-Binary Code is a solo art exhibition exploring gender identity, textile-based practices and coded meaning. The narrative film Never Break the Chain follows a group of old friends while they learn about love and life. Don't Forget To Look For The Hope is a 30 minute documentary film experiment about how simple acts of genuine kindness in a dramatically difficult situation can heal the human spirit, and the need for reform of the entire criminal justice system begins with the jail experience. Opulent Mobility is an art exhibition asking artists and audience members to reimagine disability as opulent and powerful. The docuseries Trans-formed, exposes the current state of the transgender erotica industry. Through a contemporary touring exhibition, Kansas City-based gallery, Curiouser KC, and Los Angeles-based gallery, Studio 203, engage in a gallery swap: Curioser KC and Studio 203 Exhibition Exchange. By building a metaphorical bridge between the Midwest and West coast, it aims to cultivate a shared ideation, enrich both communities, and provide more exposure for emerging artists.
Thank you so much for giving us wings and for enabling us to support creative impact projects and scale the impact of our programs!
With warmth and gratitude from all of us at SIMA