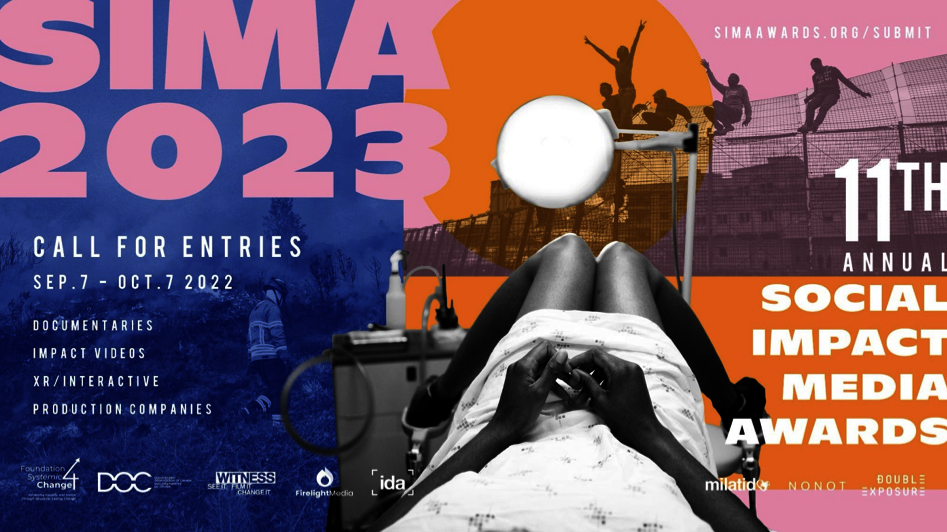 Thank you once again for your continued support of SIMA! We are excited to share our most recent updates from each of our programs with you.
SIMA Awards:
It's official! The 11th Annual Social Impact Media Awards (#SIMA2023) is now open for submissions! We are seeking original, wise, brave, eye-opening and creative productions that capture and illuminate the pulse, people and movements behind today's global issues, including production companies whose body of work demonstrates excellence in creating responsible impact through diverse formats of visual storytelling.
Finalists and winners are eligible for entry into SIMA's global impact distribution programs, SIMAx/SIMA RAMA and SIMA Academy, which bring stories to audiences, communities and classrooms around the globe, democratizing access to social issue filmmaking.
SIMA Academy:
The second edition of The SDG Challenge: Advancing Media Information Literacy and Global Citizenship Education Through the Power of Film is on! In partnership with UNESCO-APCEIU, 160 educators from across the globe are participating in this online course.
We celebrate the expansion of our collaboration with Inspire Citizens, extraordinary partners spreading the love for SIMA ACADEMY at conferences in Europe and Asia, as well as integrating the platform as a resource to enhance their own work with school partners in areas of humane technology, eco-media, and civic literacy.
SIMAx & SIMA RAMA Virtual Cinema:
International organizations at the forefront of 21st Century Education, such as UNESCO-APCEIU, have integrated SIMA film screenings into their programming to celebrate and discuss the current issues of Oceans, Youth, Indigeneous Rights, Democracy and Education. Additionally, professional development organizations started using SIMA films to make their training more relevant and engaging. More than 160 educators and changemakers have joined these events.
Purpose-driven organizations, such as the LightHouse Studios and Formidable Joy have hosted screenings as a fundraising strategy for their impact projects.
SIMA's Fiscal Sponsorship:
Supporting projects at the intersection of creativity and social impact, we have added six new projects to our growing Fiscal Sponsorship Community (two narrative films and four documentary films). Blurring The Color Line follows director Crystal Kwok as she unpacks the history behind her grandmother's family, who were neighborhood grocery store owners in the Black community of August, Georgia during the Jim Crow era. Floating Away is a heartfelt story about a loss of childhood innocence and love letter to the deep affection and commitment rooted in sibling bonds. The Uraon Culture is a documentary film about the Uraon tribal culture in Bhutan that is losing its identity with urbanization. ICONIC explores how the issues of mental health and homelessness are both intrinsically linked and stigmatized in mainstream media. The film examines how easy it is to crumble from the top tier of our society into oblivion, following the story of Rose, an iconic and offbeat beauty industry "celebrity." Futurism: Comparative Genomics is a four-part animated documentary series about scientists working to solve one of the greatest challenges facing humanity in the twenty-first century: how we age well in the future. Distilled is a documentary following Asmir Hadzibeganovic, a Bosnian war refugee, who is now an entrepreneur living in Berlin.
Thank you so much for giving us wings and for enabling us to maximize the impact of our programs.
With warmth and gratitude from all of us at SIMA
Links: