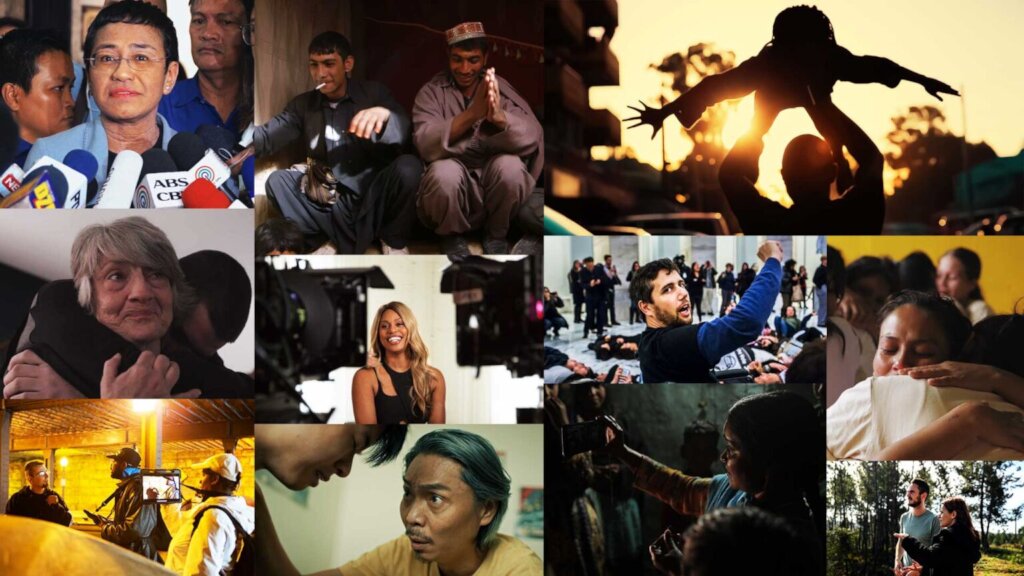 Thank you once again for your continued support of SIMA! We are excited to share our most recent updates from each of our programs with you.
SIMA Awards:
The Winners of The 10th Annual Social Impact Media Awards (SIMA 2022) have been announced! The art of storytelling is alive, and it cracked wide open in this year's lineup.
From the tales of journalists shifting paradigms in the sociopolitical landscape of their countries in Best Feature Documentary Winner, SOFTIE, and Best Director & Best Cinematography Feature Documentary Winner, WRITING WITH FIRE, to the examination of Philippine President Rodrigo Duterte's escalating attacks on the media told through the story of his prime target, journalist Maria Ressa, in Best Editing Winner, A THOUSAND CUTS, and the citizen-journalistic viral confrontation of a powerful senator on an airplane in Lens to Action Jury Prize Winner, NOT GOING QUIETLY, it is for certain that, from activists to artists and to audiences, the power of storytelling unites every movement across the globe.
Congratulations to these inspiring and courageous filmmakers who have dedicated their lives and talents to moving, enlightening, and transforming our world. They have set a new gold standard for impact filmmaking, and we are in awe of their work!
SIMA Academy:
More powerful and beautiful than ever before, SIMA Classroom is now SIMA Academy with all films streaming in optimum speed and quality via our new OTT platform. Now accessible across all devices and including a new recommendation algorithm, instant queue features, and thematic search functions for keywords, subject areas, locations, and more, SIMA Academy is here to serve 21st century literacy, global citizenship education, and cross-cultural teaching with dynamic and engaging 1st class storytelling resources.
SIMAx & SIMA RAMA Virtual Cinema:
Purpose-driven organizations, such as the Indigenized Energy Initiative, have integrated SIMA impact film screenings into their programming to activate their communities around issues that matter. Indigenized Energy Initiative is a first-of-its-kind effort to build the capacity of Native American tribes to replace their extractive energy systems with clean regenerative solar energy, restoring their economies, sovereignty, self-determination, and hope.
SIMA's Fiscal Sponsorship:
Supporting projects at the intersection of creativity and social impact, we have added four new projects to our growing Fiscal Sponsorship Community: Cannabis Media Council uses the power of media to uplift compelling campaigns that show positive experiences with cannabis and normalize consumption across generations. Third Wheel Material is a short film series that tells an engaging story about black masculinity, mental health, and human connection within the Black community. New Me is a series of three-minute social media episodes following an inexperienced college freshman that struggles to find herself in a world where social media controls and pressures the narrative of young women. Loud & Queer is a music and visual art event centering the voices of our BIPOC/LGBTQIA+ community.
Thank you so much for giving us wings and for enabling us to maximize the impact of our programs.
With warmth and gratitude from all of us at SIMA
Links: