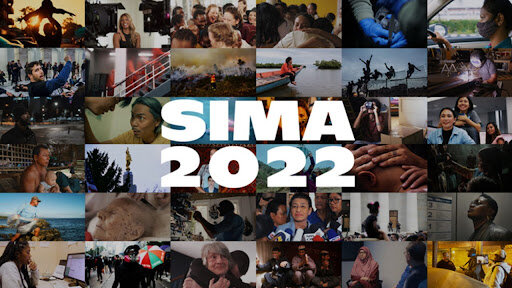 Thank you once again for your continued support of SIMA! We're excited to share our most recent updates from each of our programs with you.
SIMA Awards:
Congratulations to the SIMA 2022 Finalists! 40 stories from 25 countries have advanced as finalists in the 10th Annual Social Impact Media Awards. With rich storytelling, unparalleled access, and innovative new mediums, this year's SIMA 2022 Finalists journey deep into the heart of our world for audiences to bear witness to the uncertainty, volatility and hope kindling the flames and heeding the call of revolution and rebirth. Winners will be announced in February.
SIMA Classroom:
The 2022 SIMA Teacher Award is now accepting applications! In partnership with Qatar Foundation International, our annual global award is a recognition for outstanding accomplishments and dedication to using media resources to foster global competencies. Award winners get access to a professional development scholarship up to $1,000 Value & lifetime access to SIMA Classroom.
We greatly appreciate the invitation of Thomas Starr King Middle School Film Arts Magnet in Hollywood, Los Angeles to participate in the Facing the Future Together Conference to introduce SIMA Classroom to the school's educators. Together we explored the power of films to advance Global Citizenship Education and take students' engagement to the next level.
Congratulations to the winners, finalists and special mentions of The SDG Challenge hosted in partnership with Asia-Pacific Center of Education for International Understanding under the auspices of UNESCO. We celebrate the courage and changemaking spirit of 10 educators from 6 different countries who unlocked the power of film to take their students beyond school walls, inspiring them to be media and information literate global citizens and active contributors to a more equitable and sustainable world.
SIMAx & SIMA RAMA Virtual Cinema
Purpose-driven organizations have integrated SIMA impact films screenings to their programming to activate their communities around issues that matter. The 49 Percent, a female-led media company using women's storytelling to advocate for sustainable change based in Israel, hosts a monthly Feminist Film Clubwith a powerful and unique line-up. These past months a global audience has enjoyed the films A Thousand Girls Like Me, A First Farewell and Equal Playing Field.
Air Amber, a social enterprise based in Singapore that works to positively impact communities through impact education, screened SIMA Collection film, The Judge, to explore topics of resilience and human connection.
Human Rights Watch's Film Club in Los Angeles offers digital film screenings + live discussion to its audience. This month is featuring The New Corporation: The Unfortunately Necessary Sequel, a cry for social justice, democracy, and transformative solutions.
SIMA Staff Pick
Through our Staff Pick we pick stunning work of impact storytelling to share with a global audience free of charge, for the love of impact cinema. During the past months, we virtually screened Nobody Dies Here, a short documentary about the Perma gold mine in Benin; Beyond the Pipeline, a film showing the struggle of indigenous peoples for their land and the world's biodiversity; and Goodwill Dumping, a film showcasing the journey that discarded pieces of clothing make and what kind of impact this has on local industries. More than 450 people enjoy these eye-opening stories.
SIMA's Fiscal Sponsorship:
Supporting projects at the intersection of creativity and social impact we have added 5 new projects to our growing Fiscal Sponsorship Community: Bonus Babies is a podcast shining a light through the cracks in the child dependency system. It depicts the daunting complexity of the foster care maze by broadcasting the true stories of the kids who've been forced to navigate through it and the people who care for them. Executive Producer is a benefit concert to raise funds for Musicians on a Mission in Ventura County. They offer free instruments and lessons to children in their community. Ibach a documentary film about the Frank family who escaped the Holocaust to Philadelphia and has resored his story through music. Texas, USA -is a narrative film about progressive politics in the state of Texas. Early Worlds is a narrative film using a multiverse lens to demonstrate the transformatory role of education in marginalized communities.
Thank you so much for giving us wings and for enabling us to maximize the impact of our programs.
With warmth and gratitude from all of us at SIMA.