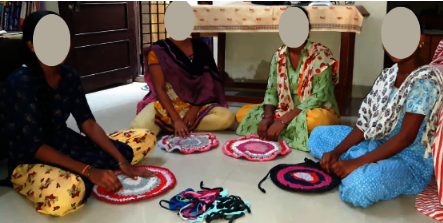 We have heard similar stories and have seen how difficult it can be for some survivors to find a safe place to stay – and we opened doors for a new beginning, Lotus Safe Home, in 2018. Since then, we have helped 90 brave survivors of domestic violence to a fresh start with hope and courage, where women are provided counselling, legal aid and vocational training to help them get back on their feet.
The Lotus Safe Home has been a turning point and a beacon of hope in many women's and children's lives. It helped them to gain a sense of self-identity and hit the road ahead with courage and determination—the Lotus Safe Home has been a pathway for many to start to feel truly alive. Since January 2022, we have supported 48 women and children through our Safe Home. While residing in the Safe Home, the survivors have regular appointments with counsellors who help them to specify their needs and explore possible solutions through building emotional strength and a concrete plan of action. Survivors take part in art therapy as well as vocational training that allows them to develop a skill once they depart the safe home.
Shyama's journey to freedom
A 19-year-old girl, Shyama's dreams of continuing her education were dashed when her parents wanted her to marry. She was verbally abused by her father, and her mother was unsupportive. A few months ago, one of the villagers moved abroad and promised that when he returned, he would marry Shyama and this gave her hope. Shyama was forced by her father to marry a person of their choice. She refused to marry her and therefore her father started abusing her physically. Unable to bear the abuse she ran away from her house. She carried some money with her, reached a nearby bus station, and decided to move to the city. When she arrived at the bus terminal, a social worker found her and tried to counsel her. Knowing the perils of leaving a young girl on the road unattended the social worker dialed the women helpline number 181, and the authorities redirected them to our Safe Home.
Initially, an anxious and frightened Shyama refused to share her personal information. Over time, our counsellors gained her trust, and Shyama decided to share the contact details of her family. The Lotus Safe Home team immediately contacted her father, who was in the police station to file a missing complaint for his daughter. We immediately contacted and informed them. The local police along with the local leaders investigated the situation.
We organised a counselling session for both Shyama and her parents. The team of counsellors confronted both the parties and allowed them to speak their views. After many sessions, our counsellors made them understand their roles in their respective relationships and emphasis was laid on Shyama that she is a young girl and they need to understand the changes she is undergoing. Our counsellors explained that it is not right to control and be rigid with her. We proposed to her that she should try and improve her communications and practice more patience, plan and have a goal in her life.
Our counsellors aimed to unite the family back together. The ongoing counselling sessions gradually help build trust and empathy for each other. The client agreed to return home after alteration with her parents. A few days later, her father verbally abused her, leading to anguish and pain. She immediately left her home in sadness and anger and informed us. We encouraged her to come to the Safe House instead of making any emotional decisions to harm herself or run away. After she arrived at the Lotus Safe House, we informed her parents and they were very angry to hear about her act of not respecting her elders. During the counselling sessions, we realised she was in a lot of pain and distress, and we encouraged her to pursue her dreams and make her family proud. Days passed and Shyama was involved in various arts and crafts activities and was taught to make handmade soaps, wall hangings, doormats and much more.
At the Lotus Safe Home, victims of violence and abuse are provided with a safe space to help them through their difficult journey. Our team helps the survivors by providing constant support through counselling sessions where they are taught about how domestic violence and its impact on their lives. We work with victims to explore various options to allow them to become financially independent and provide for themselves and their families. We support the survivors by working alongside them to explore their interests, talents, and capabilities.
After a few weeks of counselling and evaluation of her mental well-being, she happily enrolled herself in a job readiness programme. It was a three-month course at Yashoda Foundation where she underwent various training, including soft and social skills training, operating the computer, and handling the help desk. After months of training and hard work, Shyama was offered a job at a retail company.
Her dedication has led her to fly and widen her wings to achieve great heights of success. Through the Safe Home, we aim to help women stand on their feet and live a life with dignity and respect.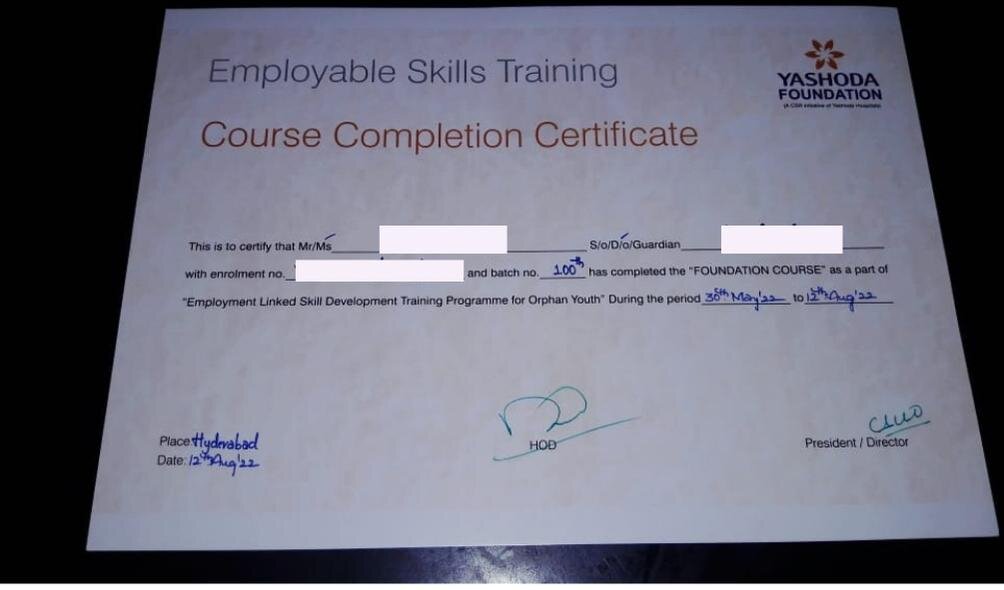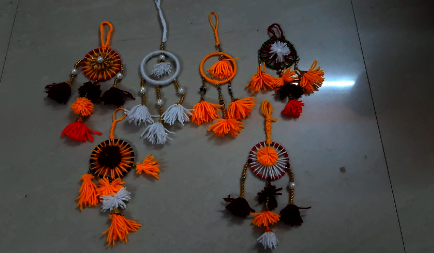 Links: