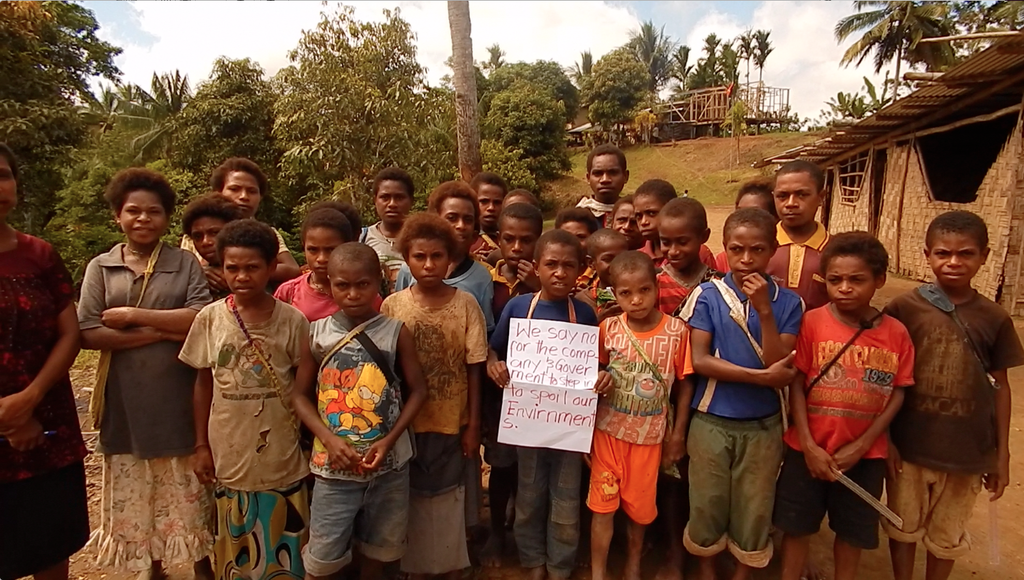 Stella is a Community Facilitator with the Bismark Ramu Group. She comes from Amuk village, which is part of 13 other villages that make up the Tangu Catholic Parish in Bogia, Madang Province in Papua New Guinea.
The people of Tangu are currently being threatened with displacement and landlessness as prospective mining companies show interest to mine coal in their area.
Having this in mind, Stella approached Tangu Primary School to conduct two information-sharing sessions with the students. The first session was held on the 28th of April with over 100 students from kindergarten to grade 2. Information about the National Flag and the 5 National Goals and Directive Principals was shared and discussed. The 09th of May saw close to 300 students from grades 3 to grade 8 participate in a similar discussion. However, for this older students Stella also shared information about the issues of Land-Grabbing and Mining.
This generated a lot of interest from the school and leaders in the community. Follow-up sessions were scheduled and held from the 19th – 29th May. This time two other Bismark Ramu Group Community facilitators, Mark and Bailal, assisted Stella. Updated information relating to land grabbing and mining, including videos was shared with the students and the whole community.
An achievement of this joint campaign between Bismark Ramu Group and Tangu community was the unanimously call from the community to end further discussions about mining on their land. The opportunity to make their decision known presented itself when government officials and representatives from Pacific Mining Company visited Amuk village to rally for coal mining. This happened on the morning Stella, Mark and Bailal were to conduct an information-sharing session in Amuk village.
"I could not believe both students and the adults were able to stand their ground and talk against the proposal for mining in the area. Some children even mentioned to me that they will keep an eye on the adults to make sure they do not entertain talks about mining," Stella said.
July 16th Bonus Day
Bismark Ramu Group is grateful to you for helping us launch the "Sharing the Future – Young Papua New Guineans" campaign on Global Giving during July 16th Bonus Day.
Your belief, commitment and generous support to our work helped us raise $3,000 in one day!!
And to top it all off, Bismark Ramu Group also got LEADER Status. Which means 40% matching funds in the next Partner Rewards Bonus Day!!
SO THANK YOU!!