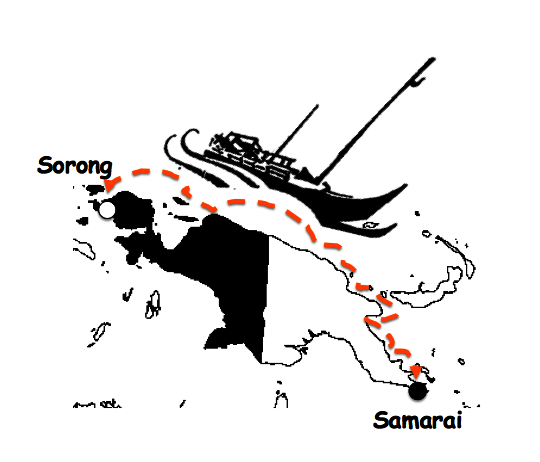 Today, in many small villages in Papua New Guinea (PNG), people aim to transition from a traditional way of life to a modern lifestyle. But this is not the case in all PNG communities. For Kavailo village on Karkar Island, off the north coast of PNG, after much hard work thinking deeply about what kinds of development would truly benefit their people, especially the youth, they embarked on the opposite kind of process – they decided to go back to tradition in order to rebuild cultural pride.
This process revolved around the Kavailo community members coming together to build a traditional canoe, called a Balangut in the local language. For thousands of years, canoe making was central to the life of coastal villages like Kavailo. But over the last few generations, since contact with Europeans and then rapid social change associated with globalization, traditional canoe making went into decline and then stopped – a Balangut had not been built for almost three generations and the traditional knowledge about how to build such a canoe was soon to die out. Recognising the urgency of the situation, a local village Elder and pastor of the local Mugaer Lutheran church was able to get the villages of Kavailo and the surrounding areas to work together to revive this important cultural practice.
In Kavailo today, indigenous culture and Christianity are both important parts of life – these aspects of society now exist side by side and contribute to shaping the modern-day holistic context of the community. Given this context, the revival of the Balangut was celebrated in the local culture, hand-in-hand with the Christian faith. The Balangut cultural revival became a participatory process of getting local Elders to revalue and appreciate their culture and heritage and then moving forward in rediscovering their canoe-making culture.
While the people of Kavailo, Karkar Island, PNG embarked on their cultural revival journey, communities in West Papua were doing the same – also rebuilding a large traditional canoe, called Wairon in West Papua. The plan was for the Wairon of West Papua to sail along the north coast of New Guinea from the West across the border and eastward to Karkar Island – where the two communities would meet and celebrate their joint achievements.
Children and young adults became the focus of this unforgettable cultural revival and exchange between West Papuans and Karkar Islanders. Local Elders now believe that they are the keepers of the future and that they will pass on this responsibility to the next generation. What a sight it was to see Kavailo youths performing traditional dances on the Balangut and in the center of the village to welcome the Wairon canoe from West Papua. It was a beautiful and emotional welcome. The Wairon West Papuans then participated in a weeklong cultural event in Kavailo, where culture was revived and shared while also being recognized within the Christian faith. It was a special time of healing, peace, and unity. A huge feast was also held to celebrate this cultural achievement.
In addition to cultural restoration, the Balangut and Wairon cultural exchange event made possible the revival of traditional canoe voyaging – a critically important traditional life skill. It was a truly historical event, which reaffirms cultural ties across an unwelcome modern-day border, thus reuniting our land with the beat of our traditional drums – the kundu in PNG and the tifa in West Papua. There is now a strong feeling that such brave community initiatives will give hope and courage to other indigenous communities in PNG, West Papua, and beyond to discover their path to self-realization based on Melanesian values.
If you would like to support young people in local indigenous societies to rediscover and revive their culture for future generations please donate to Sharing the Future-Young Papua New Guineans project on GlobalGiving.