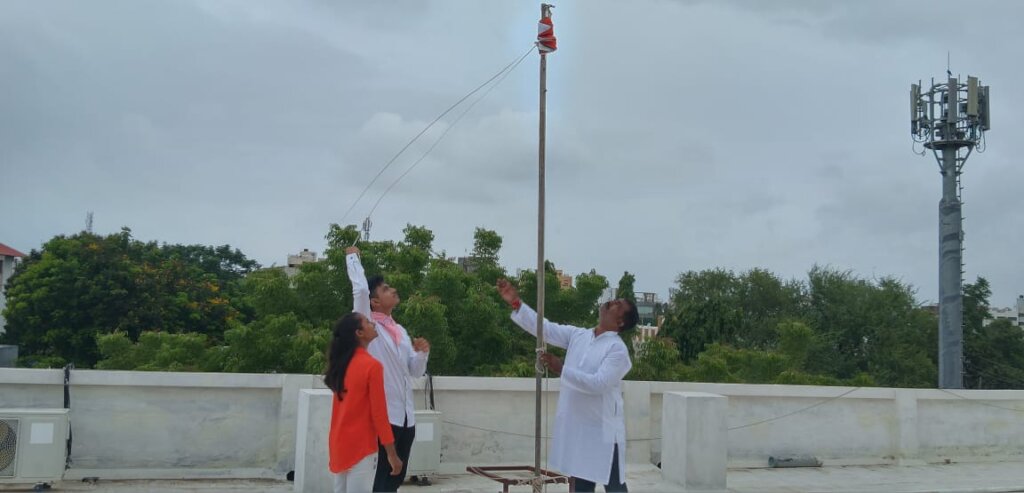 Balsena:
Balsena is an independent children's collective with vision to ensure that all the children get all their rights equally. Currently, Balsena is working in 21 communities and 16 schools working with over 1350 children.
Council and Active Children Meeting:
Council is the decision making body of Balsena, consisting of elected leaders of each community and school, and active children are those who have either been part of council previously or are part of Balsena from a longer time. Active children's role is to guide council and also organize programs at Balsena level. Council and active children meet once a month.
During past four months, five active and council children meetings were organized. They presented what is happening in their points and shoed the newsletter they had prepared. They also spoke about 20 years celebration of Balsena and how they want to celebrate, they did a round of reflections on the presidential elections as well. Children also did planning for the upcoming month and planned for them to go trekking and organizing sports day. They also planned for one day trainngs, camps and balmelas.
Balmelas:
Four Balmelas were organized on the theme of human body. 211 children participated in these Balmelas. In these Balmelas children learnt about different systems of human bodies such as digestive system, respiratory system, nervous system, etc. Children also learnt about the skeletal system. Children were very enthusiastic about learning this and asked many questions.
One Day Trainings:
Three one day trainings on the theme of effective communication were organized. 162 children participated in these trainings. Topics such as what is effective communication, verbal and nonverbal communication, how to ask questions etc. were included in this training and were facilitated with several activities.
Exposure Visit:
Exposure visits are very effective tool for learning about the outside world. Due to Covid-19, exposure visits with many children were not possible as much, but this year since the restrictions have lifted, they were possible yet again. Two exposure visits to Community Science centre and Parle-G factory were organized, 220 children participated in these visits. At the Community Science Centre, they did several experiments and learnt about different science principal in an easy manner and at the Parle-G factory children learnt about how the factory works and processes that goes into making a biscuit.
Wenlido Training:
Wenlido is a personal safety tool for self-defence, especially designed for women and girls. Shaishav helped develop it's curriculum in 2005 for girls for the first time. Ever since, we have been doing these trainings with girls. Till now Shaishav has trained more than 16000 girls directly.
During the past four months, 9 Wenlido trainings were organized and 105 girls participated in these age appropriate trainings. In these trainings they learnt how to protect themselves, how to make safe decisions and ask for help. Those who have already participated in these trainings are invited to practice group were they revise certain topics taught in the basic trainings and also share their experience with using Wenlido and also talk about challenges that they are facing in their lives, and help each other problem solve them. We organized 9 practice groups as well.
We have created Child Protection committees in each area where Balsena- children's collective works. These committees consist of leaders among children, leaders of communities, parents, youth, etc. During past four months, childline team conducted 81 meetings with 889children and adults. The committee discussed about several issues that children of their area are facing, and also registered cases in childline to solve them. They were also made aware about child right to protection, and about how to stay safe online, protection against abuses and discrimination based on gender, religion and caste, and they were taught practical tool of six alerts to teach children to be safe. Parents were also made aware about various government schemes related to children that they can avail or tell others in their communities about.
Independence Day Celebration:
Balsena active members organized India's independence day celebration. 300 children participated in this cultural program. Theme, schedule, different acts, emceeing, etc. were done by children only. 23 Acts of play, mime, group song, dance, on the theme of India were performed. Children themselves came up with ideas and execution and choreography.
It should be noted that during the performance if any child forgot any steps or dialogues, the other children did not laugh or passed comments, instead they encouraged the child and waited for them to deliver with patience. It was really heart-warming. This is the kind of change that we wish to see in our society.
Trekking
33 active children participated in a trekking program to a nearby mountain called Malnath. It was very different experience for them and they enjoyed it thoroughly. They really liked spending time in nature, it gave them an opportunity to connect with nature.
Point Activities:
Point activities with children are done once a week at their doorstep. During the past four months activities on the themes of language, kitchen science, drawing, personal expression, cultural program, creativity, logic, maths, sports, Gandhiji and his values, etc. were organized.
Case Studies:
Radha (name changed) is just 7 years old, and studying in grade 1. She is living in a small one room house with her parents and younger brother.
When she joined Balsena she was not going to school. But she was very particular about attending Balsena. Anyone else comes or not, Radha always shows up with her brother Mahavir. She reached before our facilitator and was ready to learn. She was not going to school but was very active and regular in all the Balsena activities. Slowly our facilitator motivated her to go to school. Initially she was hesitant because she did not understand what was happening in the school. So our facilitator used to call her early and supported her with her studies and gave personal attention to her. She was a very smart girl and learnt basic concepts of language, reading, writing and maths. Once she got her fundamentals right she could manage in school also. This enhanced her self-confidence and motivation to study. She is very regular in Balsena and is always ahead of time. She started teaching her younger brother as well.
Now she is going to school regularly and studying well. She has also taken Wenlido training and learned to make safe decisions and protect herself. She is very enthusiastic to study.
Thus a small support by the facilitator has impacted Radha's life entirely.
Tulika (name changed) was not a Balsena member but came with her friend during Covid time. She liked the activities so she joined Balsena. Sometime ago, she dropped off so our facilitator did home visit. Tulika's mother said that she neither wants to come to Balsena nor go to school. She has started working with her mother. Financial situation of the family is not good and they are working hard to meet the ends but the parents never forced her to work. Rather they wanted her to go to school.
So our facilitator started counselling with her and asked why she doesn't want to go to school and go to work instead. I have already started earning Rs. 50 everyday. So why should I study? Our facilitator explained to her that studying on mobile is not sufficient. She should go to school and learn from teachers. During Covid time in the unusual situation online education was given as an option but it can't replace school. And education is not just for earning money but for holistic development. It's not advisable to go for short-term benefits of a small sum of money for long-term benefit of education. Tulsi had many arguments. But without getting annoyed, our facilitator continued the dialogue and kept explaining to her again and again. Finally, she understood the value of education and started going to school again. She became active in Balsena again.
Thus, a constant effort by our facilitator prevented one child to get into child labour.